News - Jun 13, 2022
What can we DO with Diapers?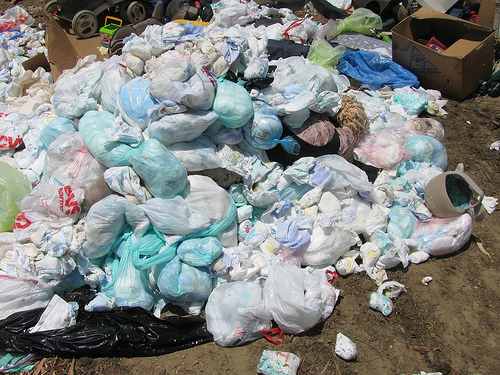 Single-use disposable diapers are a waste issue in Pacific countries, both filling up landfills and as a commonly littered item. Three Pacific countries (Kiribati, Vanuatu, and Tuvalu) have implemented import controls to assist with the management of single-use disposable diapers, the only known measures of their kind in the world.
But, using diapers is important for health reasons, as is providing for equality and inclusion in today's society, ensuing women are encouraged into the workforce and to contribute to community activities and are not required to stay at home doing laundry.
So, what are our options for the reduction and management of this waste?  PacWastePlus commissioned a socioeconomic and technical review into just this topic, seeking to understand current practices and perceptions on the use and disposal of diapers, explore the physical performance of reusable nappies, and identify options for communities and decision-makers.  Engineers Without Borders Australia undertook the research in 2021.
"The results found options vary depending on services available.  For example, if a community has regular water, reusable nappies provide the most environmentally friendly option for use on babies.
And in fact, the research "debunked" several misconceptions around reusable nappies – it seems the design of these nappies has improved, but we still have a perception they are "a lot of work" and provide a low performance ("more leaks"). The physical test in fact highlighted those reusable nappies were easy to wash and the level of absorbency/leakage, except for the cheapest products, was generally good.
In contrast, if a community does not have regular water but does have a waste collection, then using disposable diapers may provide the most appropriate option.  It is recommended baby excreta is first emptied into a toilet or pit toilet, and the diapers are put out for collection (taking care to keep away from dogs and other wildlife).
If a community has neither regular water nor waste collection, then either reusable nappies washed using seawater or rainwater, or disposable diapers disposed of in a designated disposal area (away from groundwater / lined with clay or impervious surface) may be most appropriate for a community.
For decision-makers, policy controls such as incentives and subsidies, infrastructure improvements, and increased education and communication were identified as opportunities to assist with the management of single-use disposable diapers and the adoption of reusable nappies.
See our resources page for more information  – https://pacwasteplus.org/resources/