Project Partners - Dec 18, 2022
SWAP-24 communities join in for International Coastal Clean Up Day around the Pacific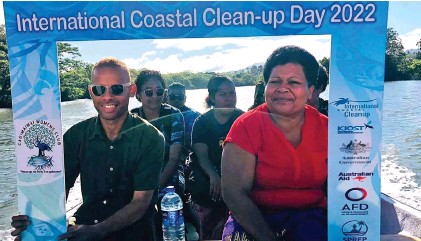 Every year thousands of tons of garbage winds up in the oceans, with at least 60% of that being composed of plastic material which negatively affects the environment, people, and coastal economies around the world. Every year, on the third Saturday in September, the International Coastal Clean-up Day (ICCD) is celebrated, which is the single largest coastal clean-up day in the world. For 2022, International Coastal Clean-up Day (ICCD) was celebrated on September 17th, 2022.
Empowering people to take an active role in the preservation and cleaning up of the coastlines are important parts of helping the conservation of the ocean. Working to support our Pacific islands to ensure a healthy and sustainable environment, SPREP though 'Committing to Sustainable Waste Actions in the Pacific (SWAP)', Pacific Ocean Litter Project (POLP) and Korea Institute of Ocean Science & Technology (KIOST) participated in the International Coastal Clean-up Day by financing 24 communities.
A total of 2,021 volunteers joined from the six (6) participating countries and French territories, namely Cook Islands (1 activity), Fiji (4 activities), Samoa (4 activities), Solomon Islands (11 activities), Vanuatu (1 activity) and Wallis and Futuna (3 activities). In terms of the gender breakdown for the volunteers, there were 38% females, 31% males and 31% children under the age of 18. A total of 9.1 tonnes of marine litter was collected from approx. 35 coastal sites. The marine litter collected included fabrics and textiles (23% in terms of weight), plastic (19%), metal (19%), glass and ceramic (9%) and other items (e-waste, rubber, paper, etc.).
Several videos were produced by the communities involved in this regional activity and shared on the SPREP's YouTube Chanel: https://www.youtube.com/user/sprepchannel.
SWAP, POLP and KIOST acknowledge all the volunteers who participated in this regional event and committed to a cleaner Pacific.
Samoa Conservation Society: https://www.youtube.com/watch?v=0y5o5nGMXYY&list=PLHKcA8pmzZqux_aQEgAEZfpTc7oGh_63C&index=27
Pacific Ocean Litter Youth Project (POLYP) & Suva Harbour Foundation: https://www.youtube.com/watch?v=9FFrt9AnJ08&list=PLHKcA8pmzZqux_aQEgAEZfpTc7oGh_63C&index=24