News - Sep 5, 2022
Study Tour Site Visits Inspires Pacific Islands Country Delegates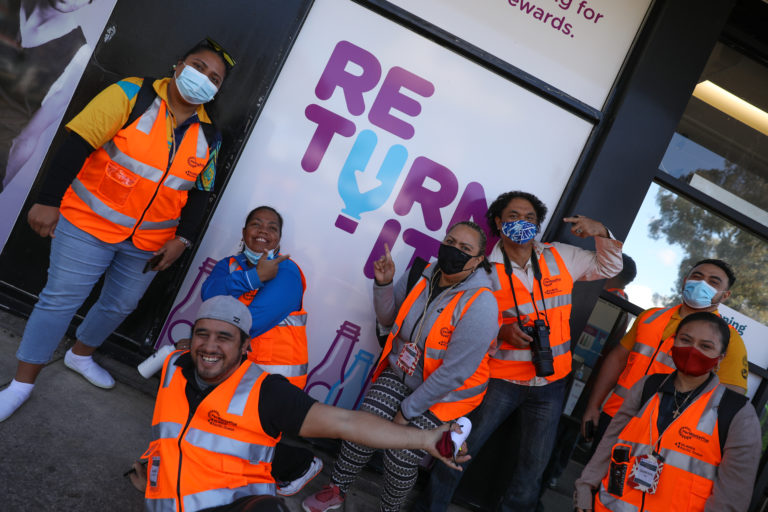 After three days of intense discussions and intellectual debate, during the Sustainable Financing for Waste Management Study Tour, co-organised by PacWastePlus and GEF ISLANDS, participants put down their laptops, grabbed their high-visibility vests, and jumped on a bus to visit different sites around Canberra, exploring how waste management operates in the Australian Capital Territory.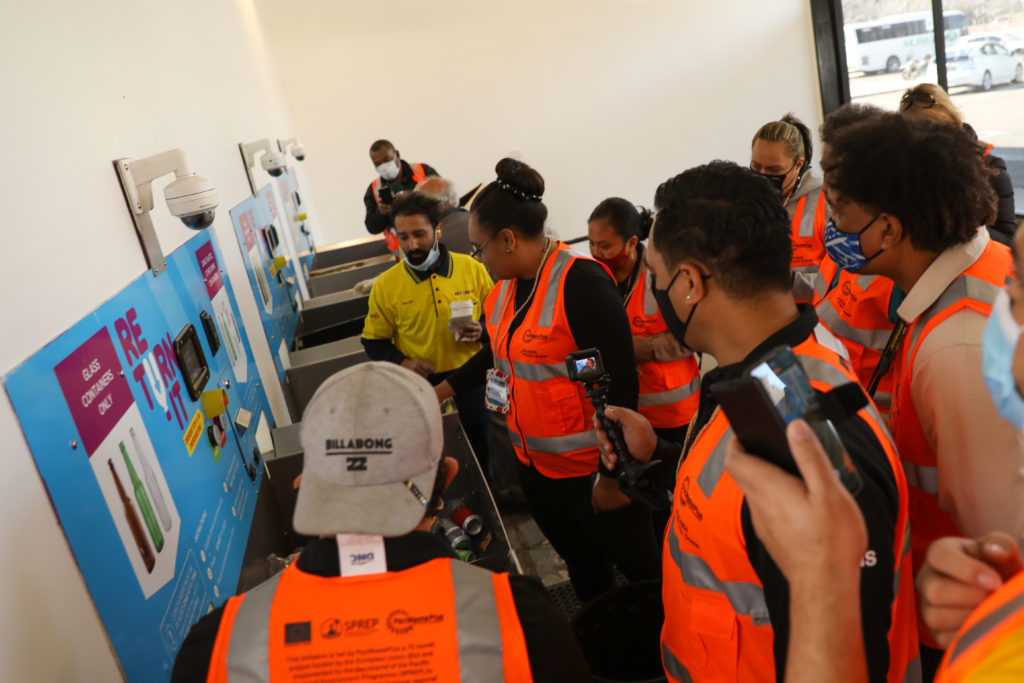 The first of the site visits was to Return-It, the operators for the Container Deposit Scheme (CDS). Within this scheme, people gather their empty drink containers and return them to a collection site, where they can collect a 10-cent refund on each item, which they can either keep for themselves or donate to the charity of their cause.
'One of the most important elements of waste management is making it accessible,' commented Garth Lamb, Chief Development Officer of Return-It. 'Everyone has their different entry point, and if we want waste management to be successful, we need to meet people where they are, and give them different opportunities to engage in the scheme. That's why we've created different ways for people to return their containers.'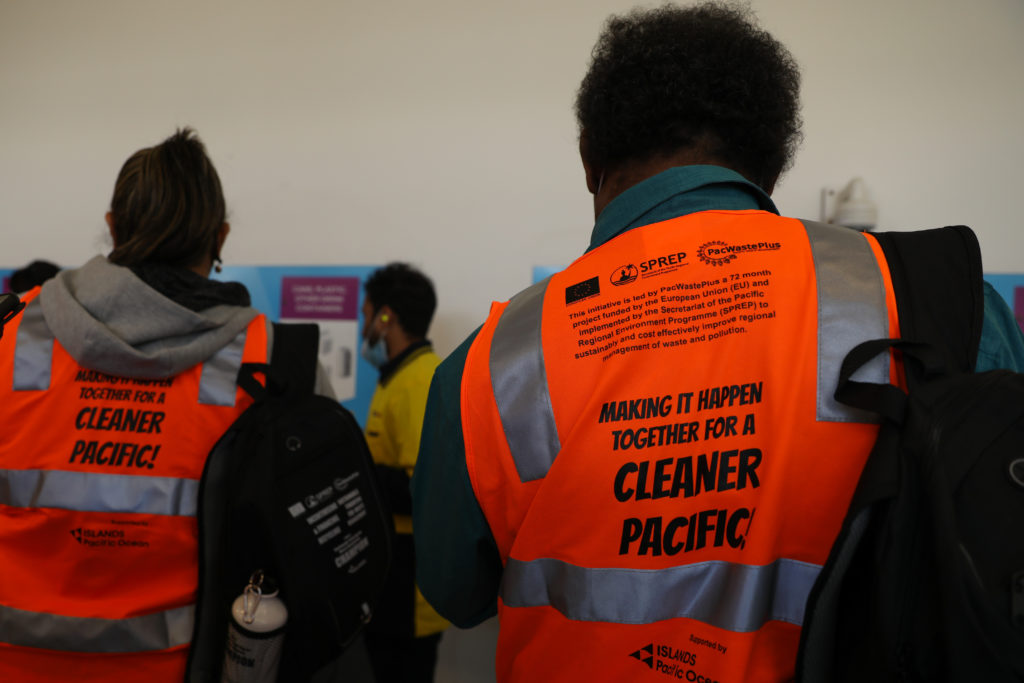 The first stop was to the Phillip and Belconnen Depots. At the depots, people bring their containers and sort them manually, placing them in trays for aluminium cans, plastic bottles and paperboard, or trays for clear, green and brown glass bottles. The items are fed through a simple conveyor belt system to be counted, and based on the number of items, people receive their refund amount. This kind of facility is designed for people who typically collect many items at home, don't mind sorting themselves, and want a more personal experience of engaging with the Return-It staff. The depots use efficient sorting technology to separate recyclable items, and prepares them for the Materials Recovery Facility.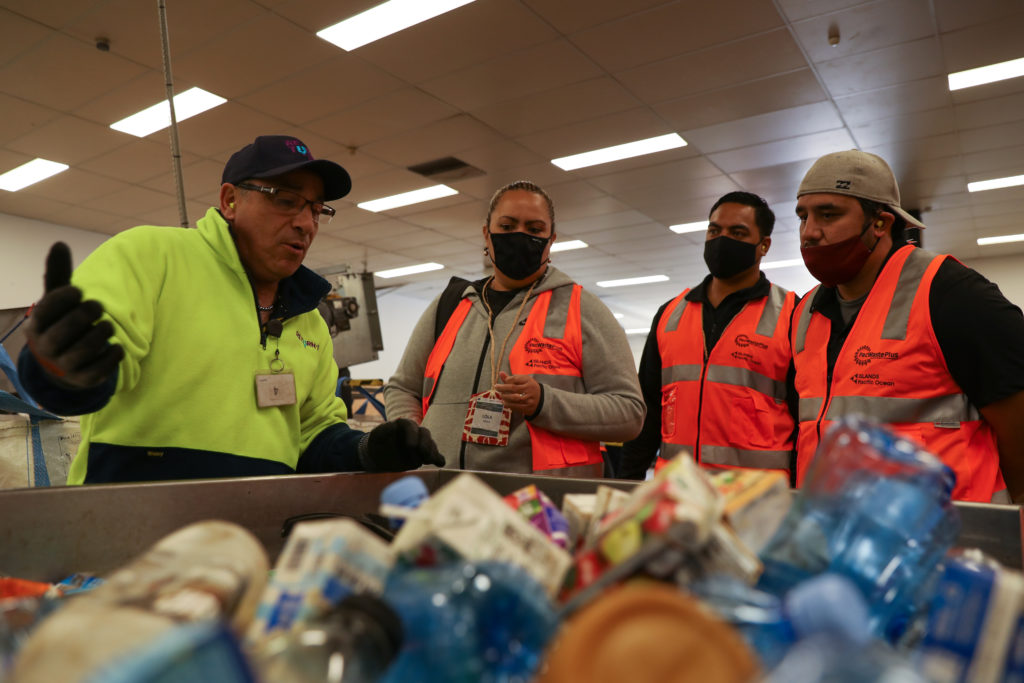 Next up was the Reverse Vending Machine, an efficient and effective recycling technology system that allows consumers to insert their eligible containers into a standalone unit. It's like a vending machine but backwards – instead of putting money in and getting something out, you put the recyclable item in and get money out. The machine scans the items through a bar code and if it is recyclable, accepts it for collection. This kind of facility is designed for people who don't have many items and instead just want a quick drop service, which they can access while going about their day.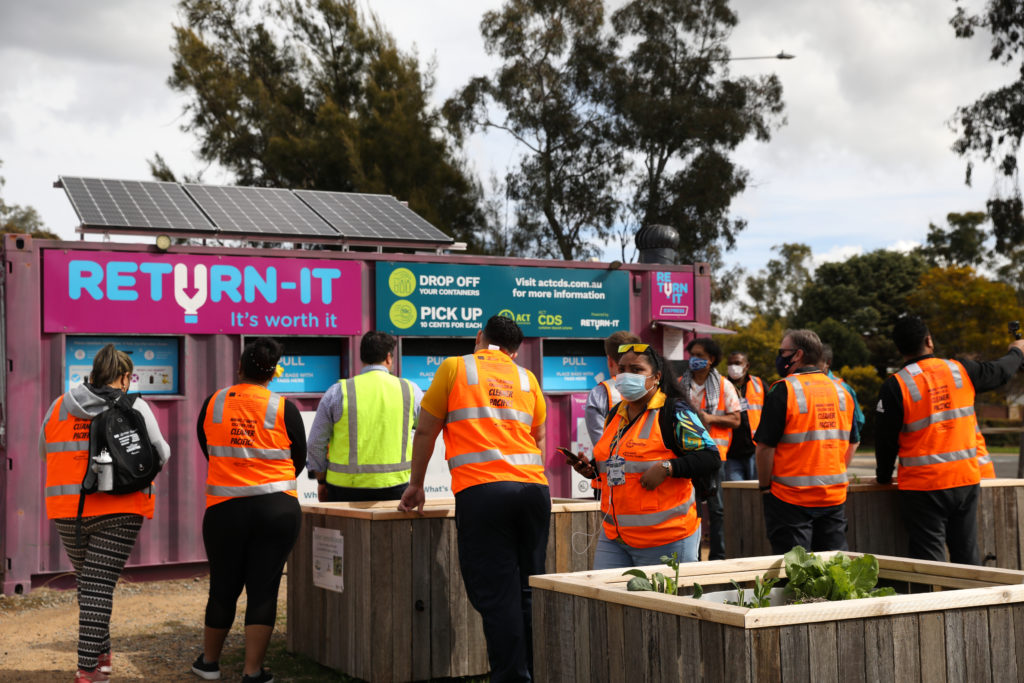 The third stop was to the express Bag, Drop and Go. Here, people place their eligible containers in durable, slightly see-through bags and bring them to the express location. They enter their account details, receive a bar-coded label which they stick on the bag, and simply drop the bag and go. The items are counted by the Return-It staff and the account credited.
All the facilities require users to be pre-registered with Return-It, and they simply enter their account details, to either receive or donate their refund amounts.
'Today was eye-opening,' commented one participant. 'I really enjoyed seeing how everyone can be involved and how the different facilities cater to the different needs of people. I was also so impressed with the technology – on the one hand, it is efficient and high-tech, but at the same time it's also really easy to use. This makes it so accessible, and that's exactly what we need.'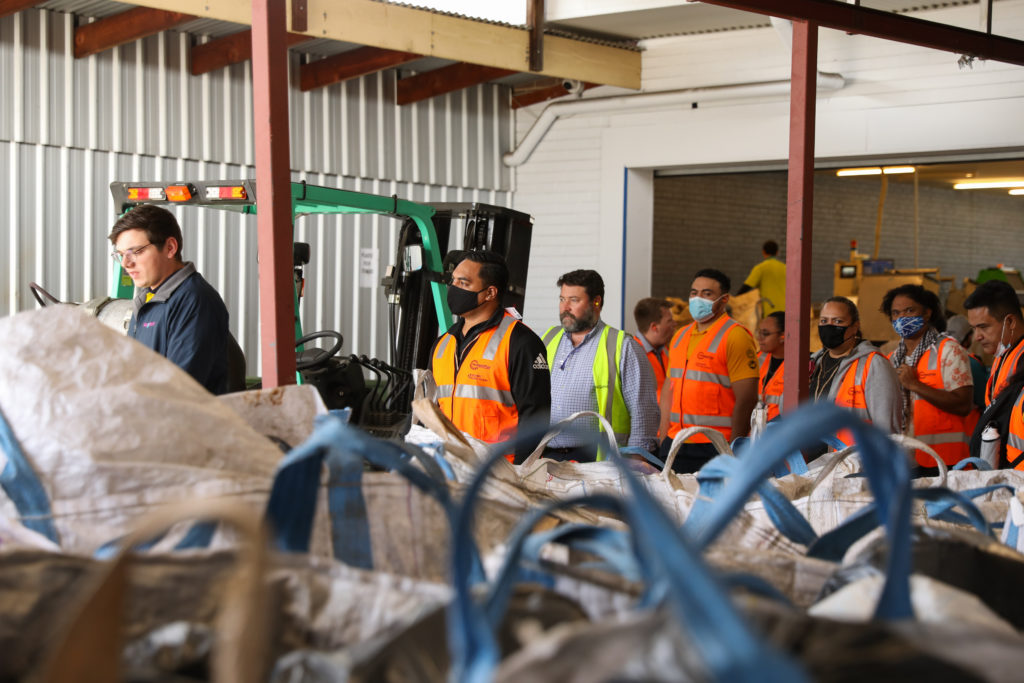 Participants also visited the Hume Materials Recovery Facility, the collection point for kerbside bins, where waste is collected and sorted. Recyclable items are bailed and sent off for recycling, and all other waste is sent to the landfill.
Participants were able to see the inner workings of the facilities through a large observation window, and spent time in the well-designed and informative exhibition area, learning what products recycled materials can make and how it all works. The centre is an important part of community outreach, offering the public the opportunity to learn about recycling and waste management, which is crucial for the success of the program overall.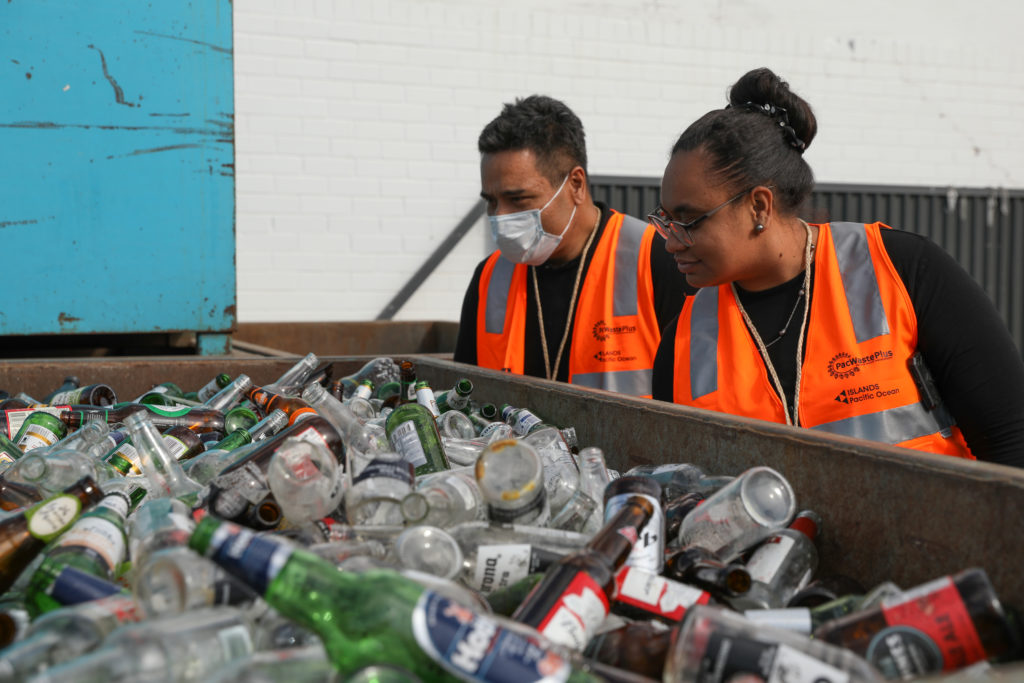 'I've learned so much today,' commented one participant. 'It's incredible to see how all these systems work together and how much can really be achieved. My take away is that in order to set up a good system, you have to think about what you want out of it, and it's really important to have all the beverage producers on board. It's given me so much food for thought, and there is a lot I can take home.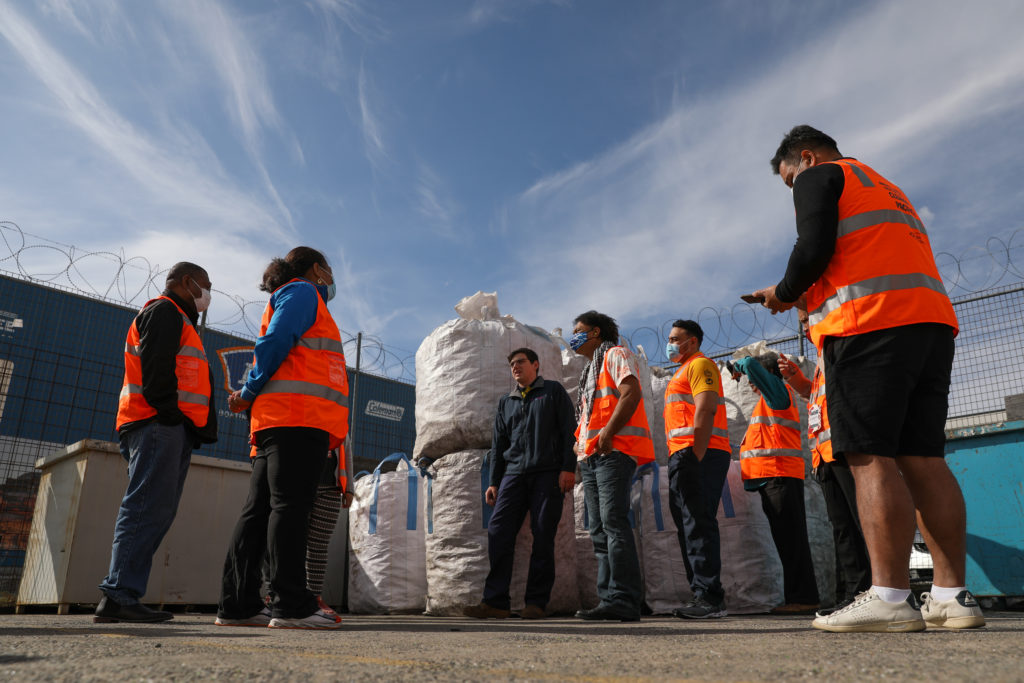 Article and Photos by GEF ISLANDS/PacWastePlus – Dr Kiara Worth