News - Jun 21, 2021
Social Inclusion Survey To Enhance Community Engagement On Waste And Environmental Programmes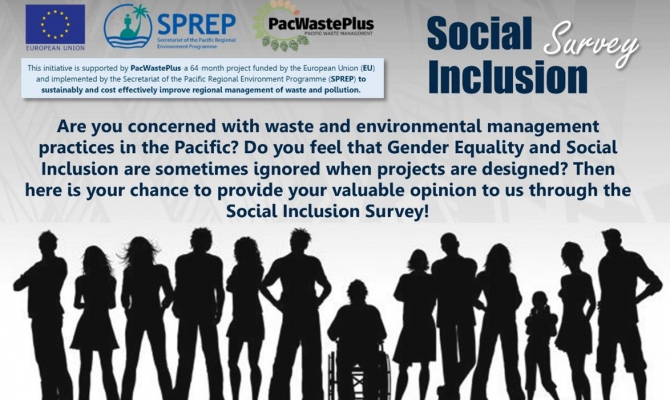 The European Union Pacific Waste Management Programme (PacWastePlus) is encouraging Pacific islanders to provide their valuable opinion to a survey that seeks to gain a comprehensive understanding of how issues of gender quality and social inclusion, cultural awareness and traditional knowledge are currently being considered and incorporated into waste and environmental programme management in the Pacific.
The outcome of the Social Inclusion Survey analysis will be used to guide on gender equality and social inclusion issues that can be strengthened through the activities implemented by the PacWastePlus Programme with specific consideration to the eight programme target waste streams, as well as an understanding of issues around human rights in waste management in general and will also assist countries to understand views on community engagement and provide some feedback on the delivery of a number of SDGs.
Pacific islanders can participate in the survey by visiting – https://www.surveylegend.com/s/2n0v and one does not need to be waste management or environmental expert to complete this survey.
The short survey asks a series of questions on how waste might affect the environment or human health, who is involved in decisions, how consultation occurs and how issues are resolved, and how various sectors of the community (including men, women, youth, the less abled (disabled), vulnerable and marginalized and cultural groups) are impacted and can influence the management of these issues.
The impact of waste and pollution on Pacific countries is taking its toll on the health of communities, degrading natural ecosystems, threatening food security, impeding resilience to climate change and adversely impacting social and economic development.
PacWastePlus is a European Union-funded programme, implemented by the Secretariat of the Pacific Regional Environment Programme (SPREP), which is working towards generating improved economic, social, health and environmental benefits by enhancing existing activities and building capacity and sustainability into waste management practices.
The programme is focussing efforts on the priority waste streams of hazardous wastes (specifically asbestos, E-waste and healthcare waste), solid wastes (specifically recyclables, organic waste, disaster waste and bulky waste) and Water impacted by solid waste.