News - May 18, 2021
Samoa Commits to Enhancing E-Waste Management in Collaboration with The PacWastePlus Programme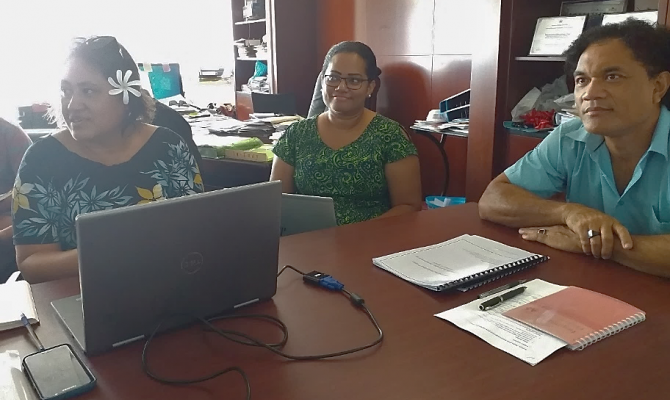 The Samoa Ministry of Natural Resources and Environment (MNRE) with the support of the European Union's Pacific-EU Waste Management Programme (PacWastePlus) have selected electronic-waste (E-waste) as their priority waste stream and are now in the final stages of the development of their in-country project and related activities to further improve on e-waste management at the national level.
The Samoan PacWastePlus project is focused on creating a strong and sustainable legislative environment in Samoa to support the long-term operation of an e-waste management system, empowering the Samoan government and private sector partners to effectively manage e-waste.
MNRE, with funding and technical support from PacWastePlus, will seek to provide safe e-waste collection and dismantling facilities and incentives to the community to encourage them to return e-waste for recycling and reducing e-waste deposited into landfill, illegally dumping and burning of e-waste.  The project supports the Samoan government's commitments in the Samoa National Waste Management Act 2010 and contributes towards the achievement of the National Waste Strategy 2019-2023 on effective implementation of regional and international conventions (Stockholm/Minamata).
MNRE acknowledged the continued meaningful engagement and guidance of the PacWastePlus programme in enabling better coordination and partnerships through the proposed project activities between the private sector, communities, and the Government to take a holistic approach for waste management and ownership of their roles for solutions for improved e-waste management.
The PacWastePlus programme is a 64-month project funded by the European Union and implemented by the Secretariat of the Pacific Regional Environment Programme (SPREP) across 14 Pacific island countries and Timor-Leste which is now in its implementation phase, will address both the cost-effective and sustainable management of waste and pollution in the priority waste streams of hazardous wastes (asbestos, healthcare waste and e-waste), solid wastes (Organic waste, Disaster waste, Bulky waste and Recyclables), and related aspects of wastewater.