Project Partners - Oct 19, 2021
Remote Data Collection Training – Use of KOBOTOOLBOX Application for Disaster Waste Rapid Assessment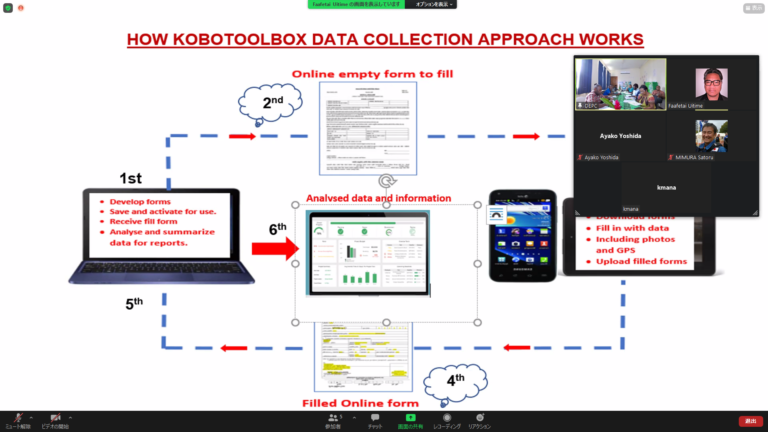 As part of the preparedness for the upcoming cyclone season in Vanuatu, JPRISM II conducted training on the use of the Kobotoolbox Data Collection Technology for gathering information on the generated waste and damages caused to waste management facilities during disaster events.
More than 15 officials participated from the Department of Environment and Conservation (DEPC), National Disaster Management Office, Port Vila City Council, Shefa Provincial Government Council, SPREP, and others. The training programme covered – setting up of the participant's Kobotoolbox accounts, creating of data collection forms, use of android devices to fill the forms, uploading of the filled forms to a designated server.
The participants also learned how to receive submitted forms in a designated server, view and extract the analysed information for reporting purposes. According to Mr. Faafetai Sagapolutele, Assistant Chief Advisor of JPRISM II, "most of the participants were able to demonstrate through the training practical sessions, their capacity to use the Kobotoolbox applications".
He stressed, "the importance for the participants to achieve that level of skills and knowledge, for supporting future assessment in Vanuatu using this approach".
The Kobotoolbox Data Collection technology is free and has been used under several UN Humanitarian and Disaster Management initiatives throughout the world, and recent waste assessments in the region (IUCN, World Bank, etc). This technology replaces the old paper version with the use of android devices to collect different types of information including photos, audio, documents, GPS coordinates, etc.
Ms. Ionie Bolenga, the Principal Waste Management and Pollution Control Officer of DEPC thanked JPRISM II for this initiative. She confirmed the readiness of Vanuatu to use this data collection technology in the future. Mr. Ken Mana of NDMO reiterated the importance of this training for NDMO`s general disaster assessment purposes.
Similar training opportunities are currently planned for Samoa and Tonga. For more information, refer to the following links for disaster waste collection form samples.
https://ee.kobotoolbox.org/single/abwzUq0F  – DW Collection Form – Vanuatu
https://ee.kobotoolbox.org/single/f3qqOt98    – DW Collection Form – Tonga
https://ee.kobotoolbox.org/single/SboV3qDc   – DW Collection Form – Fiji