News - Oct 19, 2021
Recycling Initiative Partnership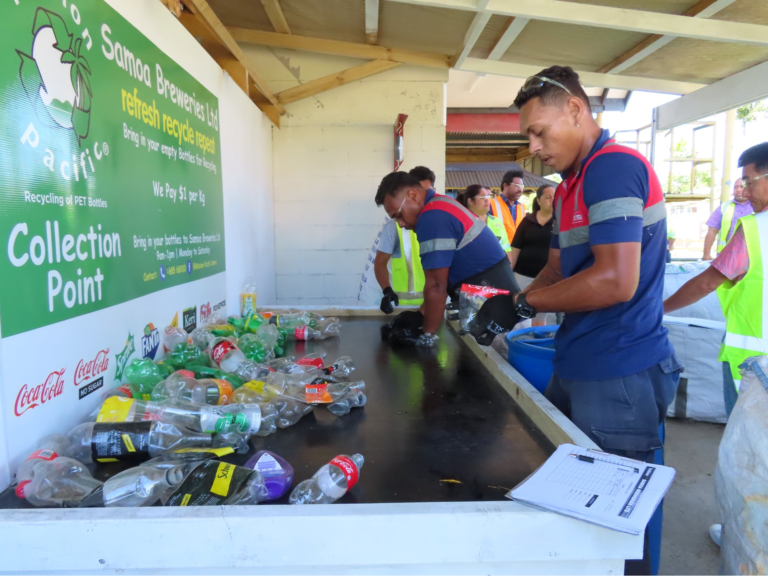 The PacWastePlus Programme joined donor partners, government representatives, and the private sector on 6th September 2021 on an exciting journey to the Samoa Breweries Limited, the main brewer in Samoa for the German type of lager, Vailima to learn more about the recycling initiatives of the company, and partnership with the Samoa Recycling and Waste Management Association (S.W.R.M.A).
There are presently four components to the recycling initiative by the brewery. All leftover grains from the brewing process are collected and given to local farmers with the intent of enhancing soil fertility. Samoa Breweries is part of the Samoa Waste Oil Management Programme implemented by S.W.R.M.A. whereby all waste oil from the company's operation is kept in a bunded storage area on-site and collected by S.W.R.M.A to ship for recycling. During the site visit, participants witnessed 6,150 litres of waste oil collected from the site and transported to S.W.R.M.A facility in Tafaigata where it will be stored prior to shipment.
In addition to producing lager, Samoa Breweries also bottles Coca-Cola and allied soft drink brands under license. Mr Brent Adams, CEO of Samoa Breweries Ltd also introduced to the team their newly launched Mission Pacific recycling program in Samoa, which commenced in July. The Mission Pacific Recycling Program was first launched in Fiji in 1999, and since then it has seen a huge increase in PET bottles and cans being recycled with an estimation of 200 tons recycled annually. The aim of this initiative is to encourage the public to recycle PET bottles by handing them in, in exchange for cash. To boost this program, the Mission Pacific Recycling Program is paying out $1 tala for every kilo of Coca-cola branded plastic bottles received from the public.
The company recently launched a glass bottle recycling programme that converts all old soft drinks glass bottles, small size to sand-like grains that are currently used to fill potholes on access roads. Access products produced from these recycling initiatives are sold to locals at a very cheap price. Larger glass bottles, 75 ml – 1-litre bottles are transported to the S.R.M.W.A. recycling facility to be reprocessed through the CERO glass waste recycling project recently announced by the United Kingdom's High Commissioner.
PacWastePlus would like to thank Samoa Breweries Company Ltd for hosting us and for contributing towards sustainable waste management.