News - Apr 21, 2021
Projects Come Together To Close The Environment Data Collection Gap In The Pacific Region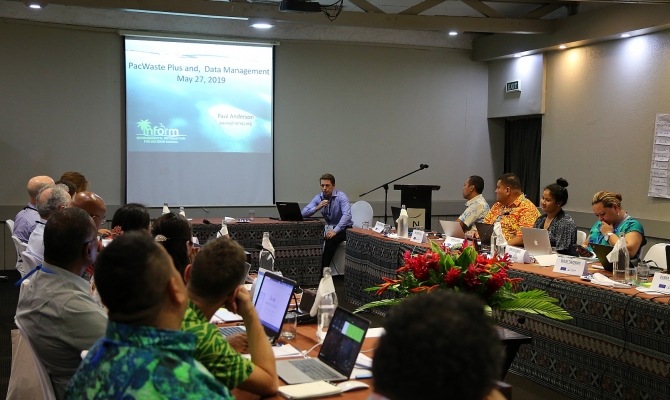 In order to help Pacific island countries make informed decisions to better their environment, access to information and data is vital. During the PacWaste Plus Inception Meeting (27-29 May in Nadi, Fiji), a session on 'Project Logic and Data Strategy' identified the key regional challenges of waste management and pollution control associated with data collection and access to information.
The programme, a partnership between the European Union (EU) and the Secretariat of the Pacific Regional Environment Programme (SPREP), focuses on building the capacity of Pacific islands to better manage waste at the national level and ensure health wellbeing of their communities, environments and economies.
A key result area of the PacWaste Plus Programme is the improvement of data collection, information sharing, and delivery of education and awareness for the project's 15 Pacific countries.
In an effort to ensure effective collection of information and data, the session integrated presentations from three other key projects in the region, each either working directly in the area of data and information collection or with components requiring data collection and monitoring. Participants heard from the Japanese Technical Cooperation Project II for Promotion of Regional Initiative on SWM in Pacific Island Countries (JPRISM Phase II); the Pacific Region Infrastructure Facility (PRIF); and the Inform Project.
"We identified the need for a data strategy session to create synergies between PacWaste Plus and the projects that have a focus on data collection and monitoring of waste, chemicals and pollutants," said Mr Bradley Nolan, Project Manager for the PacWaste Plus Programme.
"It is extremely important for PacWaste Plus to work together with existing projects to ensure no work is duplicated, and that gaps identified can be addressed collectively. SPREP's Inform waste data portal will provide the perfect vehicle to collate and distribute data to countries, communities and industries that can use the data to inform decision making."
The Pacific Regional Waste and Pollution Management Strategy (Cleaner Pacific 2025) has fifteen strategic actions to ensure the goals of the strategy are achieved. This strategy is the regional framework that guides the work of organisations, partners and the Pacific island SPREP Members in waste management and pollution control.
The first strategic action of the Cleaner Pacific 2025 states that "SPREP, Pacific island countries and territories as well as partners undertake regular waste, chemicals and pollutants (WCP) data collection and management, including storage, interpretation, dissemination, and sharing." This strategic action has been incorporated into the data collection and monitoring component of JPRISM II, as well as PacWaste Plus and other projects working on waste management in the Pacific.
Ms Mayu Nomura, the JPRISM II Solid Waste Management Training/Monitoring Expert, touched on JPRIMS II's work in the region as well as in-country. "JICA, through JPRISM II, assists Pacific island countries in the collection, storage and monitoring of WCP data, which countries need in order to properly address the challenges they face which, while common in the Pacific region, require localised solutions."
Representing the Pacific Region Infrastructure Facility (PRIF), Mr Jack Whelan discussed the Regional Resource Circulation and Recycling Network project and highlighted the findings of the Pacific Country Profiles – Solid Waste Management and Recycling report.
"The collection of accurate data and information on waste and recyclables is extremely important to work for the Pacific region, and one that requires proper research, fieldwork, and reporting using standardised methodologies."
He noted the significant work already achieved in programs by SPREP through PacWaste and JICA through JPRISM. He also referenced the INFORM data bank and portal as a vital resource for all stakeholders to consult and contribute to. "Access to accurate information and data is the foundation which will guide decision making at all levels, from donors to partners, to governments and community leaders."
The report is a compendium of Pacific country and territory profiles in the solid waste and recycling sector. It focuses on identifying and quantifying the opportunity to improve the resource recovery of fifteen common recyclable commodities present in the solid waste streams of fifteen Pacific island countries.
Presenting on behalf of the Inform Project at SPREP, Mr Paul Anderson, the Project Manager, said, "The whole SPREP team is working to provide synergistic solutions to the national and regional issue of waste management, from partner coordination with the PRIF, WB and UN Environment to fully integrated national support including both raw data collection, processing, policy and reporting linkages and provisioning of national environment data portals.  The regional Inform project and PacWaste Plus project have joined forces to ensure PacWaste data will be available to countries and development partners now and into the future."
Inform was created to address the strong need identified by Pacific island countries for an environmental information database to house the information countries need to make informed decisions. The environmental information and data are collected and stored in single national databases as well as in a regional database.
The PacWastePlus Programme, once successfully implemented, will generate improved economic, social, health, and environmental benefits for Pacific island countries and their communities. It builds on the work undertaken by the EU funded PacWaste Programme.
The Programme will be implemented until June 2023 and utilise donor investment of 16.5 million Euros to progress waste management works in the Cook Islands, Democratic Republic of Timor-Leste, Federated States of Micronesia, Kiribati, Nauru, Niue, Fiji, Republic of Marshall Islands, Palau, Papua New Guinea, Samoa, Solomon Islands, Tonga, Tuvalu and Vanuatu.