News - Feb 27, 2023
Project Partners Coordinate E-Waste Management Initiatives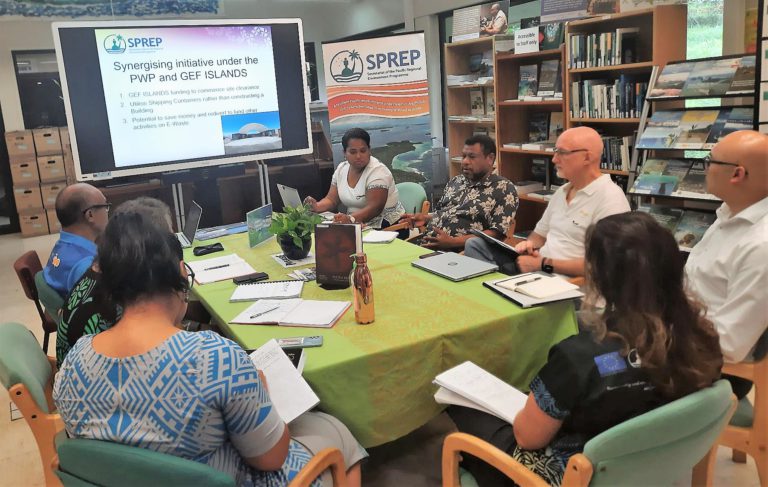 Samoa's commitment towards improving e-waste management will be boosted as the PacWastePlus programme supports MNRE with the construction of an e-waste dismantling and storage facility while the GEF ISLANDS programme will be supporting the construction of an e-waste learning centre to provide capacity building and training opportunities to the community on electronic repair.
The PacWastePlus and GEF ISLANDS Programme Management Units held a coordination meeting in February with officials from the Ministry of Natural Resources and Environment (MNRE) to better manage programme synergies and efforts to maximise benefits to local communities.
With a facility site secured by MNRE in Tafa'igata, meeting discussions focused on confirming the scope of works and progressing the implementation plan, with the facility design work proposed to commence in the first quarter of 2023.
Once constructed, the facility will be the first in the region, whereby not only e-waste dismantling will be undertaken but will also serve as an education centre where repairs and dismantling courses are planned to be delivered to empower local communities with the necessary knowledge and skills to undertake minor electronic repairs.
Following the meeting, MNRE representatives took both Programme Management Unit meeting participants for a visit to the e-waste facility site.
In addition to the dismantling and storage facility, the PacWastePlus supported Samoa project will design an e-waste "Take Back system", to assist local communities move away from a "Throw Away" society to a resource recovery one, where waste is recognised as a resource, .draft regulations that will enable the implementation of this system, facilitate awareness and outreach on e-waste, and train local officers on the implementation of these systems.