News - Dec 14, 2021
Project Moves Forward to Address Legacy Asbestos Containing Materials on Banaba Island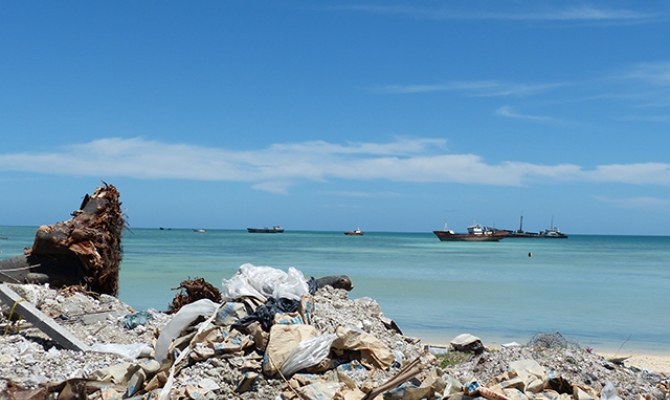 A sustainable project to meaningfully engage in the management of ACM on Banaba Island with the goal of ultimately removing from the island this risk to human health and the environment has formally been approved through the signing of a Memorandum of Understanding (MoU).
A Memorandum of Understanding (MoU) was signed between the Ministry of Environment, Lands and Agricultural Development (MELAD) for the Government of Kiribati and the Secretariat of the Pacific Regional Environment Programme (SPREP) on 30 August 2021.
The signing of this MoU by Ms Taare Aukitino, Secretary, MELAD, and the SPREP Director General, Mr Kosi Latu defines the project partnership and allows the commencement of planned project actions in Kiribati.
The MoU formally allows to progress implementation of innovative and sustainable actions for Kiribati's asbestos management priority needs as the agreement provides a framework of cooperation, agreed project actions, and responsibilities between SPREP and MELAD to work in partnership and implement project actions.
The Kiribiati asbestos management project, which is being implemented through the support of the European Union-funded PacWastePlus programme, will assist in the management of legacy asbestos containing materials (ACM) through implementation of best practice off-island disposal activities and establishing appropriate legislation and policies for the elimination of the importation of asbestos containing materials into Kiribati.
The project actions will include eliminating the importation of asbestos and asbestos-containing materials (ACM) into Kiribati, safe and proper removal of ACM from sites prioritised as high risk on Banaba Island, and the development and adoption of an action plan for the management and eventual removal of legacy ACM from Banaba Island.
Work done under the PacWaste program discovered significant amounts of ACM located at the former British Phosphate Company (BPC) and in other locations including residential properties [asbestos roofing material] on Banaba Island. Noted in the assessment was the lack of infrastructure needed to address this issue, e.g., limited handling, excavation, and transport equipment, lack of appropriate ACM disposal facilities, and no trained ACM abatement personnel.
With the implementation of project actions, the removal of ACM in Banaba Island will reduce exposure of the community to asbestos fibres, thereby reducing the incidence of disease and serious help conditions caused by the inhalation of asbestos fibres.