Project Partners - Oct 19, 2021
PRIF Week: Inaugural Pacific Infrastructure and COVID-19 Recovery Perspectives Conference October 2021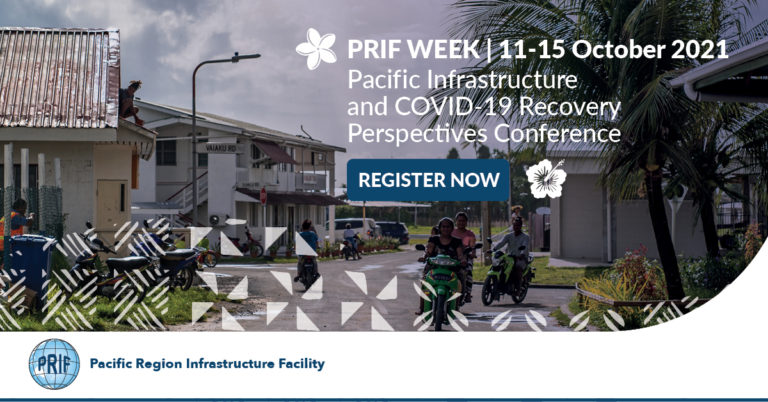 The PRIF Week virtual conference was held each morning over five days from 11-15 October 2021.
The Pacific region has suffered greatly from the COVID-19 pandemic and has a significant recovery journey ahead. Infrastructure can play an important role in terms of reconnecting people, supporting improved health and sanitation outcomes, and stimulating economic activity and jobs.
With a focus on Pacific Infrastructure and COVID-19 Recovery, each morning covers a key theme including infrastructure planning for economic recovery, improving connectivity in the Pacific region, energy services, sanitation, and waste management solutions, and climate change sustainability and resilience in infrastructure.
"As the Pacific region plans its post-COVID future, it's essential that infrastructure decisions and investments are made in smart and strategic ways. The inaugural PRIF Week conference will bring together participants from Pacific Island nations, development partners, the private sector, and advisory bodies, so we can work together to achieve the best possible outcomes for the region" said Sean O'Sullivan, PRIF CO Team leader.
Speakers shared perspectives on COVID-19 and infrastructure programs in the Pacific. Sessions will focus on providing practical solutions and different views on how to address challenges.
Key speakers included:
Kosi Latu, Director General, Secretariat for the Pacific Regional Environment Programme (SPREP)
Ahmed M. Saeed, Vice President, Asian Development Bank
Roland Rajah, Director of International Economics Program, Lowy Institute
Fei Deng, Program Leader, The World Bank Group
Allan Jensen, CEO, Cook Islands Investment Corporation
Jeff Whitty, Lead Adviser, New Zealand Ministry of Foreign Affairs and Trade
Ricky Fuoo, Chairman, Solomon Islands Chamber of Commerce and Industry
Soteria Noaese, Assistant CEO Procurement, Samoa
Mitsunori Motohashi, Pacific Hub Energy Program Coordinator, The World Bank
Seymour Singh, General Manager and Chair for COVID-19 Taskforce, Water Authority of Fiji
Hon. Seve Paeniu, Finance Minister, Government of Tuvalu
Phil Philippo, CEO, Ministry of Transport and Communication, Marshall Islands
Emma Veve, Deputy Director General, ADB
Habiba Gitay, Climate Change Specialist, The World Bank Group
Johnson Binaru, Director General, Ministry of Infrastructure & Public Utilities, Vanuatu
A full program is available to view at https://prif.cliftons.com/.
Learn More: www.theprif.org