News - Jun 21, 2021
Pacific Island Countries Move Forward With Pacific Waste Management Programme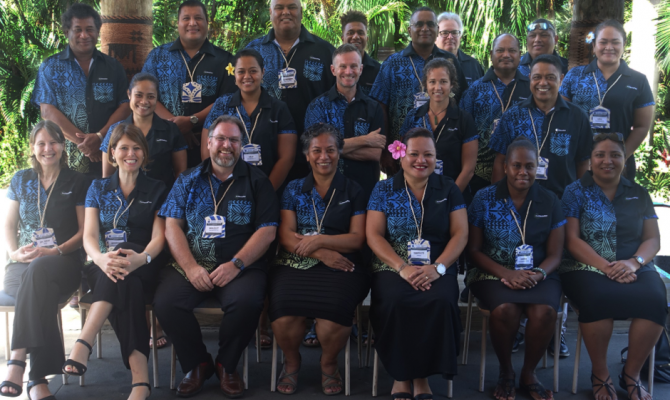 Pacific island countries, supported by the European Union (EU) funded Pacific Waste Management Programme (PacWastePlus) concluded their intensive three-day programme steering committee meeting on 12 Feburay 2020 in Nadi, acknowledging that waste management is a serious issue of concern for the region, especially hazardous wastes such as E-waste and Asbestos as well as solid wastes, specifically Recyclables.
Secretariat of the Pacific Regional Environment Programme (SPREP) and participating country delegates confirmed specific country national priorities for waste management project support and highlighted a number of challenges they face such as strengthening legislation, enhancing awareness and education initiatives, and providing appropriate capacity-building opportunities for the region, amongst others.
Despite Pacific countries addressing waste management at the national level, a call for action and assistance was made for additional resources to sustainably and cost-effectively improve the management of waste regionally.
Participants of the meeting were also reminded of the link between waste management and climate change, both the risks, associated costs, and challenges imposed by climate change as well as the opportunities that good waste management offers in reducing greenhouse gas emissions.
To provide support and strengthen regional cooperation, PacWastePlus programme is assisting countries to share experiences and examples of best practices in the sector and assisting with linking countries, agencies, and donors which can provide strategic assistance to develop and implement in-country activities.
The SPREP team has commenced discussions with countries on national project investments and delivering activities that will improve data collection and sharing, assess legal frameworks and waste policies, develop structured education and awareness initiatives, enhance private sector engagement, and build capacity to deliver sound environmental waste management practices across the Pacific.
Country delegates acknowledged that PacWastePlus provides a timely opportunity for countries to leverage the support from the European Union, and work from other regional projects, as well as the SPREP coordinated, Clean Pacific Roundtable, to enhance national actions and implement innovative and well thought new waste management interventions.
A number of in-country missions will be undertaken by the PacWastePlus programme over the coming months to provide further assistance to countries for the development of their national projects and for closer engagement with all stakeholders.