General - Jul 29, 2021
Let's Befriend Nature for International Day of Friendship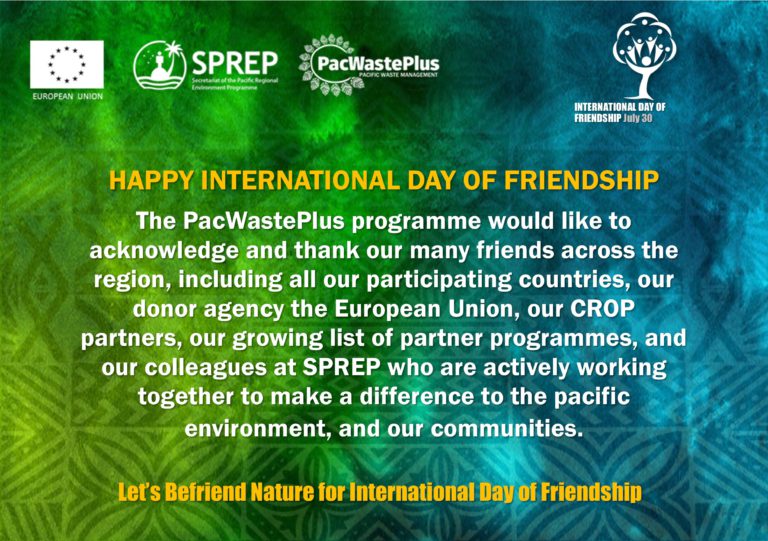 The International Day of Friendship (July 30) celebrates the idea that friendship between peoples, countries, cultures, and individuals can inspire peace efforts and build bridges between communities.
To mark the International Day of Friendship the UN encourages governments, international organisations, and civil society groups to hold events, activities, and initiatives that contribute to the efforts of the international community towards promoting a dialogue among civilizations, solidarity, mutual understanding, and reconciliation.
Friendship requires empathy, compassion, and concern for other people. By valuing and celebrating friendship, we foster these characteristics and adopt a more selfless and grateful outlook on life.
The PacWastePlus programme would like to acknowledge and thank our many friends across the region, including all our participating countries, our donor agency the European Union, our CROP partners, our growing list of partner programmes, and our colleagues at SPREP who are actively working together to make a difference to the pacific environment, and our communities.
And finally, we would like to acknowledge our sometimes-neglected friend, "The Environment" and ask you all to make a new commitment to this most important of friends!  We ask you to celebrate our relationship with nature today through a small act: you might like to plant a tree, reduce the number of packaged products you buy, actively recycle your waste, or start a compost pile at your home.  Every small act of kindness and friendship helps to make our communities, and the world, a better place.
Happy World Friendship Day!