Project Partners - Oct 19, 2021
Inform E-Learning Platform Officially Launched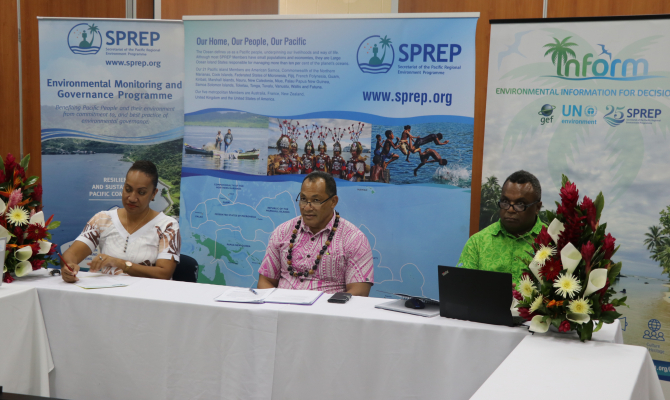 The Inform Project of the Secretariat of the Pacific Regional Environment Programme (SPREP) hosted its second webinar to officially launch the Pacific Inform e-learning platform.
The "Inform e-learning to Decision" webinar is the second installment of SPREP's 2021 series titled, "Our Pacific Environment in a COVID-19 World" which was held on 11 August. A key highlight of the webinar was the focus placed around the voices of Pacific islands who are directly involved in managing data and information, through the Pacific Environment Data Portal as well as Indicator Reporting Tool.
The Inform e-learning platform is a tool designed for the management of environmental data and the application of indicator reporting tools and adds to the growing catalogue of SPREP e-learning resources. The webinar launch of the platform provided an opportunity for the Inform team to introduce the modules or courses developed to support enhanced environmental data access, analysis and use for decision making and reporting by SPREP's Members.
The "Inform e-learning to Decision" webinar was also an opportunity for Pacific island members to share their unique and varying experiences with insights from Federated States of Micronesia (FSM), Tonga, and Vanuatu.
"The inform project is an example of one SPREP's most successful projects. Due to the COVID pandemic, there is a high demand for capacity building throughout the region. It is great to see this need being met through projects like Inform, with the development of online resources which are easily accessible with ongoing and long-term support offered," said Mr Kosi Latu, Director General of SPREP.
"SPREP through the Inform Project is working very closely with the project Members to help assess historical and current environmental change by looking at the evidence, improving data collection, management, and assessment for informed decision making. SPREP is dedicated to supporting the ongoing capacity building of its Members."
"SPREP has taken the advantage of where COVID has stopped us from learning face-to-face, SPREP has allowed our users and Member countries to take online learning at their own fingertips. Today the Inform Project has successfully created these two units in line with that objective," said Salā Dr George Carter, Moderator of the webinar.
Ms Lagi Reupena, Inform Project Environmental Data Officer introduced the Inform e-learning platform with a presentation and walkthrough of how to get to the platform landing page, register and receive a login, as well as how to navigate, participate and complete the modules or courses which can be carried out at self-learning pace.
Currently, there are two units available on the Inform e-learning platform: 1) Environment Data Management; and 2) Environment Reporting (Indicator Reporting Tool). More modules will be developed and rolled out to complement the two existing modules.
"The Inform e-learning platform was developed by the Inform Project team with input and guidance from the project's 14 Member countries. These modules are therefore the products of the collaborative work of many people, and we thank our members for their invaluable support," said Ms Reupena.
Mr Skiis Dewey, GIS Program Manager, FSM shared his perspective on the importance of the environment data portals in supporting FSM's environment data collection and maintenance, as well as his excitement for the e-learning platform as a tool that will help FSM and other Pacific islands gain the skills and capacity building they need.
"We have seen an increase of users of the FSM environment data portal by students and researchers, so with the launch of this new platform we look forward to seeing more new users access and use these tools on their own after and we hope environment data collection and access will no longer be an issue for FSM in the future," said Mr Dewey.
Other panellists at the webinar launch were Mr Synther Biza (IT and Communications Officer, FSM), Ms. Vani Koroisamanunu (Environmental GIS Specialist at SPREP), Mr. Siosiua Latu (Inform Project, Tonga), Mr. Nigel Batie (Inform Project, Vanuatu), and Ms. Ofa Kaisamy (Manager of the Pacific Climate Change Centre, SPREP).
In addition to the platform presentation and walk-through and important country insights from FSM, Tonga, and Vanuatu, the key topics of the webinar included: availability and openness of data; remote support of tools and portals; collaboration; and data ethics consideration.
"A key takeaway from this webinar which I would like to repeat is that in addition to learning new technical tools, practitioners who can learn from each other is key," said Mr Paul Anderson, Inform Project Manager who wrapped up the webinar with an overview of some key points discussed.
"No matter what technical skills we gather, or the new online platforms we develop, it is the people working in these spaces that make the difference and relationships and networks we build together. It is my hope this network of people here in this webinar, as well as the network we've built through the Inform project, can continue successfully into the future."
The Inform Project is a four-year project (2017-2022) funded through the Global Environment Facility (GEF) and implemented by UN Environment.  It is executed by SPREP in the 14 Pacific Island countries of the Cook Islands, Federated States of Micronesia, Fiji, Kiribati, Republic of the Marshall Islands, Nauru, Niue, Palau, Papua New Guinea, Samoa, Solomon Islands, Tonga, Tuvalu, and Vanuatu.
Learn more about the Inform Project: https://www.sprep.org/inform