Programme Newsletter - Oct 18, 2021
Improving Asbestos Management and Eliminating the Importation of Asbestos Containing Material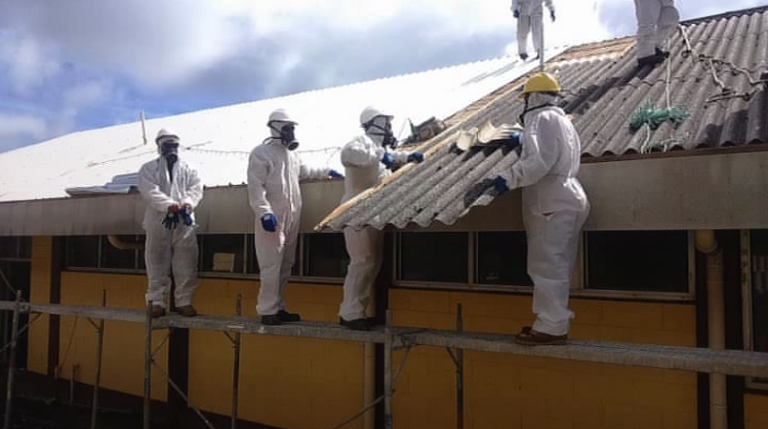 A call for assistance from the Kingdom of Tonga to improve asbestos management and eliminate the importation of asbestos containing material to protect both the community and the environment has been answered by an innovative project partnership that provides sustainable solutions for asbestos management.
Asbestos is a major issue for many Pacific Island countries with a history of use of asbestos containing material in construction. Asbestos has been classified as a known human carcinogen, a substance that causes cancer, and inhalation of asbestos fibres that once disturbed can become airborne and cause serious lung disease.
A Memorandum of Understanding (MoU) was signed between the Tonga Department of Environment, from the Ministry of Meteorology, Energy, Information, Disaster Management, Environment, Climate Change and Communications (MEIDECC) and Secretariat of the Pacific Regional Environment Programme (SPREP) on 26 July 2021.
The Tonga country project seeks to develop national legislation to ban the importation of asbestos and provide an educational program to raise public awareness of asbestos and how to interact with it safely.
The MoU provides a framework of cooperation, agreed project actions, and responsibilities between SPREP and MEIDECC to work in partnership and implement project actions and formally allows to progress the implementation of an innovative and sustainable solution for the Tonga asbestos management.
Project actions will also update and revise the current asbestos Code of Practise to guide the management and handling of asbestos, provide training on asbestos abatement, handling, and disposal work, and abatement of asbestos containing material from a few selected buildings in Tongatapu.