News - Nov 14, 2022
Grow a wish Vanuatu: TC Harold Recovery Works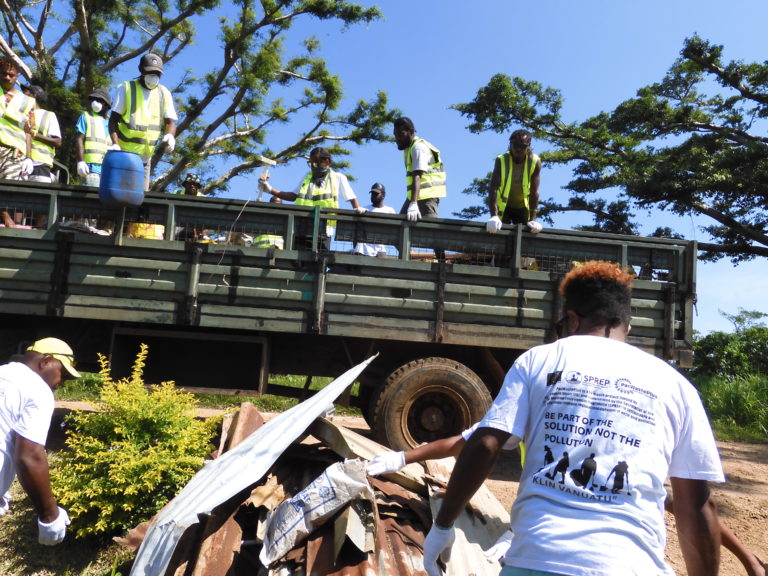 This short video was produced by the European Union of their continued engagement and support to Pacific Island countries and was produced in Vanuatu, as part of a series of video stories, by Mr. Philippe Carillo, an award-winning Hollywood filmmaker and master engineer from Fusion Productions Limited through a consultancy engagement with EU.
TC Harold Recovery Works Overview
Following a request from the Vanuatu Government to provide support for waste clean-ups following Tropical Cyclone Harold which made landfall in Vanuatu in April 2020, the PacWastePlus Programme, in consultation with the Department of Environmental Protection and Conservation (DEPC), and other donor funded waste projects, implemented support activities to nine communities on the islands of Santo, Pentecost, Aore and Malo.
The project was deployed in September 2020 following extensive consultation to confirm the specific support requirements. The project was managed by staff from PacWastePlus (Regional Officer based in Vanuatu), an extension officer for DEPC and support from the Luganville Municipal Council (LMC).
The main objectives were:
1) to remove disaster waste generated by Topical Cyclone Harold
2) to minimise associated impacts on identified communities
The following activities were undertaken to achieve these objectives:
• Facilitation of community training on disaster preparedness, which focused on disaster preparedness, waste segregation, safe handling of waste, waste data collection and community disaster preparedness planning
• Waste clean-up remaining from Tropical Cyclone Harold
• Drafting of Disaster Waste Management Plan for the nine communities to assist in managing disaster wastes from future disasters
The training sessions were designed to empower local communities to quickly recover from the impacts of a natural disaster (e.g. tropical cyclones) through preparedness planning and improved management of disaster waste.
The training was facilitated in French and Bislama to ensure that participants understood the training content. The training was designed to inform communities about:
• disaster waste management activities that should be undertaken at each stage of the Disaster Management cycle
• the different types of disaster waste and its impact when not managed effectively
• the importance of having a Disaster Waste Management Plan (and assistance to develop a plan)
A total of 202 men, women and youth, from across the nine communities, participated in the disaster waste management training. Of the training participants, 106 participated in the collection of disaster waste from the nine communities.
Prior to collecting materials, additional training on:
a) safely handling disaster waste collection
b) data collection of disaster waste activities
c) Health and safety plan waste collection activities
A volumetric estimation of the disaster waste estimated ~239m³ of disaster waste was collected: 97% on Santo and the remaining 3% from the islands of Aore, Malo and Pentecost.
Read the detailed report:
https://pacwasteplus.org/resources/outcome-report-tropical-cyclone-harold-recovery-works-in-vanuatu/