Project Partners - Dec 18, 2022
GEF ISLANDS Pacific Project Embarks on an Exciting Journey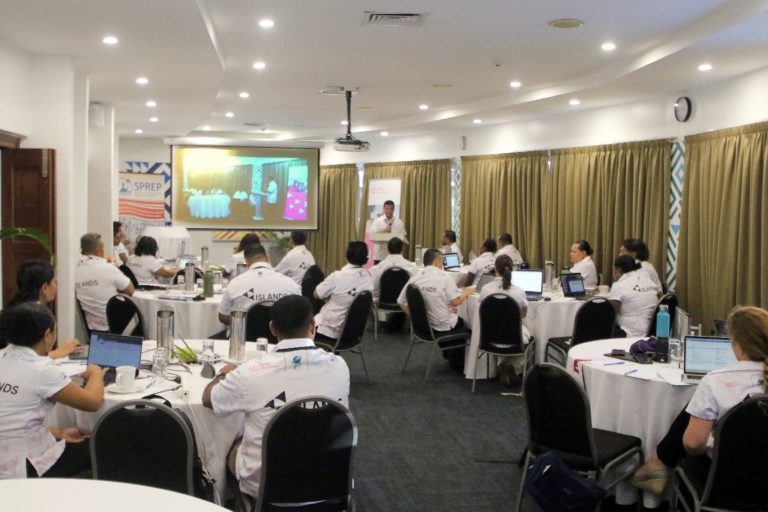 Recently, the ISLANDS Pacific Project was able to finally meet face-to-face after an extended introductory Zoom phase in order to address hazardous chemicals and waste management throughout 14 Pacific Island countries. Delegates from each nation were welcomed into Suva, Fiji Islands, to participate in the inaugural Project Steering Committee (PSC) meeting for this regionally significant program.
The Project also introduced the regional communications agency, Webmedia South Pacific, who have been engaged to provide the necessary support in disseminating critical messages and raising awareness of its key activities. The Webmedia team had a pivotal role in supporting the preparation of the PSC meeting through the arrangement of collateral such as uniforms; designing a meeting announcement poster, agenda, and booklet; and creation of a presentation template.
The communications team also provided general admin support in the form of Zoom meeting facilitations, note-taking, and transcriptions, along with extensive logistic support prior to the PSC meeting.
Over the 3 days, national representatives traded experiences and shared solutions all while receiving extensive training on environmental conditions, gender inclusion, communications, procurement, grant access, and additional stakeholder aligned sister projects including the exciting, global, youth-infused Tide Turners Program. Private industry also is playing an important role as demonstrated with Swire Shipping's impressive commitment to the initiative.
Joshua Sam, Hazardous Waste Management Advisor for SPREP concluded the even by noting, "It is my sincere hope that countries appreciate this opportunity and engage with us with their fullest commitment. We understand that many face capacity limitations, especially with manpower, but we will try our very best to provide them the support they need. Really, my hope is that at the end of the project in 5 years' time, countries will have in place systems that help them manage their waste and chemicals in an environmentally sound manner."