News - Dec 14, 2021
FSM Waste Audit Report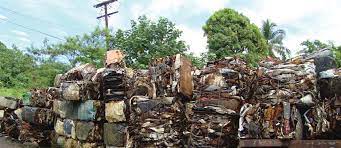 The Waste Audit Report for the Federated States of Micronesia has completed the peer review process by Donor Partners and validation by Country stakeholders. The FSM Waste Audit report provides a snapshot of waste audit generation and composition across the business and household waste streams for the four states of Pohnpei, Chuuk, Kosrae, and Yap.
The waste audit programme included training of national stakeholders, household waste sampling, business sampling, recovered material stockpile estimation, and compilation of customs imports and export data.
The study found that households in Kosrae and Pohnpei recorded paper and cardboard as the second-highest while metal was recorded as the second-highest in Yap. Chuuk recorded Organics as the highest proportion of household waste followed by Paper and Cardboard. The state of Kosrae reported the highest in terms of the local population having access to garbage collection services with 74.4% receiving garbage collection services.
Chuuk recorded the second highest with 51.6%, Pohnpei with 18.9%, and Yap recorded the lowest collection service coverage at 12.7%. Households in communities without garbage collection services either self-haul to the landfill, burn or bury waste. found the household waste stream comprises approximately 41% organic materials of which around 5% is betelnut; 17% plastics of which approximately 4% are defined as single-use plastics, 7% metals, and less than 1% hazardous. Of the businesses sampled across the four states, recorded paper, cardboard, plastics, metals, and organics as dominant items.
A total of 65 officers from various organisation across the four states were trained in the Waste Audit training.