News - Dec 14, 2021
Examining the Present to Plan for the Future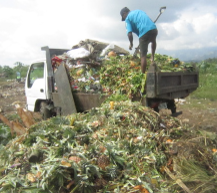 The Regional Organics Project is in full swing with the first activity, reviewing existing organic facilities in the Pacific, now complete.
Case study reviews provide an important starting point for any project.  By understanding how existing facilities operate (what technology and equipment are used etc., what are the successful components, what are the opportunities for improvement) we can more effectively assist decision-makers to design successful future facilities.
Analysis was completed on the compost facilities in Fiji (Lautoka and Suva), Kiribati, Nauru, Niue, Palau, Samoa, and Tuvalu.  Common findings from the facilities include limitations of equipment and infrastructure, need for increased awareness at source to reduce contamination and increase the amount of feedstock, and need for capacity for staff to undertake testing/quality control and enable experimentation to improve composting processes.  Generally, the demand for the locally produced case studies was found to be high from communities, with operations able to be maintained through the income collected from compost sales.
Additionally, the consultant who will assist with technical components of the Regional Organics Project has been selected and will commence in the new year.  One of the technical components will include a review of the unique organic materials we have in the Pacific to provide guidance on how they can be effectively composted.   Materials to be analyses include coconut fronds, banana leaves, and pandanus; by-products from our copra, fish processing, sugarcane, noni, coffee, and cocoa industries; invasive weeds; paper/cardboard; and ash from cooking fires.
If you have any other organic materials, you would like to understand how to compost please let the PacWastePlus team know, and they will include them in the analysis.  Please also let the team know if you recall any studies already completed on any of those products or know-how our ancestors might have used the products in their plantations.