News - Nov 23, 2021
Clean Pacific Roundtable Zeroes In On Addressing Asbestos Containing Materials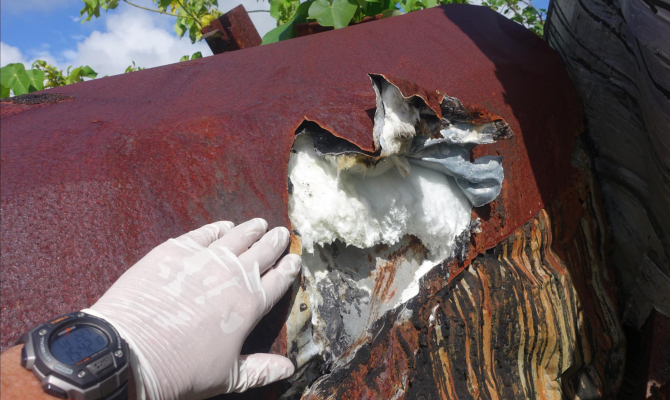 17 November 2021, Apia: Learning from the experiences of others when it comes to addressing the import and use of asbestos containing materials (ACM) in Pacific Island Countries was the focus of a session during the Third Clean Pacific Roundtable.
Held virtually, the session aimed to help countries understand the importance of a regulatory framework to address adverse impacts of ACM on human health and the environment.
"Asbestos is responsible for occupational-related cancers and deaths," stated Phillip Hazelton, Coordinator for the Eliminating Asbestos Related Diseases Project of Union Aid Abroad (APHEDA).
"Each year 209,000 -220,000 deaths occur occupationally from asbestos, i.e., lung cancer, mesothelioma, asbestosis, ovarian and larynx cancers", he further commented.
According to Mr Paul Finch, Vice President of the Nauru Chamber of Commerce, many buildings across the Pacific islands' region were built using ACM.
"The challenge now faced is how to dismantle and dispose of the legacy ACM safely,"  Mr Finch said.
The establishment of an Asbestos Code of Practice (ACOP) is one key policy element, which Finch strongly recommends before working to remove ACM.
"It is important that any proposed ACOP is easily understood, and also able to be implemented by local skilled staff," said Mr Finch.
"An ACOP details how one can safely remove and dispose of ACM and should have the full support of all relevant local and regional agencies."
Mr. Finch ended his presentation advising Pacific Island Countries to remove ACM carefully and safely.
"Asbestos containing materials are evident in most Pacific Island countries, it's the asbestos fibres when they have become airborne, that have the potential to cause serious disease and cancer," he added.
"It's for the long-term benefit of these countries that the vast majority of ACM be removed and replaced with more suitable and safe products."
Ms Justine Ross, CEO of the Asbestos Safety and Eradication Agency of Australia stated that "asbestos regulation cuts across many areas which means a range of government agencies with specialist expertise are involved. However, it is important that there is one agency that leads the coordination in relation to the imposing, implementation, and ongoing review of the various laws around ACM waste management," said Ms Ross.
"Australia has an asbestos national strategic plan that ensures there is a consistent and coordinated approach to asbestos awareness, management, and removal."
SPREP through the European Union-funded PacWastePlus program is assisting Pacific Island Countries to implement legislative and policy instruments that ban the importation of ACM and address asbestos legacy issues. Among the publications being produced is a justification brief for Asbestos Management Policy and Regulation, Model Regional Asbestos Management Policy, Legislative and Regulatory Analysis with Legislative and Policy Recommendations, Asbestos Legislative & Policy Drafting Guidance, along with numerous fact sheets on safe and proper ACM management.
The Deep Dive into Legislative/Policy Controls for Asbestos session was moderated by Mr Lance Richman, the PacWaste Plus Technical Waste Project Officer – Hazardous Waste, at the Secretariat of the Pacific Regional Environment Programme (SPREP).
Present at the event was Ms. Justine Ross, Chief Executive Officer of the Asbestos Safety and Eradication Agency of Australia, Mr. Phillip Hazelton, Coordinator for the Eliminating Asbestos Related Diseases Project of Union Aid Abroad (APHEDA), and Mr. Paul Finch, Vice President of the Nauru Chamber of Commerce.
The PacWastePlus programme has continued the initial asbestos management work conducted by the PacWaste project and is implementing several activities that will actively remove asbestos materials in several countries and provide strong legislative and management tools to all countries to assist with the active and ongoing management of asbestos.  Specific actions include asbestos abatement work in Kiribati, Nauru, Niue, and Tonga, to safely package, transport, and dispose of asbestos stockpiles and several government-managed sites, and asbestos assessments in outer islands of Tuvalu.
Additional support will be provided to countries seeking to implement legislative instruments banning the import, and establishing standards for the use, transportation, and disposal of asbestos-containing materials.
PacWastePlus has developed an Asbestos Management Legislative Reform Pathway that clearly identifies the steps necessary to institute bans on asbestos. This Pathway utilises and summaries the various work is undertaken such as an analysis of legislative options for the management of asbestos, development of a guidance note/brief on the issues, and a Policy Note to guide the drafting of National legislation to impose a ban on the importation of asbestos.
For more information, please contact Mr. Lance Richman at lancer@sprep.org.
The Third Clean Pacific Roundtable is held virtually from 16 – 25 November.  It is a partnership event supported by New Caledonia, Acotred Pacific, Agence Francaise de Development (AFD), Australian Aid (AUS Aid), European Union (EU), Fonds Pacifique, Japan International Cooperation Agency (JICA), UN Environment Program, Province SUD and Province NORD.