PacWastePlus continues to work closely with Kiribati on the proposed project to create an asbestos abatement strategy for the Island of Banaba.
In late May, the Environment and Conservation Division (ECD) Team conducted an asbestos assessment at the three priority buildings in Banaba. This was part of the PacWastePlus project administered by SPREP.
The inspection was focused on three public buildings namely; Banaba Hospital, Junior Secondary School and Primary School, and Fatima Catholic Church. The three buildings were selected based on the criteria for the European Union funding of the PacWastePlus project.  This was agreed upon by the ECD and Banaba team made of Island Clerk, Mr. Tibanga Taratai, and Rabi Council of Leaders Island Manager Mr. Mwaroti Tamueru at a meeting held in early May 2022.
The objectives of the assessment were to assess the condition of Asbestos Containing Material (ACM) and to quantify ACM and Possible Asbestos Containing Material (PACM) use at the three priority buildings.
A detailed report has been provided on the assessment which is currently being reviewed by the programme team.
PacWastePlus has sent programme country focal points a summary of PacWastePlus asbestos-containing material management resources recently developed that identifies policy and legislative options available for implementing an asbestos-containing material legislative ban in each of the 14 Pacific Island Countries and Timor-Leste.
These documents have been developed after a review of the Government process in each country and present it as a starting point for a broader discussion on executing a ban on asbestos.
These resources provide an easy-to-use brief on the nature and characteristics of asbestos as well as an individualized path forward for each country to the endorsement of a ban on asbestos imports.  Included with the package was a project schedule, tailored to each country, that illustrated the path forward for the ban as well as the implementation of an asbestos code of practice.
The code of practice defines appropriate and safe processes for the handling, transport, and disposal of legacy asbestos.
See our resources for more information – https://pacwasteplus.org/resources/
Work is underway on the development of a Model Asbestos Management Policy and a Model Asbestos Management Code of Practice.
Bulky waste refers to wastes that are usually too large to be accepted by the regular waste collection and takes up space at the landfill.
End-of-life vehicles and consumer white goods are common forms of bulky waste in all Pacific Island countries.
These items contain Persistent Organic Pollutants often used as fire retardants. With no proper management systems existing in Pacific Island countries, bulky wastes are often discarded in the environment, impacting natural ecosystems and human health.
The PacWastePlus Programme Management Unit will be implementing a regional project that will assist Pacific Island countries to improve the management of End-Of-Life vehicles.
The project will look to produce guidelines that provide information for government, and recycling companies on the proper removal, storage, and handling of potentially hazardous materials from discarded vehicles.
Providing guidance on the safe removal of hazardous materials will help ensure workers' safety and maximise the recovery of valuable resources.
The PacWastePlus Programme Management Unit is currently working on a Terms of Reference for the regional project and is expecting to engage a consultant in the third quarter of 2022.
The Pacific region is identified to be most prone to disaster and climate risks, such as cyclones, landslides, flooding, drought, earthquakes, and even tsunamis. The World Risk Index 2021 identified Vanuatu as the most vulnerable country, with the Solomon Islands rated second, and Tonga third.
Natural disasters are associated with the generation of a large volume of waste, damage to waste management facilities, and disruption to waste services posing a risk to public health which through direct or vector-induced exposure. The Secretariat of the Pacific Regional Environment Programme (SPREP) in partnership with the Japanese Technical Cooperation Project for Promotion of Regional Initiative on Solid Waste Management in Pacific Island Countries, launched the Regional Disaster Waste Management Guideline to assist Pacific Island Countries (PICs) in the management of Disaster Waste.
PacWastePlus is implementing a Regional Disaster Waste Management Project to assist Pacific Island countries mainstream Disaster Waste Management into a national disaster management framework. The PacWastePlus Programme Management Unit signed a Service Agreement with the University of New Castle for the university to draft a Practitioner Guidelines that will enable Pacific Island Countries to do this and ensure the implementation of identified activities in the Regional guideline.
At the completion of this contract, the university will draft the following guidelines:
Templates for National and Community Disaster Waste Management plan with drafting instructions to assist Pacific Countries to adopt the proposed actions in the Regional Disaster Waste Management Guideline
Guidance on the introduction of an Environment Working Group within the National Disaster Management Office and drafting of Standard Operating Procedure to allow for the incorporation of environmental management activities into preparedness and response planning, including coordination with other relevant stakeholders.
Establish a Minimum Standard Methodology for calculating Disaster Waste and biodiversity loss and damages in the Post Disaster Needs Assessment.
Work on this is anticipated to be completed in September 2022.
PacWastePlus has begun an impact assessment of the healthcare waste management program, noting the challenges encountered during the implementation of this component under PacWaste, and seek to progress work for this waste stream based on recommendations.
This was a requirement of the PacWastePlus program from the European Union.
One outcome will be to provide solutions to boost national support and commitment to the delivery of healthcare waste activities.
The purpose of the impact assessment of the healthcare waste management program implemented under PacWaste, to understand project performance, to provide evidence-based guidance on future healthcare waste management interventions and support that would be of value to Pacific Island countries. It is being undertaken as an internal guidance document for SPREP and the European Union (Donor).
The assessment will answer the following questions:
How successful has the project/program realised the intended objectives and sub-objectives?
Have the desired changes been realized and to what extend?
The following elements shall be assessed:
Overall performance and confirmation of project achievements.
Effectiveness of project activities to address the concerns of healthcare waste management
that led to the project request.
Sustainability of the Project's outputs and outcomes following project closure.
Identification of major constraints affecting implementation and identification of management
response to these constraints.
Identification of any delays in project implementation, and their causes, and draw lessons from the
delays and provide recommendations for improved implementation to avoid replication in other
projects.
Recommendations shall be supported by specific findings and shall be action-oriented, specific, practical, and have a clear indication of responsibility for implementation.
The impact assessment shall determine whether the program has brought about a change. The impact, or program effect, refers to a change in the target population that has been brought about by the program – that is, a change that would not have occurred if the program had not happened.
Work on this delivery should be completed later this year.
Single-use disposable diapers are a waste issue in Pacific countries, both filling up landfills and as a commonly littered item. Three Pacific countries (Kiribati, Vanuatu, and Tuvalu) have implemented import controls to assist with the management of single-use disposable diapers, the only known measures of their kind in the world.
But, using diapers is important for health reasons, as is providing for equality and inclusion in today's society, ensuing women are encouraged into the workforce and to contribute to community activities and are not required to stay at home doing laundry.
So, what are our options for the reduction and management of this waste?  PacWastePlus commissioned a socioeconomic and technical review into just this topic, seeking to understand current practices and perceptions on the use and disposal of diapers, explore the physical performance of reusable nappies, and identify options for communities and decision-makers.  Engineers Without Borders Australia undertook the research in 2021.
"The results found options vary depending on services available.  For example, if a community has regular water, reusable nappies provide the most environmentally friendly option for use on babies.
And in fact, the research "debunked" several misconceptions around reusable nappies – it seems the design of these nappies has improved, but we still have a perception they are "a lot of work" and provide a low performance ("more leaks"). The physical test in fact highlighted those reusable nappies were easy to wash and the level of absorbency/leakage, except for the cheapest products, was generally good.
In contrast, if a community does not have regular water but does have a waste collection, then using disposable diapers may provide the most appropriate option.  It is recommended baby excreta is first emptied into a toilet or pit toilet, and the diapers are put out for collection (taking care to keep away from dogs and other wildlife).
If a community has neither regular water nor waste collection, then either reusable nappies washed using seawater or rainwater, or disposable diapers disposed of in a designated disposal area (away from groundwater / lined with clay or impervious surface) may be most appropriate for a community.
For decision-makers, policy controls such as incentives and subsidies, infrastructure improvements, and increased education and communication were identified as opportunities to assist with the management of single-use disposable diapers and the adoption of reusable nappies.
See our resources page for more information  – https://pacwasteplus.org/resources/
"There is no such thing as waste," says Titikaveka Growers Association (TGA) founder and director, Teava Iro, "it's only waste when we don't know what to do with it."  This is the motivation for the establishment and ongoing operation of the TGA Compost Facility in Rarotonga, Cook Islands.
Iro, wanting to be part of sustainable and circular solutions to manage Rarotonga's waste, receives approximately 15 tonnes of organic material per week and processes it into compost for sale back to the community.  TGA started as an informal association of the growers living in and around Titikaveka village. The scheme slowly moved towards a business mode of operation, using donor aid from the New Zealand Development and Relief Agency to upscale the operation.
It is important to him to keep organic items from the landfill and turn them into something valuable.  Landscaping material from hotels and by-products from the fish processing facility is the main material received at the TGA, processed at an 80|20 ratio.  Other materials processed when available include by-products from noni agriculture and processing, coconut fronds, cardboard boxes, weeds, and pig manure.
These days Iro can manage the facility by "smell and feel" but in the beginning ran into problems.  "The police turned up at 2 am in my first week," Iro admits, "the whole neighbourhood couldn't sleep because of the smell of rotting fish.  I felt terrible!".
But now there are no issues at all with odour.
A large pile open windrow composting method is used, and fish is added at an approximately 20% ratio, placed carefully inside the heap.  The pile is kept aerated by regular turning and some large materials are kept in to also help with aeration and ensure it does not produce odour.
Trial and error over the years have also meant Iro now does not use a chipper to do any size-reduction on materials received.  Some of the bigger logs and whole coconut are removed, but the rest of the material is simply placed on the pile, letting the good bacteria and micro-organisms do the work to break them down.
The main equipment used at the facility includes an eight-tonne excavator and a self-built sieve to screen the material prior to sale.  Both are now undersized for the production throughput currently experienced.
Other than the need for larger equipment, the biggest challenge for Iro is managing the plastic being dropped off with organic material and other items like soil and even dumped vehicles over the weekend.
Opportunities for the future include finding a management solution for items received such as whole coconuts, such as experimenting with using the oil for biofuel and the husks for seedling trays and exploring making biochar to be used as a natural filtration.
PacWastePlus joined with GEF Islands in Country Consultation with the Kingdome of Tonga.
The consultations are part of the GEF Islands' effort to familiarise participants with the proposed GEF Islands workplan and budget.
Close coordination between ongoing project work with European Union funding through the PacWastePlus Program and GEF Islands will eliminate any duplication of efforts.
The Programme Management Unit with the Department of Environment, from the Ministry of Meteorology, Energy, Information, Disaster Management, Environment, Climate Change and Communications (MEIDECC) held interviews for a National Officer.
The National Officer, who will be based in Tonga, will provide technical support and on-ground project scheduling oversight for the PacWastePlus supported project, including engaging with local stakeholders in identified project sites, relevant national and sub-national government agencies, and consultants or contractors delivering specific activities to progress the Tonga project.
It is anticipated that the National Officer will commence by early July 2022.
Recycling in Vanuatu has taken a technological advance with the development of a "Recycle made Fun" App that promotes recycling and rewards good behaviour.
The Asia Pacific Telecommunity Young Professional and Students Programme have been working with young woman in Vanuatu on the SMART Sistas Programme (Sistas Mastering Advanced Real Technology).   A Girls ICT Camp was held in Lenakel, Tanna in May where 32 participants completed three day "Hackathon".  At the end of the Hackathon, eight apps and websites prototype were created by the SMART Sistas, including apps on recycling, water management, time management, and social media.
The Recycling-made Fun App was developed by a team of SMART Sistas.  The App reminds community members to recycle and records their recycling behaviour.  The app asks what the user has recycled and what they have thrown in the rubbish.  Points are provided for recycling which unlocks different levels and features of the app. The app also provides notes on the importance of recycling and keeps track of your recycling activities' progress.
Meanwhile, youth in Ifira Community collected 279 100L garbage bags within 1 hour.  All garbage bags were removed from the coastal areas and disposed to landfill.
The Department of Environmental Protection and Conservation is developing a Sustainable Financing system in Vanuatu (the Product Stewardship Scheme-PSS) which will enable the collection and recycling of recoverable items and divert them from landfills.  The PSS will provide funding for community clean-up initiatives for recyclable items.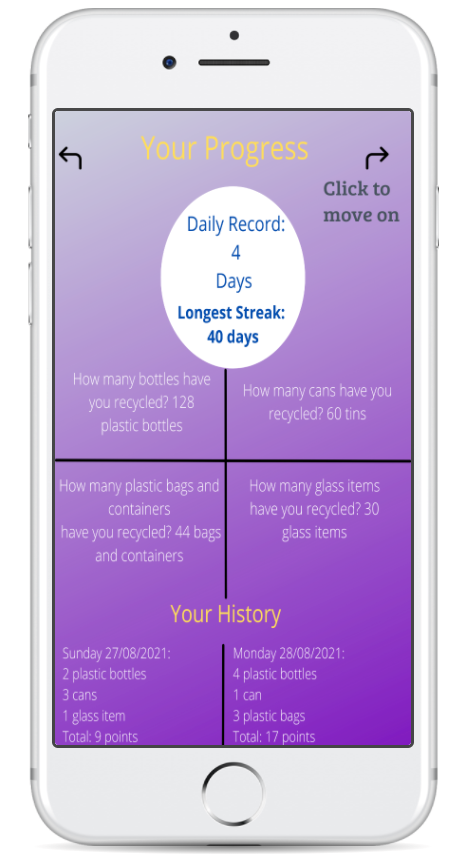 The PacWastePlus Programme Management Unit is currently working with the Solid Waste Management Division to finalise a consultancy's Terms of Reference for a feasibility study that will design a national End-Of-Life Tyre recycling system for Palau.
This system will create a market in Palau that will allow for End-of-Life Tyre to be repurposed in-country and solve the current stockpiling issue attributed to the absence of proper management infrastructures and high export cost for environmentally sound management.
The second component of Palau's country project is the design and implementation of a self-financing mechanism that supports local authority efforts on the safe and sustainable recovery, and recycling of EOLT, without reliance on government funds.
Other activities for the country project will include training of local officers on the implementation of the End-Of-Life tyres management system and facilitating education and awareness activities.