After a colourful and captivating official opening ceremony of the Asia-Pacific Ministerial Conference on Disaster Risk Reduction (APMCDRR), at the Brisbane Convention and Exhibition Centre, conference delegates toured the marketplace, an interactive exhibition space setup that features close to 50 information and awareness booths of various organisations.
The Secretariat of the Pacific Regional Environment Programme (SPREP) exhibition booth, managed by the European Union-funded and SPREP-implemented Pacific Waste Management (PacWastePlus) Programme was a popular attraction.
The SPREP booth facilitated numerous meaningful interactions with delegates who were keen to learn more about the SPREP programmes being implemented in its Pacific Island member countries, many were intrigued to learn about the PacWastePlus programme's regional disaster waste management project.
The interest from delegates was heightened after an official partner event delivered by PacWastePlus in partnership with the Tonga Department of Environment, the Vanuatu Department of Environment Protection and Conservation and the Japanese Technical Cooperation Project for Promotion of Regional Initiative on Solid Waste Management in Pacific Island Countries, Phase II (JPRISM II) project on the first day of the conference (Monday September 19 2022).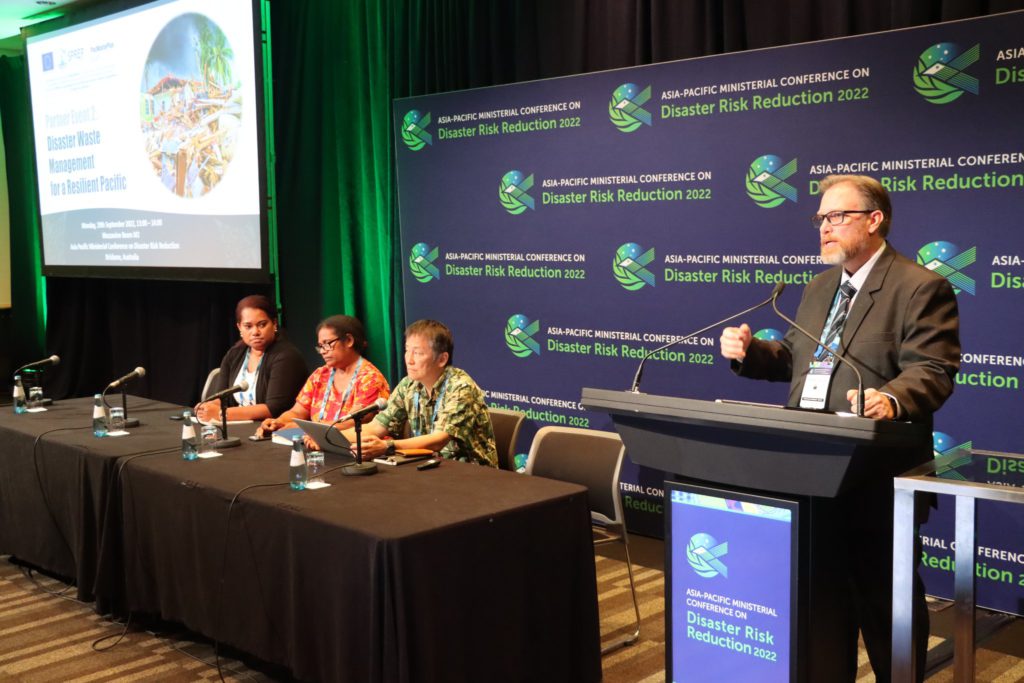 The partner event highlighted SPREP's work and provided awareness to policymakers and disaster management officers on the importance of proper waste management and how, through planning and preparation, waste management can enhance the capacity of Pacific Island countries to prepare and appropriately respond to emergencies and disasters.
The integration of waste management into disaster risk reduction plans is vital as it allows for enhancing Pacific Island resilience and enables timely and effective response during emergencies and disasters. Participants were informed of the principal and concepts of disaster waste management and how effective waste management can contribute to disaster preparedness and response actions.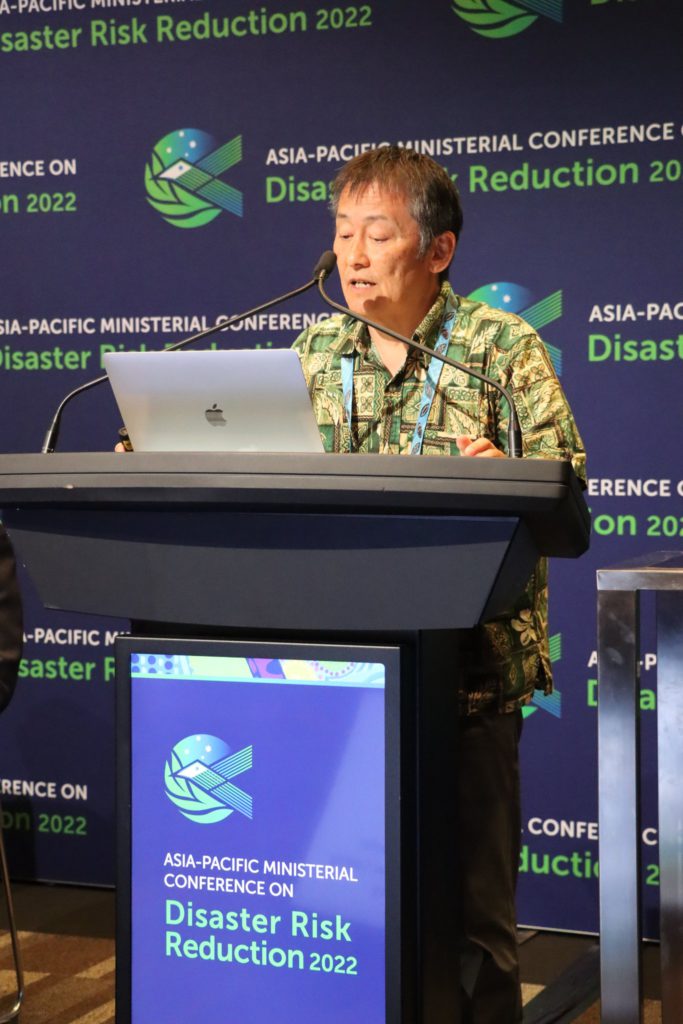 An overview was provided by the JPRISM II project on the regional disaster waste management guideline which provides guidance on applicable and appropriate disaster waste management measures considering the Pacific Island countries' issues and challenges.
The regional guideline focuses on mainstreaming disaster waste into the National Disaster Management Planning process for improved national coordination of preparedness, response and recovery operations and improving the supporting institutional arrangements and resources for disaster waste management.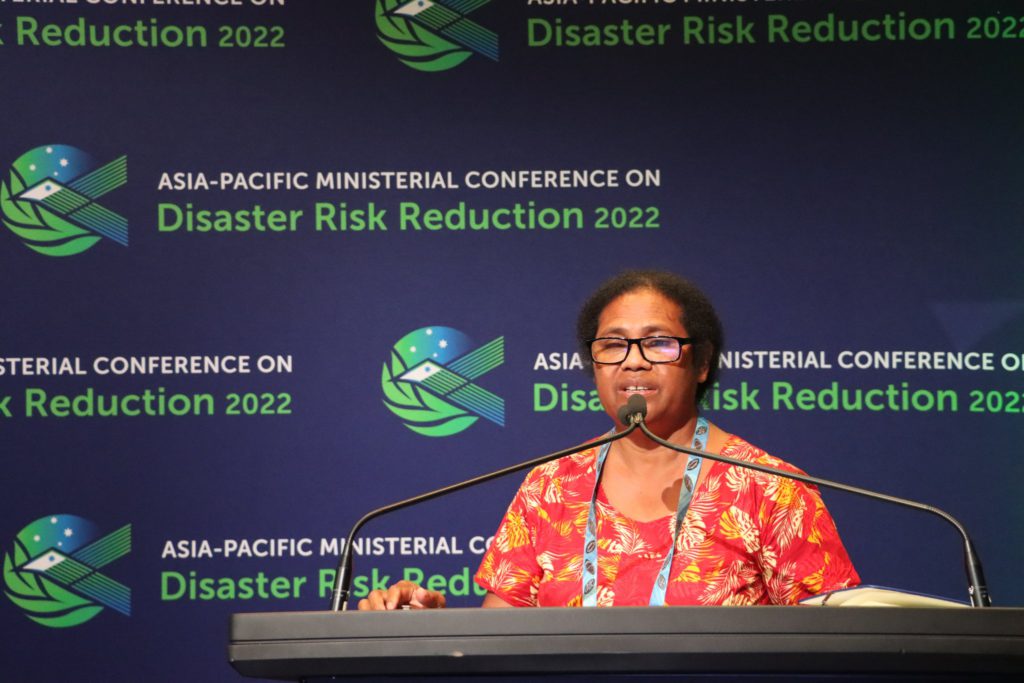 The event showcased the efforts of Vanuatu in mainstreaming disaster waste management into their national disaster management systems and highlighted SPREPs regional initiatives through the PacWastePlus programme in the Pacific islands.
Participants both in the room and online learnt that with the intensity and frequency of natural disasters such as tropical cyclones evidently increasing in the Pacific when these natural disasters occur large amounts of waste are generated from damage to both the natural and man-made environment.
PacWastePlus is assisting participating programme countries to mainstream disaster waste management into the Framework for Resilient Development in the Pacific (FRDP) by implementing activities identified in the Regional Disaster Waste Management Guideline, including developing a template Terms of Reference for the establishment of an Environment Sector Working Group (Cluster) within National Disaster Management Framework to ensure timely and effective implementation of disaster waste management response and recovery.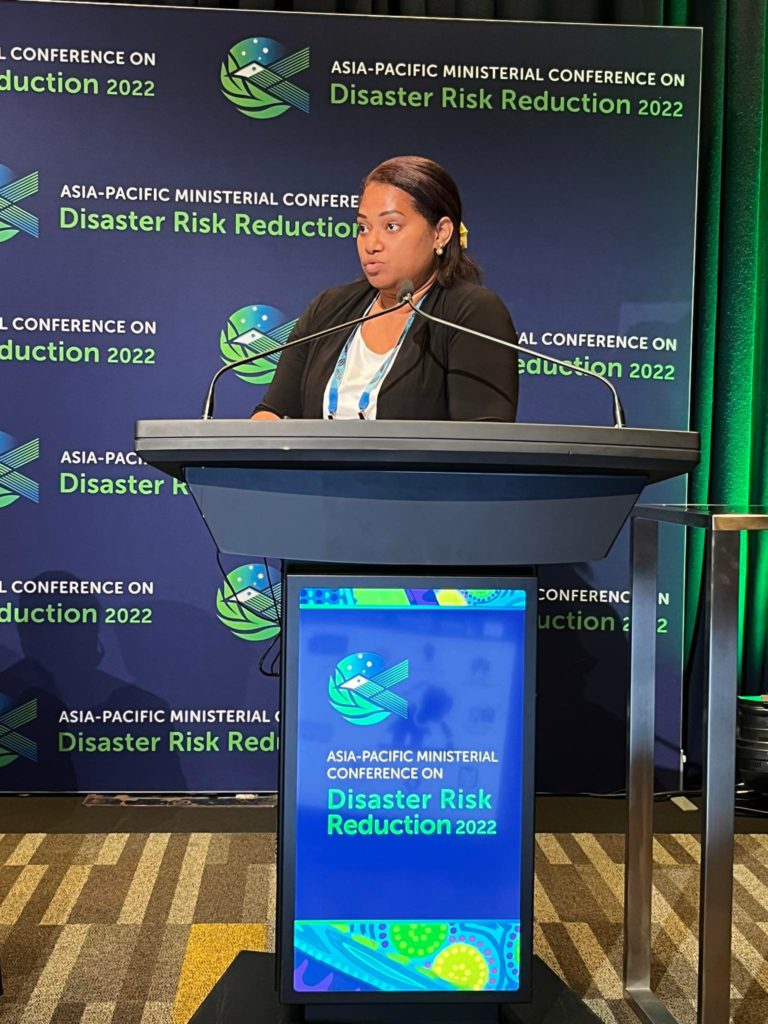 The regional project will provide technical guidance documents and templates to assist countries to implement key waste management activities in each of the disaster management cycles, and the development of guiding notes on how to draft National and Community Disaster Waste Management Plans and establish a Disaster Waste Training Manual for use by each participating country at both the National and Community level. PacWastePlus will be working with a pilot country to trial all guidelines before finalisation.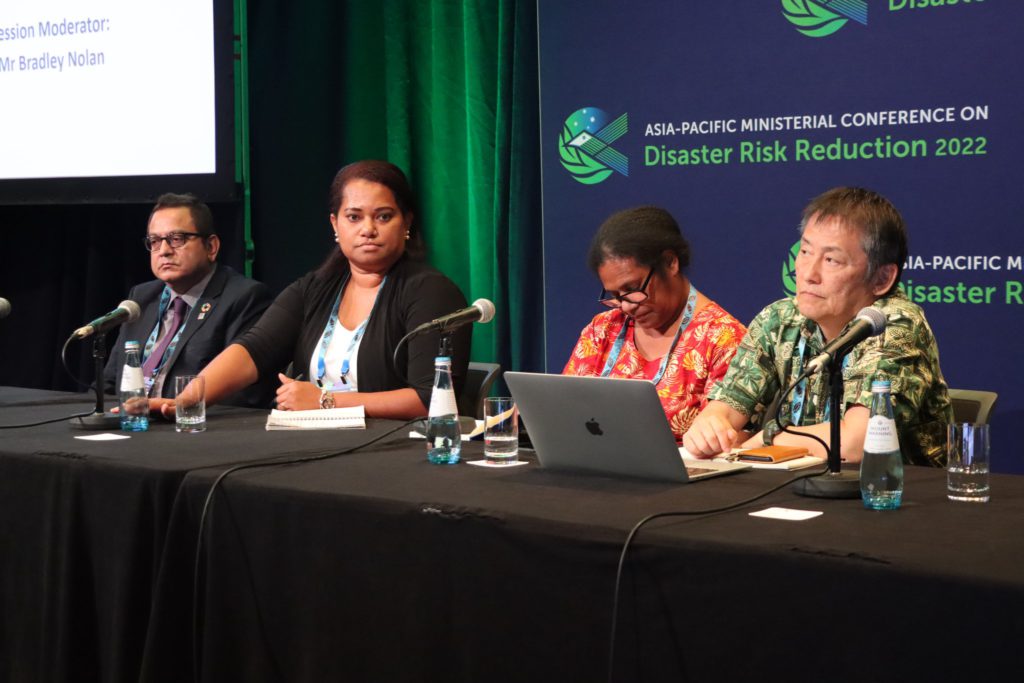 Australia has partnered with the United Nations Office for Disaster Risk Reduction (UNDRR), to host the APMCDRR, from 19-22 September 2022. Convened by the United Nations Disaster Risk Reduction (UNDRR), the APMCDRR is the main regional platform in Asia-Pacific for promoting coordination and cooperation on disaster risk reduction and the implementation of the Sendai Framework for Disaster Risk Reduction.
The conference brings together the UN Member States, intergovernmental organisations, international and national organisations and stakeholder groups, to accelerate progress on disaster risk reduction.
One of the goals of the conference is to establish ways to reduce risks, save lives, and minimise economic loss. It marks the first regional disaster risk-reduction conference to include the full participation of Pacific Island countries and follows a commitment from Australia to participate in a biennial meeting of ministers in the Pacific region to ensure the safety, security and resilience of the Pacific.
As the Asia-Pacific is the most disaster-prone region in the world, the Ministerial Conference provides a key opportunity to enhance efforts to prevent new and reduce existing risks, and for countries and organisations to review progress against the Sendai Framework.
This is particularly relevant as the APMCDRR will occur during the Midterm Review of the Sendai Framework, thus providing countries with an opportunity to focus on areas where action must be accelerated.
The conference, involving more than 3000 delegates, continues until Thursday 22 September.
Browse event gallery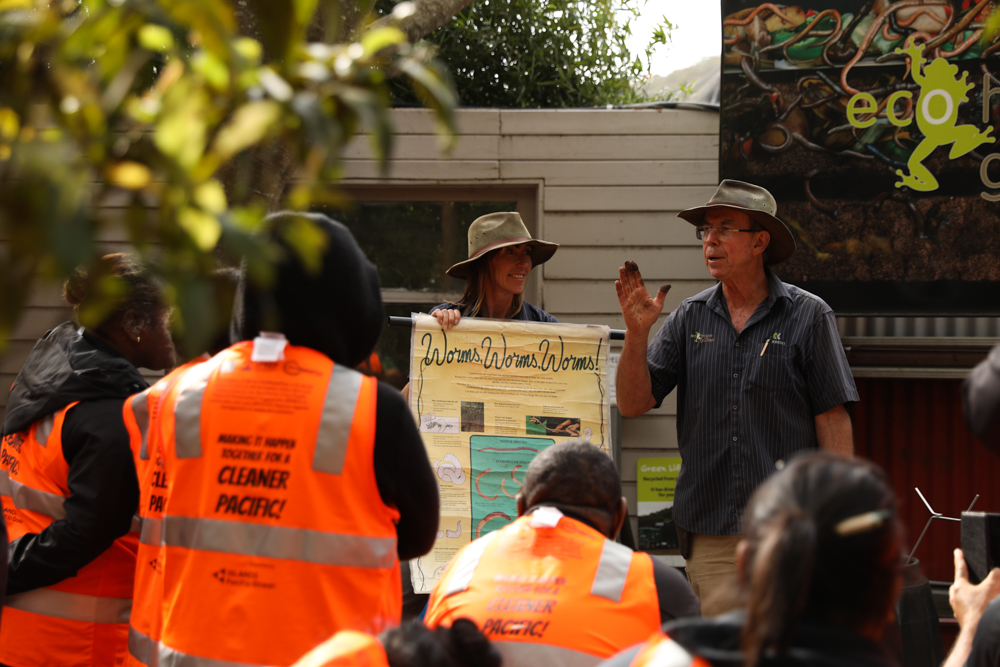 'We all know that we need to reduce, reuse and recycle,' explains Peter Rutherford, Senior Ecologist, and Educator at the Kimbriki Resource Recovery Centre. 'But more than this, we need to rethink. We need to rethink everything about this world and that's what we're trying to inspire.'
After nearly two weeks of discussing plastics, aluminium cans, and e-waste, the Sustainable Financing for Waste Management Study Tour participants returned to basics today and dug deep – literally – to learn about the importance of composting. While the focus of waste management is often on recycling and recovery, we tend to overlook the importance of where everything begins: the soil.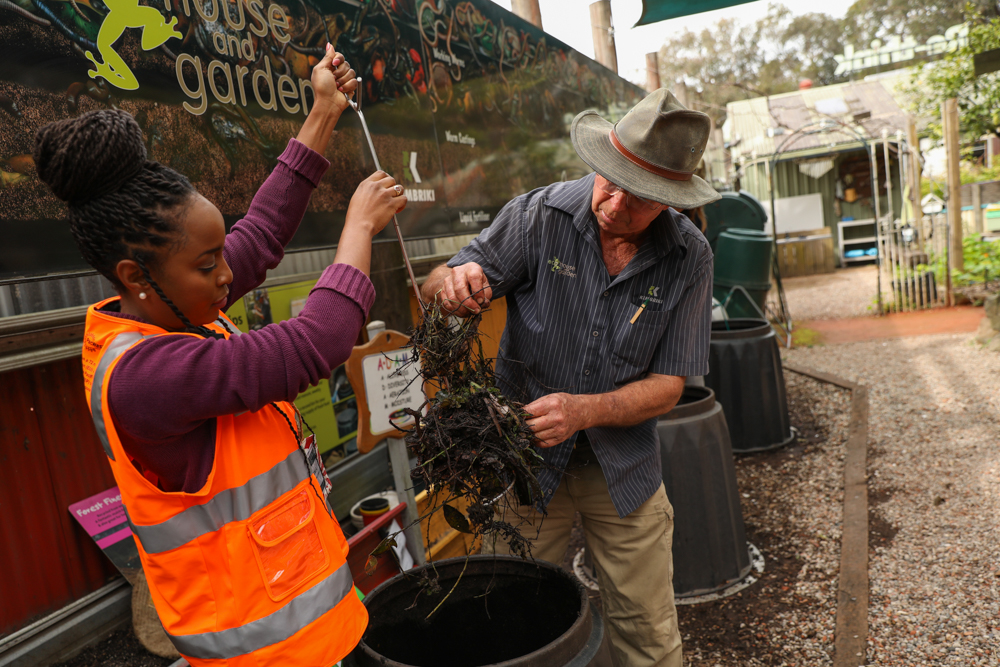 So what's the big deal?
When organic waste is dumped in a landfill, microorganisms break it down in a process known as anaerobic digestion. This process releases methane, a gas 25 times more potent than carbon dioxide, and a contributor to climate change. Not only is methane extremely flammable (and the cause of many landfill fires), but it also produces toxic leachate that can contaminate land and water systems.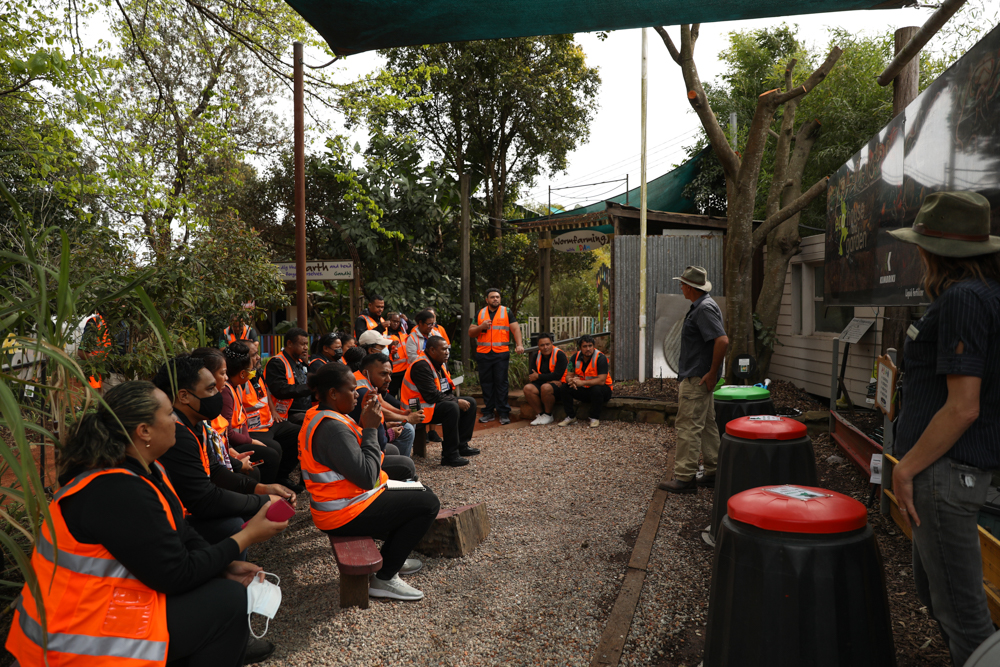 Methane can be captured and used as energy, but this requires a significant amount of infrastructure and planning, and most places, including the Pacific islands, don't have these systems in place. In fact, 40% of the waste generated in the Pacific is organic waste, but much of this could be resolved by the simple process of composting.
'Composting has untold benefits,' continues Peter. 'Not only does it remove waste from landfills, but it enriches the soil, reduces the need for chemical fertilisers, revitalises water systems, helps to sequester carbon, and most importantly, gives us the opportunity to reconnect with the natural world. Composting gives life to soil – and to us too.'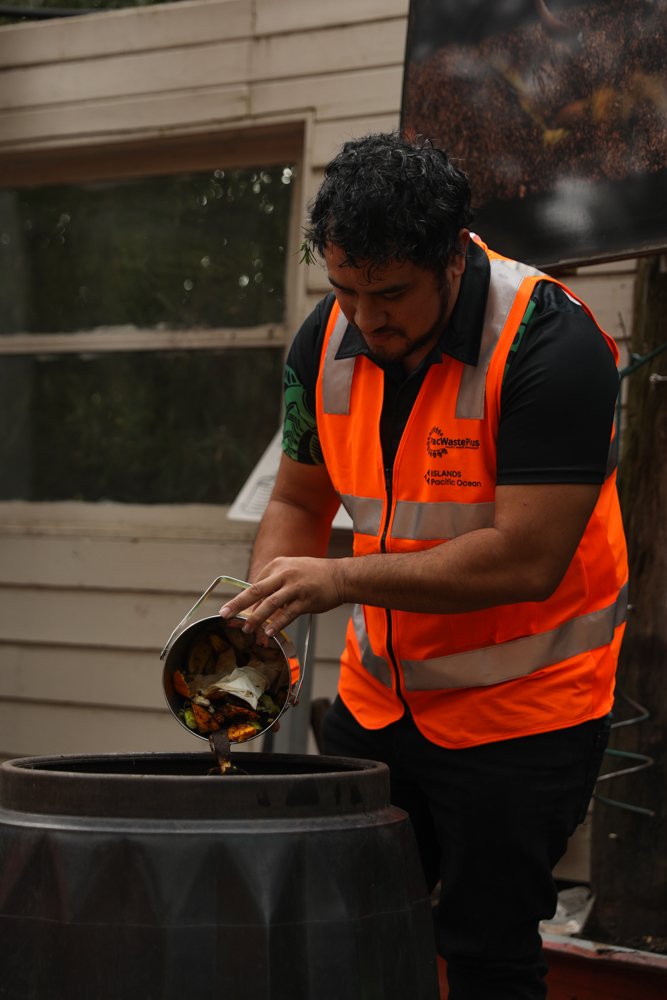 To put this point across, the study tour participants got their hands dirty, digging deep into composting buckets, turning soil, feeding worms, and learning from Peter and his team's wealth of knowledge about how these natural systems work.
It is impossible not to be inspired walking around the Kimbriki site. Whether it's the beautiful gardens bursting with edible flowers, or the names of plants adorned on repurposed records, or the delicate artwork lining the pathways, the inspirational quotes hanging from the trees, or the worms peeking their heads out of the rich soil, the energy is tangible.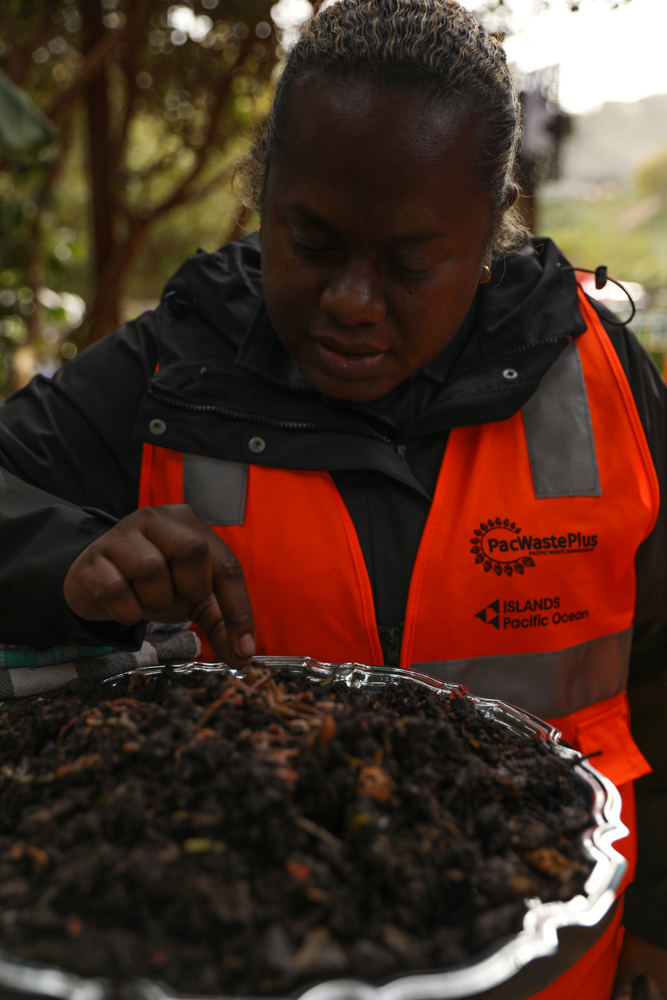 'I actually found today quite moving,' commented one participant. 'This whole trip we've been looking at the bigger picture, the systems and processes that need to be in place to address waste management, but somehow this really hit home. It was an important reminder that every little action makes a difference and that it's within all of our capacity to do something to address waste management. This is powerful and it's quite humbling to remember that, at the end of it all, it's about the decisions we make every day that really change the world.'
As another commented, 'Our hearts are alight.'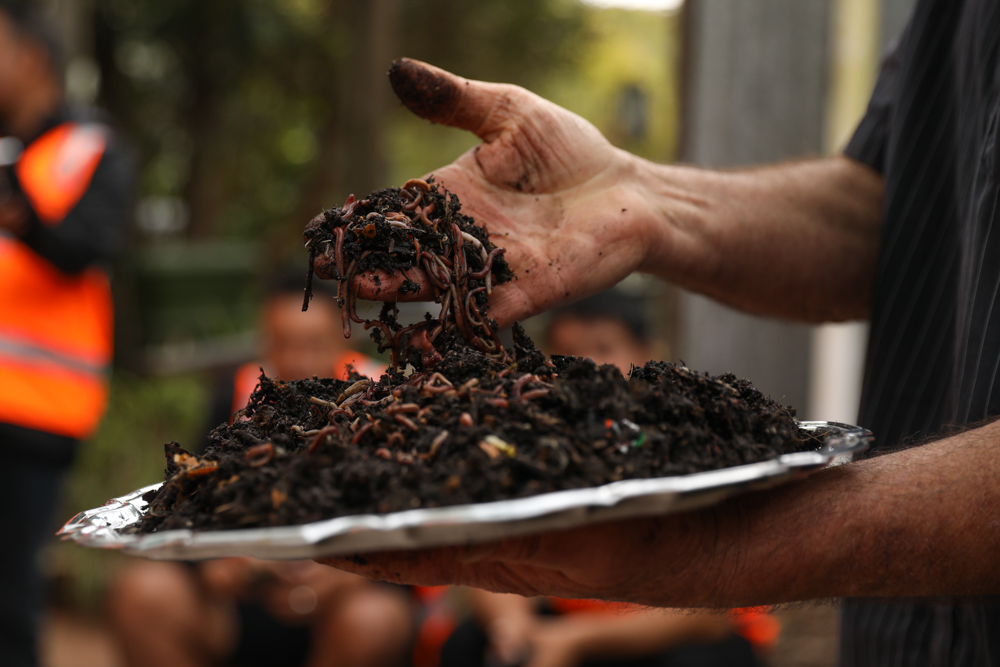 Article and Photos: GEF ISLANDS/PacWastePlus – Dr Kiara Worth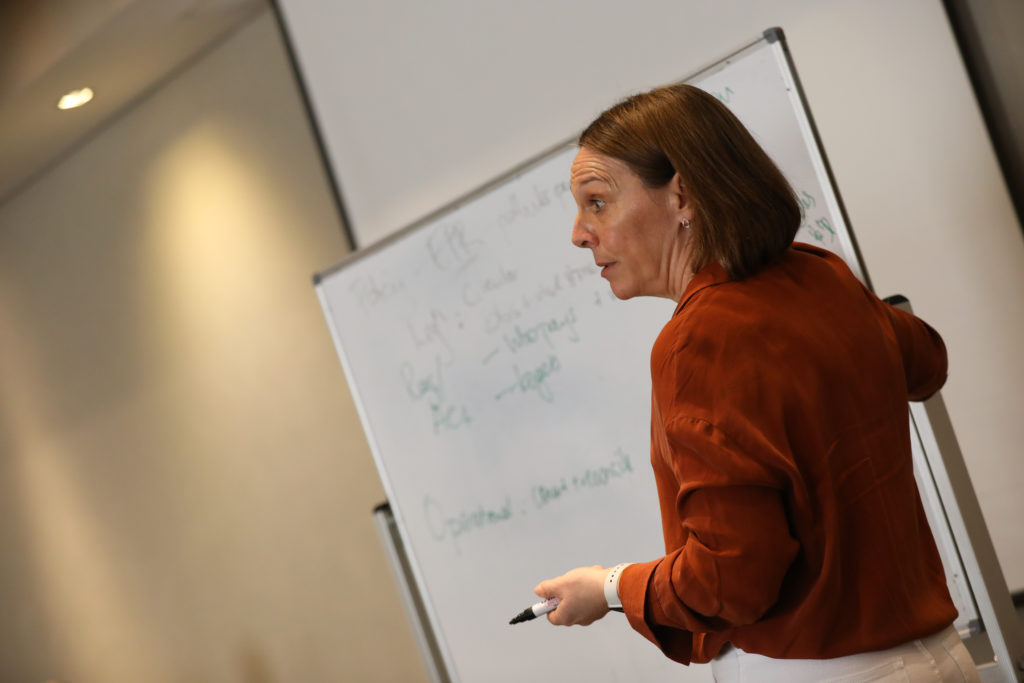 'Can you smell that? It smells like the polluter pays, and that's the smell I love the most,' provoked Gayle Sloan, CEO of the Waste Management and Resource Recovery Association of Australia.
During a morning Talanoa, the Waste Management Study Tour Participants had the opportunity to have an open and candid conversation about the Container Deposit Scheme models used in Australia, and to unpack what elements could and should be used when developing their own country schemes.
'Here's the thing,' Gayle explained. 'It's a lot of work to set up the scheme to begin with, but if you get it right, it can basically run itself. The most important thing is to paint the vision of what you're trying to achieve. You have to capture the imagination about the value of these materials and if you can do that, everything else will begin to fall into place.'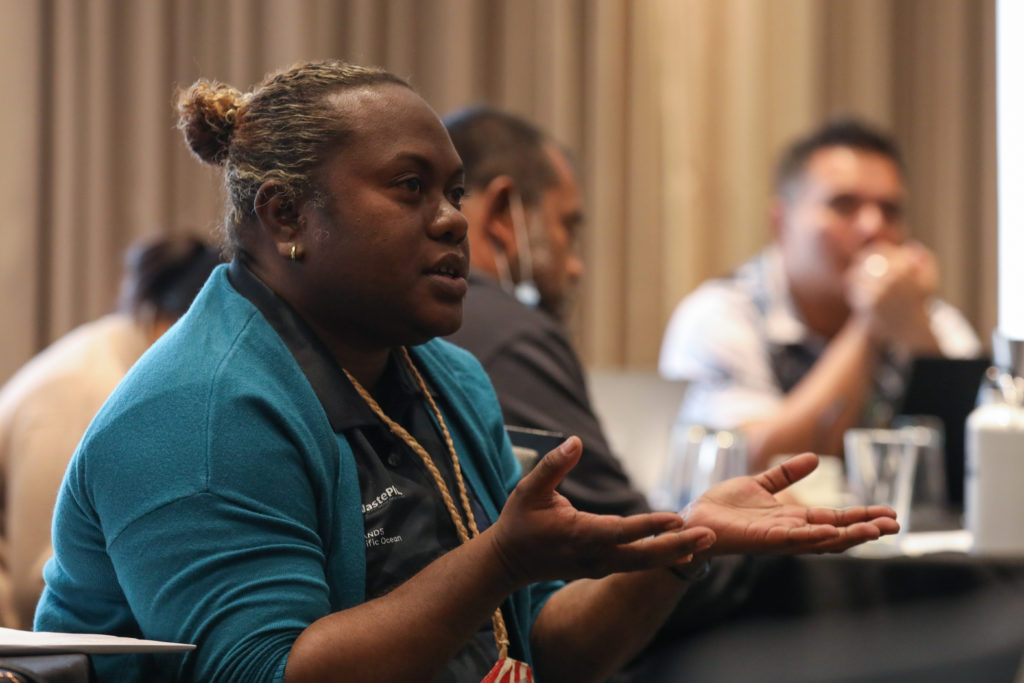 The first place to start is with legislation and ensuring that the rules and regulations create an enabling environment for the vision each country is trying to achieve. Next is deciding what kind of system can work – whether it works on a deposit, or refund, or levy model – and then setting up the procurement and contractual arrangements to help facilitate this. Many countries spoke about the challenges they face, not the least of which is logistics, and to this end the message was clear: if producers can bring the product in, they can also take it out.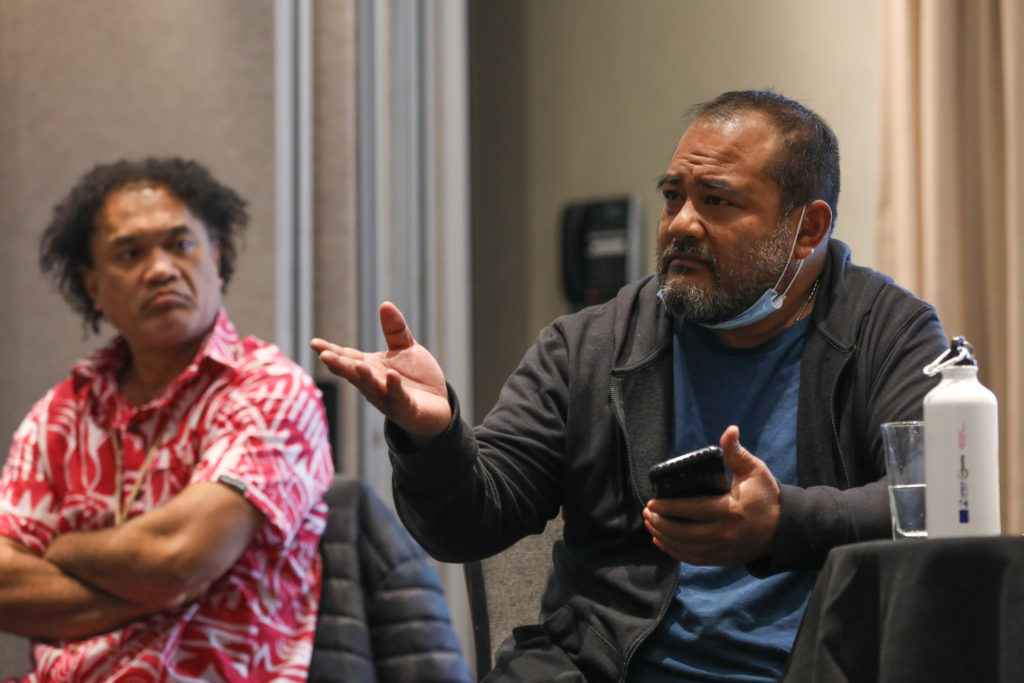 'We have to start holding industry to account,' continued Gayle. 'The price of products at the point of sale is not the true price of the lifecycle of those products, and that's what needs to change. You need to really consider the costs of your scheme and working out all the flows is key.'
The room was alive with questions and debate as the participants started to dig deep into what their schemes could look like. Under the steady hand of the PacWastePlus team, participants were guided through the key steps they need to take, including: identifying needs, stakeholders and partnerships, items to include, deposit values and returns, export markets and materials processing, the value and collection of scheme fees, the establishment of a central fund, and scheme management and governance.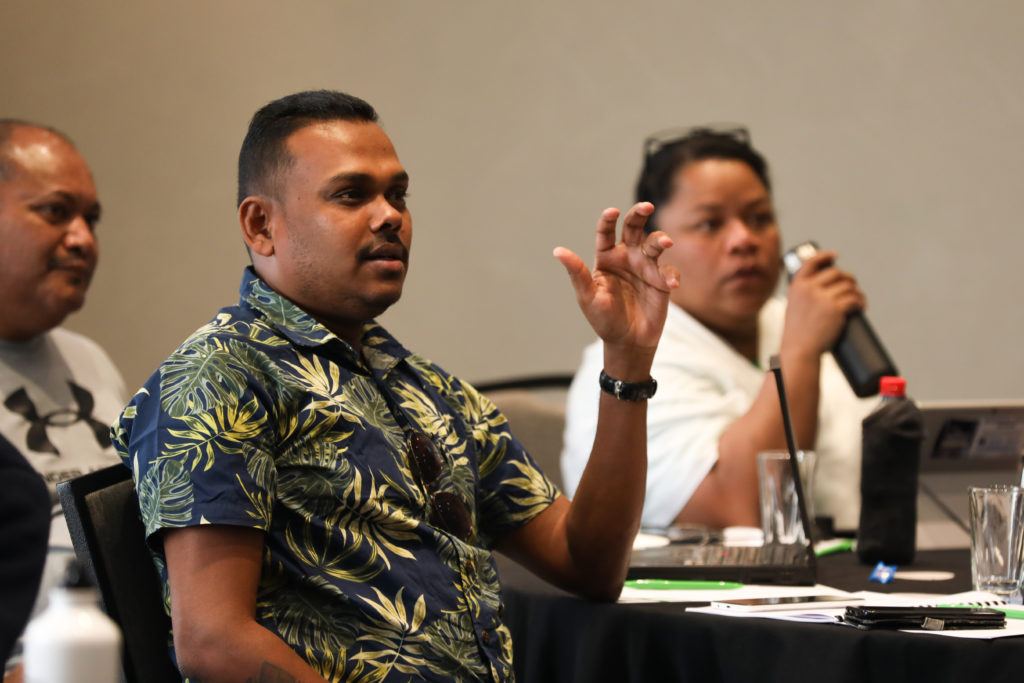 It's a complicated and difficult process to begin with but one thing was very clear: these systems are not a burden, they are an opportunity. Indeed, central to everything is our perception of 'waste' to begin with – it is, in fact, not waste at all, but the processing of a valuable commodity that has the potential to protect the environment, boost local economies, create employment, ensure inclusivity, and bring countless benefits to society at large.
'I'm inspired to get to work,' commented one participant. 'This study tour was intended to help us learn and build our capacity, and I think we have achieved that. If we work strategically, we can keep moving forward, and I'm excited to explore how I can make this system work back home and start to make a positive impact for the people in our country.'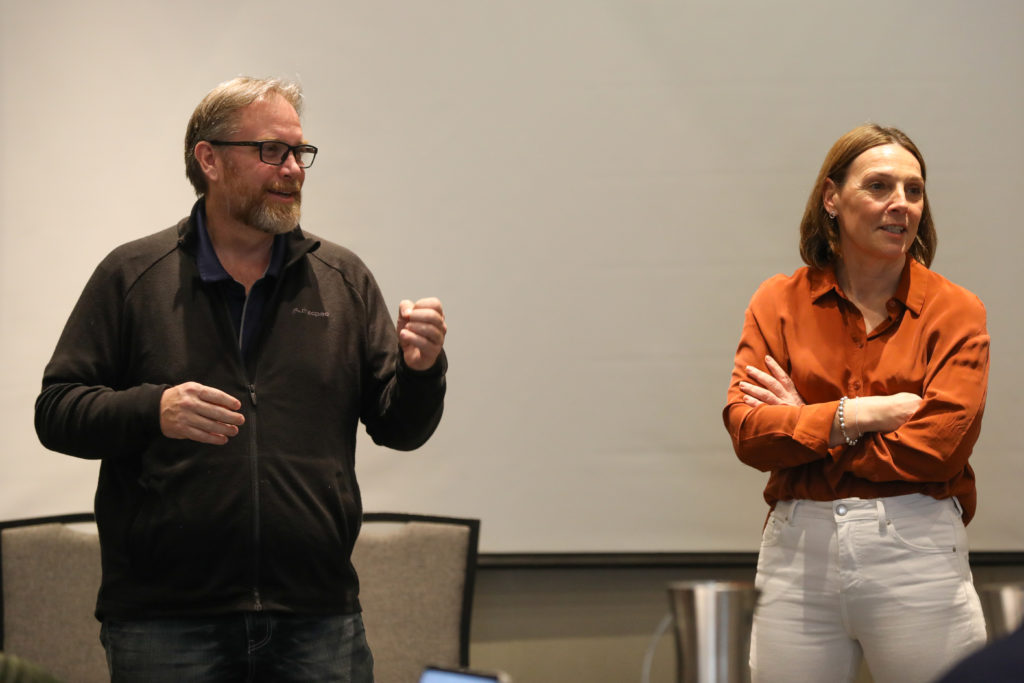 Article and Photos: GEF ISLANDS/PacWastePlus – Dr Kiara Worth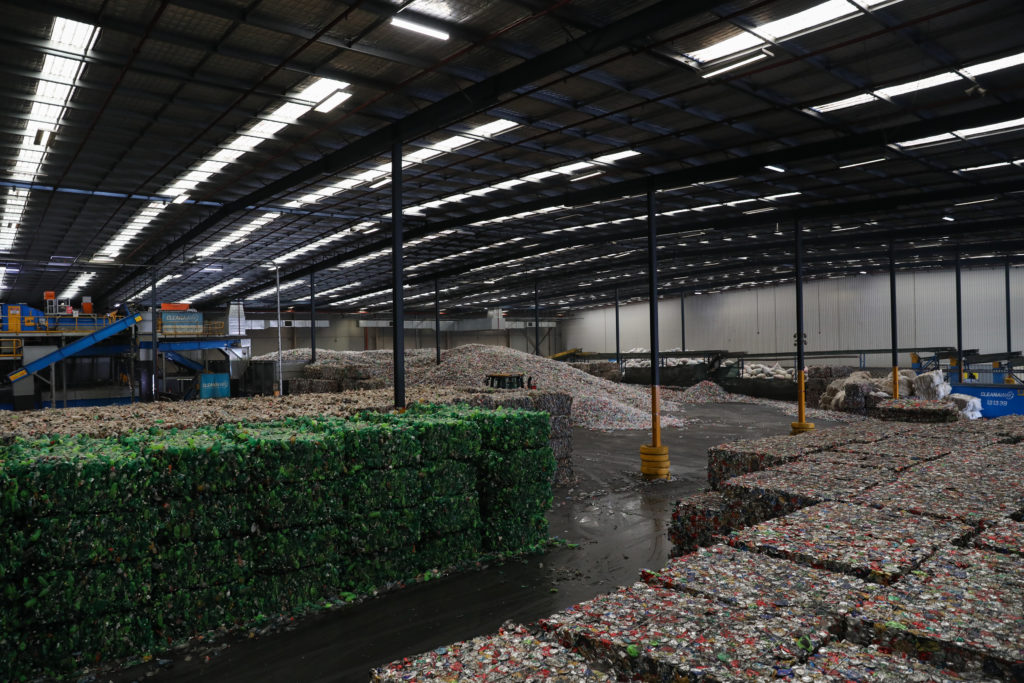 The Sustainable Financing for Waste Management Study Tour, participants saw two extremes of waste management operations as part of their continuing site tours.
The first stop was to TOMRA/Cleanaway in Eastern Creek, the operators for the New South Wales Container Deposit Scheme (CDS). The operation is enormous – since opening in 2017, the facility has processed more than 7.4 billion containers and can process up to 9 million containers every day.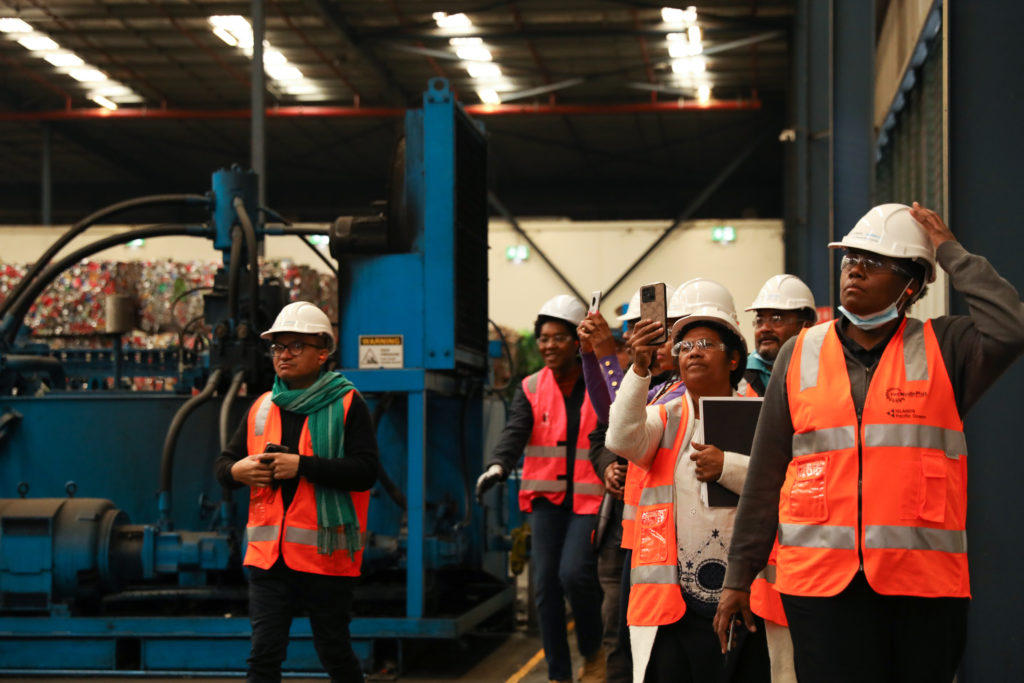 Participants explored the warehouse, seeing the immense sorting equipment and its network of conveyor belts in operation, as well as the half-ton bails of compacted cans and plastic bottles ready to be shipped off for recycling. In addition, participants saw the Reverse Vending machines in operation and met with the facility operators to discuss everything from dealing with legacy waste, to how to invest in education, the difference between the deposit and refund models, and securing relationships with different partners, recyclers, and markets.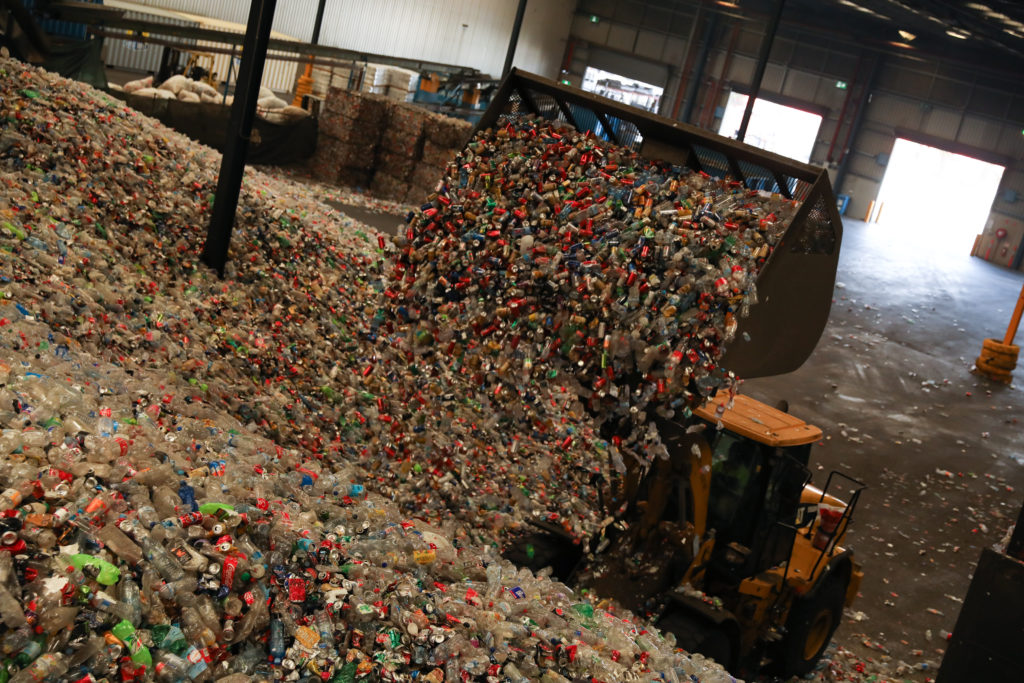 'Every country will have to have a different system that suits their particular needs,' commented James Dorney, CEO of TOMRA/Cleanaway. 'Technology has its space, but it's not the only thing and we're hoping that from this visit, you'll be able to take away what applies to you. It's in all of our interest to create best practice around the world, and hopefully our operation shows the enormous value in this commodity and how important it is to invest in sound recycling practices.'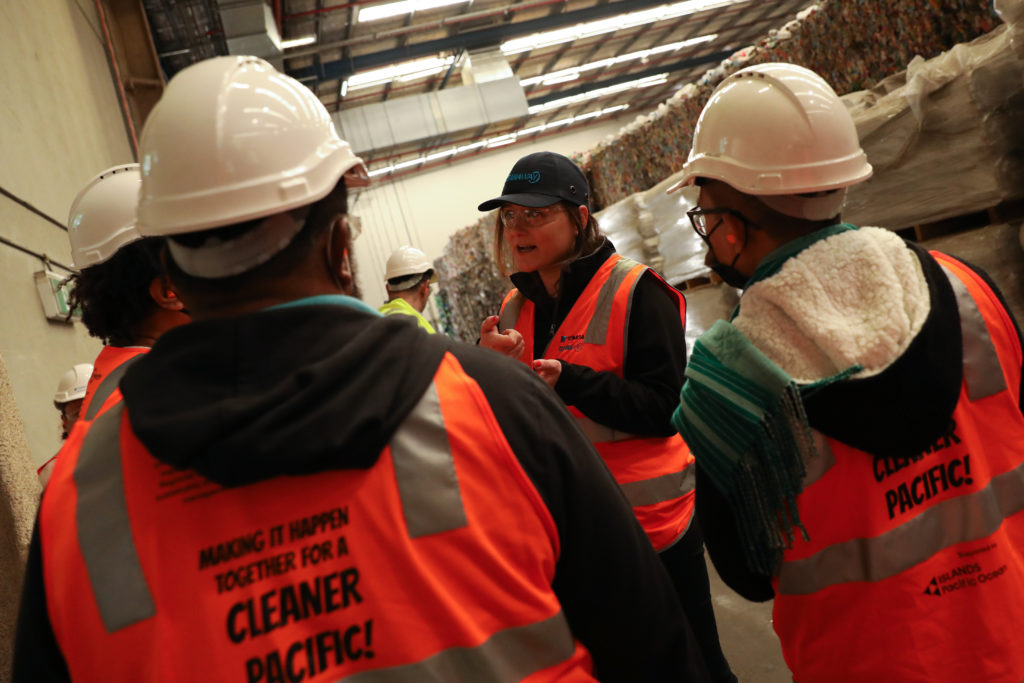 At the other end of the scale, the study tour participants also visited the Liverpool Community Recycling Centre, a permanent drop-off centre for the more 'problematic' wastes that cannot be collected via council kerbside collection services. The facility collects e-waste, polystyrene, household and car batteries, paint, x-rays, and motor oils, among other waste.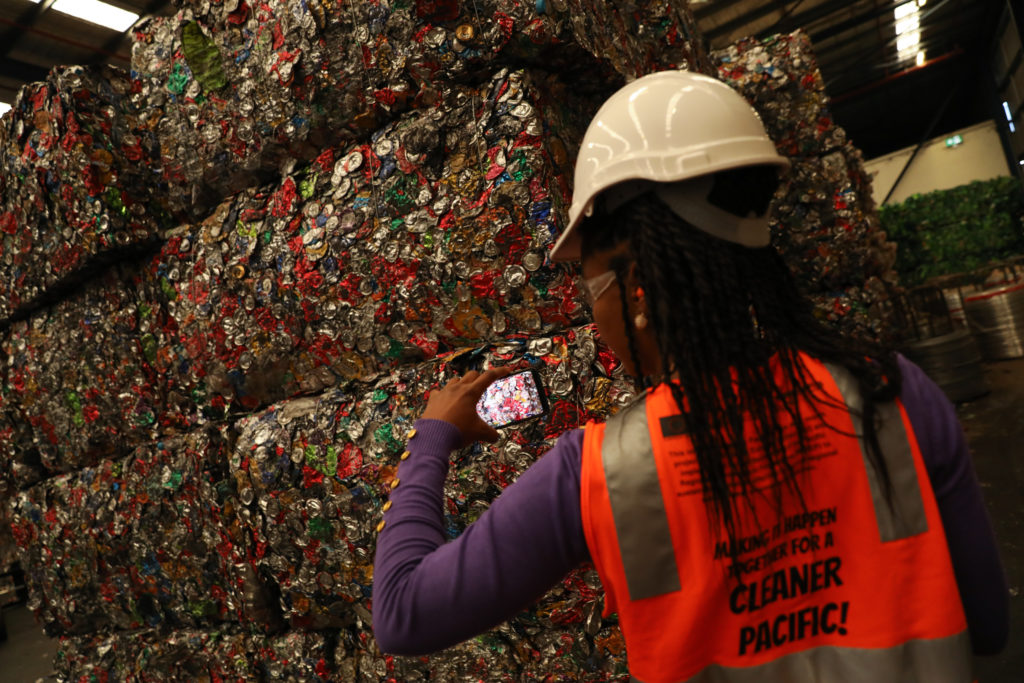 Operating through a drive-through system that is free and open to the community, the facility ensures that waste is either disposed of correctly or sent to appropriate recyclers, thus diverting dangerous waste from landfills. The facility sees between 80-300 cars per day and processes up to 1 ton of waste per year.
'It's important to identify the biggest problem in your own community and start from there,' comments Karl Adderley, Waste Project Officer. 'You don't have to do everything all at once. It's best to start on a modular basis and expand as you go. This is good for both the operators of the facility, who need to handle the waste, and for the community, who need to be educated along the way.'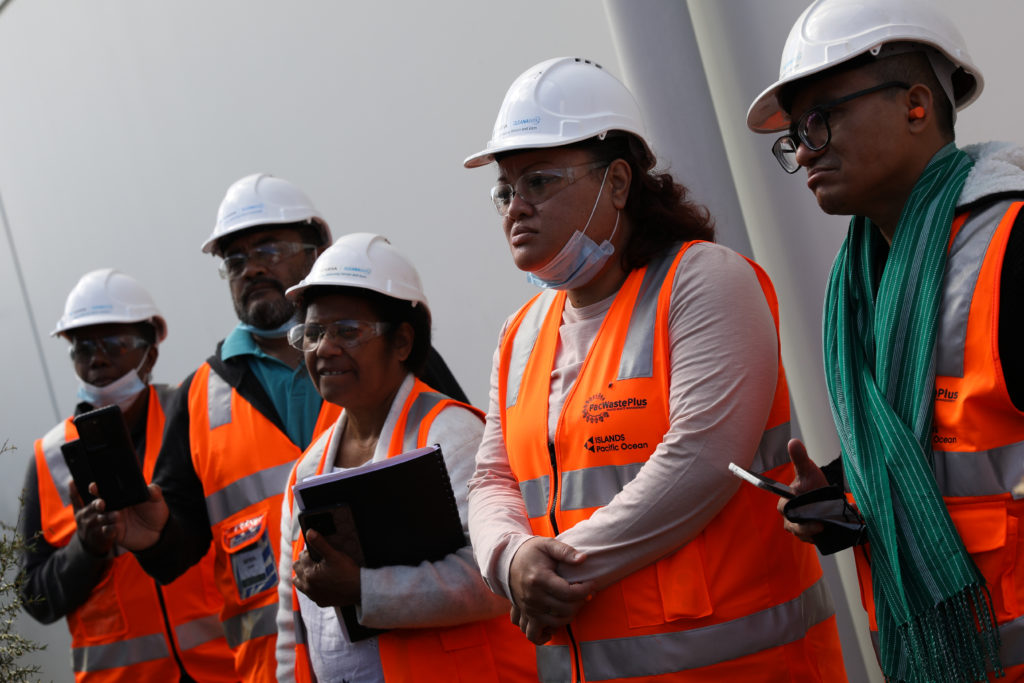 'There's so much to take away from today,' commented one study tour participant. 'The CDS scheme really shows how you can operate a recycling service while putting money back into the pockets of the people. This would definitely appeal to the islanders and would be a great incentive for improving our recycling systems.'
'I appreciated the smaller-scale operation,' commented another participant. 'This kind of a scheme is more manageable for us and it's something we could grow into. It's been really interesting to see the diversity of ways that waste can be handled and there is a lot for us to think about when applying this back home.'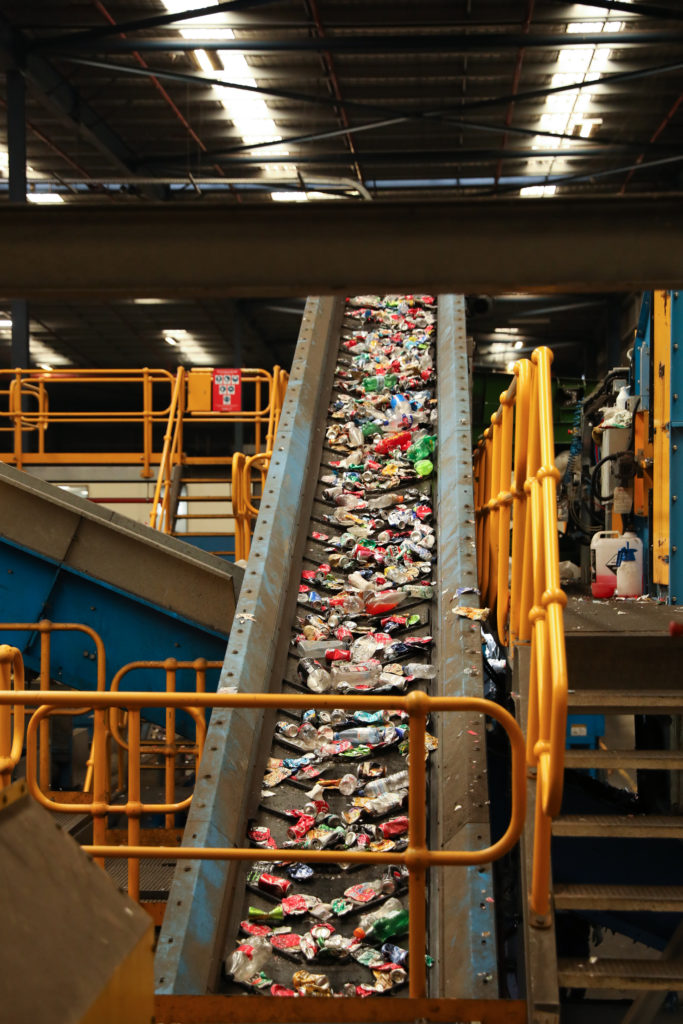 Article and Photos: GEF ISLANDS/PacWastePlus – Dr Kiara Worth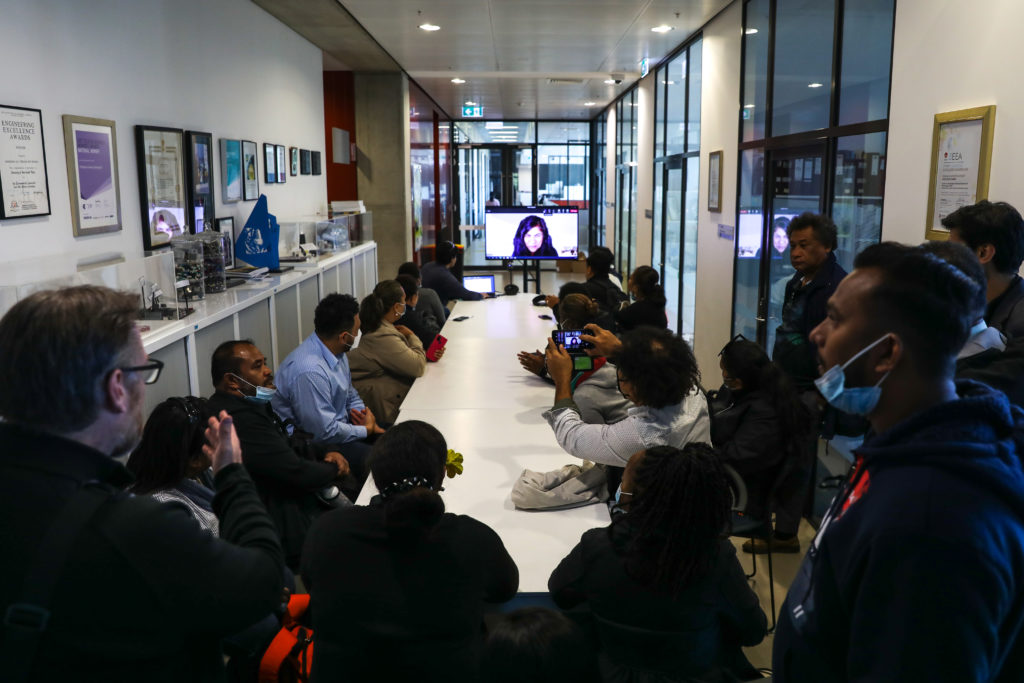 'We have to think: what is the purpose of the work we're doing?' explains Veena Sahajwalla, Scientia Professor at the Centre for Sustainable Materials Research and Technology (SMaRT) at the University of New South Wales.
'Not everything has to be done at a large scale, but rather, economies of purpose have to be scaled to meet the particular needs of communities or regions. No matter where you are in the world, you need to be able to design technologies and develop solutions that take the right kinds of materials, and create something that has both a purpose and a higher value. And that's what we do.'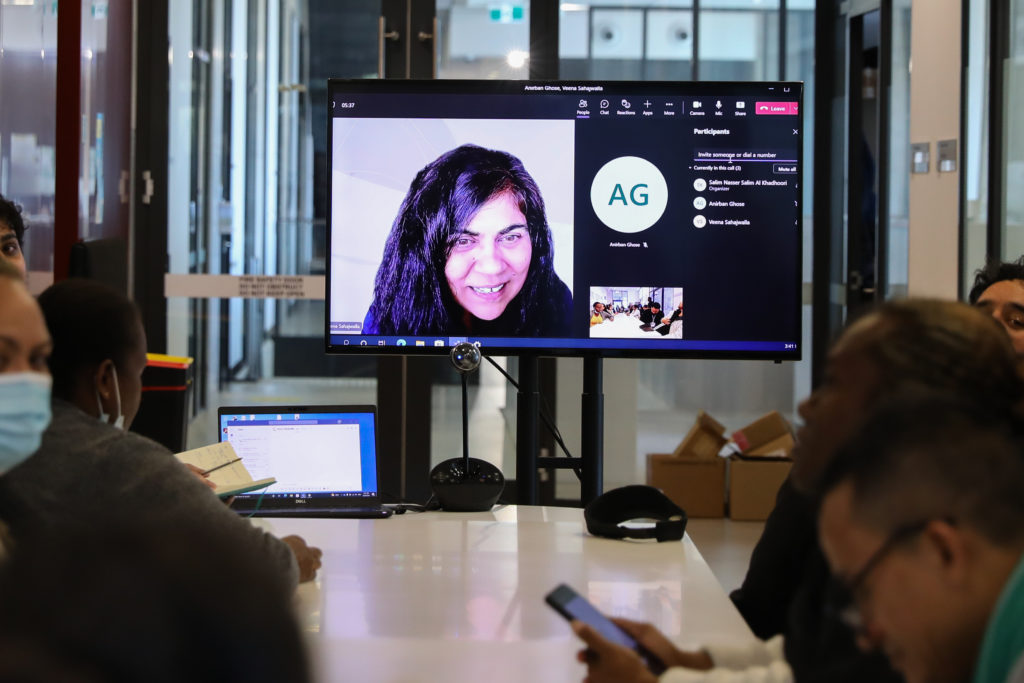 It was a day of innovation and creativity as the Sustainable Financing for Waste Management Study Tour participants visited the SMaRT Centre, renowned for pioneering the transformation of waste and creating a new generation of 'green' materials and products. Leading visionary research programs that foster innovation and promote collaboration, SMaRT is building a portfolio of new 'recycling science' knowledge and technologies.
So how does it work? The whole idea is to think about what kind of value-added materials can be made by using waste and end‐of‐life products as raw materials. A plastic bottle can be recycled to become another plastic bottle, but how do you convert more complex plastics, such as those found in a car or a printer, into something useful? Using their MICROfactorie technology, Veena and her team transform problematic waste materials, such as glass, textiles, solar panels, tyres, and e-waste, into materials and products that have value, including engineered green ceramics and plastic filament that can be used for 3D printing.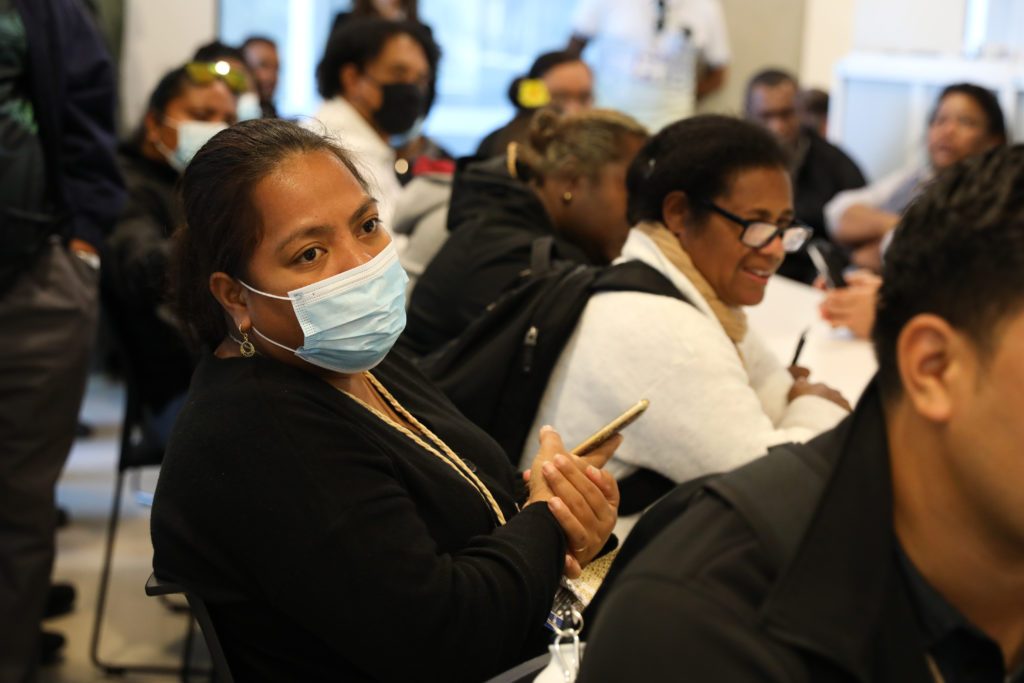 'You have to be able to see waste and waste recycling as an integral and integrated part of making products,' continues Veena. 'We're not thinking whether it's too difficult to make on a small scale, we're thinking about whether it has a purpose. Using our MICROfactorie technologies, we're able to isolate high-value materials from waste and selectively recover them to create something new.'
After an inspiring conversation with Veena, study tour participants were shown around the research lab where they saw how circuit boards and other electronics are broken down, how 3D printers work, and the variety of innovative materials that can be developed. The whole purpose was to show how waste can be part of a supply chain and the participants were wide-eyed with wonder at the incredible technology on display and the diversity of products created.
'Today was an eye opener,' commented one participant. 'This is really an example of the circular economy in action and it's inspiring to be reminded that innovation can happen anywhere in the world. I really like the idea of focusing on economies of purpose rather than on the scale. This concept could apply to us in the islands, and it forces us to think more creatively about what materials we have locally and how we could use these to create different products that have more value.'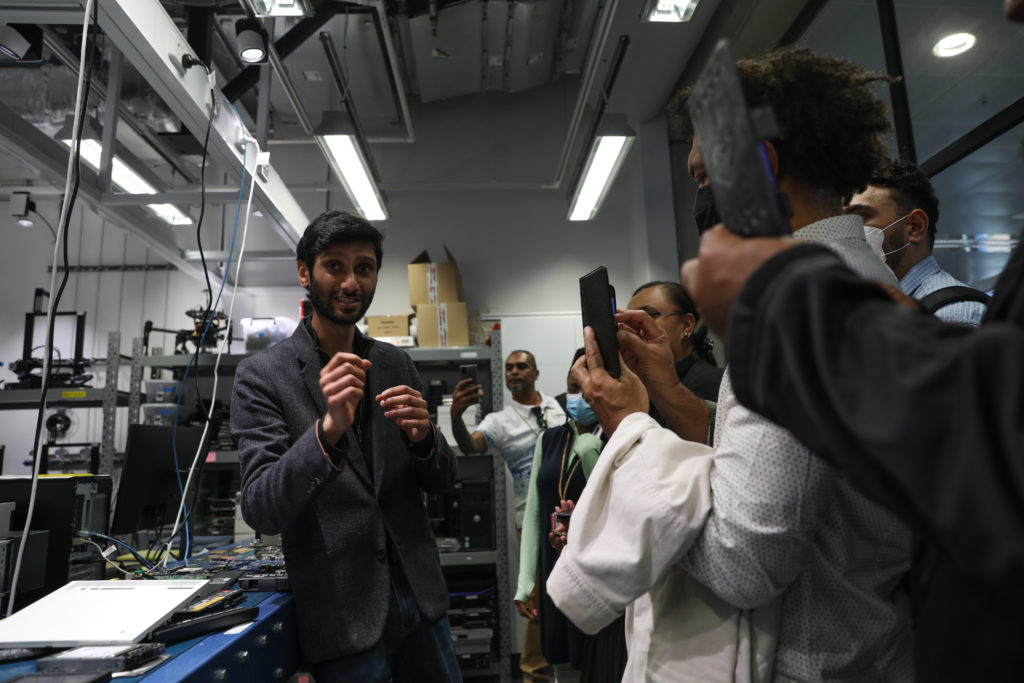 Article and Photos: GEF ISLANDS/PacWastePlus – Dr Kiara Worth