This video clip provides a short overview of the PacWaste Plus Programme Steering Committee Meeting held in Rarotonga Cook Islands from 26-28 April 2023.
Video footage: Cook Islands TV
Interview conducted by the Cook Islands TV News with SPREP implemented and European Union funded, Pacific Waste Management, PacWaste Plus Programme Manager on the margins of the programme steering committee meeting held Rarotonga Cook Islands from the 26-28 April 2023.
Video footage: Cook Islands TV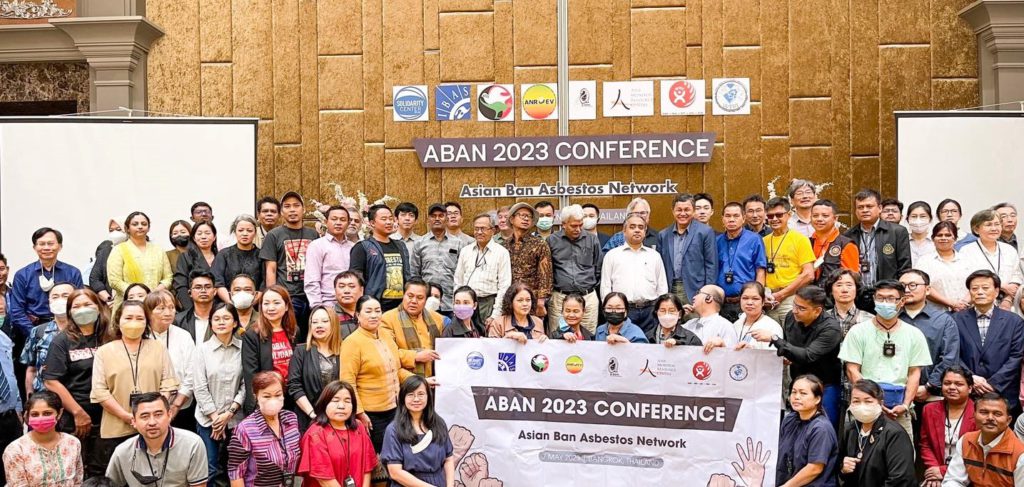 The fight to ban asbestos globally is gaining momentum as networks across Asia and the Pacific pledged to step up the battle to protect their people from the dangers of asbestos exposure at the 2023 Asia Ban Asbestos Network (A-BAN) Conference through increased awareness, education, and advocacy efforts. Asbestos-containing materials (ACM) remain a major issue for many Pacific Island countries with a history of use of ACM in building construction.
Recognising the work that is progressing in the Pacific, the Secretariat of the Pacific Regional Environment Programme (SPREP) implemented and European Union-funded Pacific Waste Management, PacWaste Plus programme was invited to present a Special Report on Pacific island's efforts towards a ban on ACM products being imported into the region.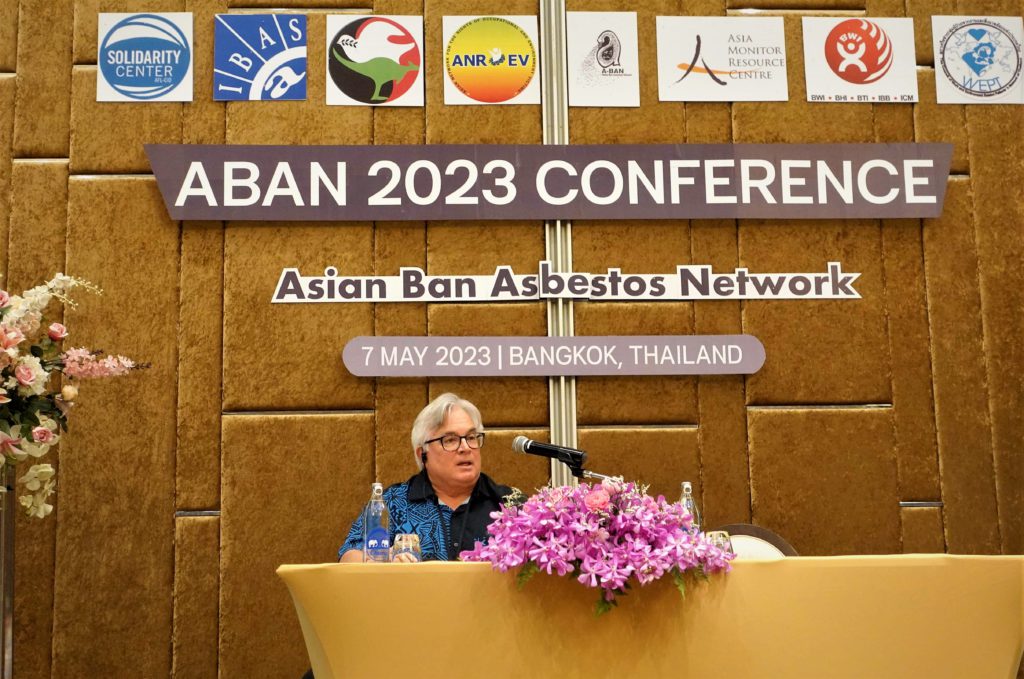 The programme was represented by the Technical Waste Project Officer Hazardous Waste, Mr Lance Richman as a keynote speaker at the 2023 A-BAN conference held in Bangkok, Thailand in May.  A-BAN was established in 2009 at the Asian Asbestos Conference in Hong Kong to facilitate a ban on asbestos and activities on various aspects of asbestos issues by asbestos victims and their families, trade unions, consumers, environment, social groups and individuals, and coalition building among them in Asia.

These conferences are now held annually with the 2023 conference focused on sharing and discussing the status of asbestos situations in different countries, development of policy advocacy and actions on ban asbestos issues, and review and development of coordinated strategies and plans of action for the immediate future.
Mr Richman, shared with over 150 conference delegates largely from Asian countries, ongoing efforts by the PacWaste Plus programme towards assisting Pacific Island countries ban the importation of Asbestos Containing Materials.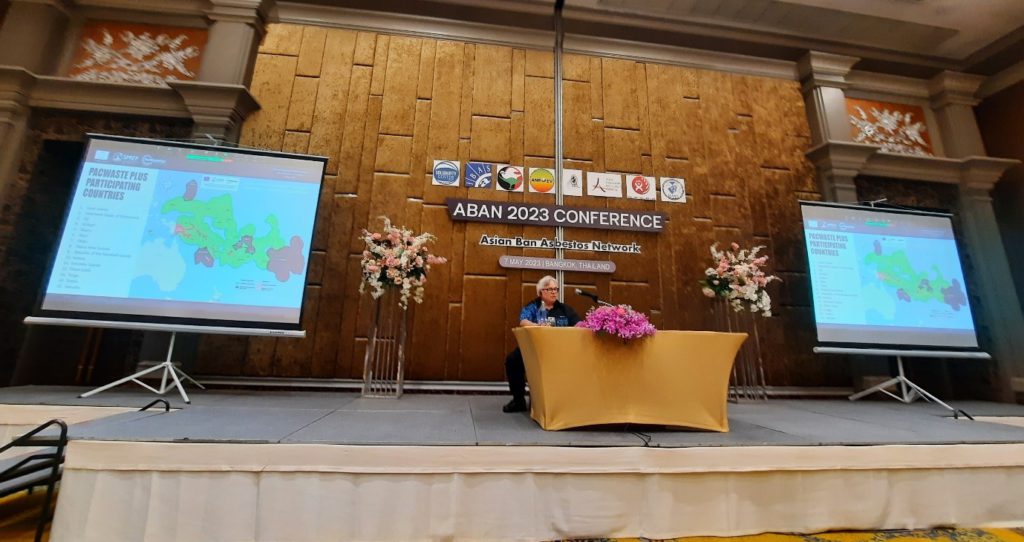 As part of the highlights conference delegates learned that the programmes regional and selected country projects are assisting countries to effectively remediate legacy asbestos, and regulate the use, transport, and disposal of asbestos to protect human health from the harmful effects caused by exposure.
Other activities include targeted public awareness, development of legislation, regulations, and a regional template Code of Practice to improve management and handling.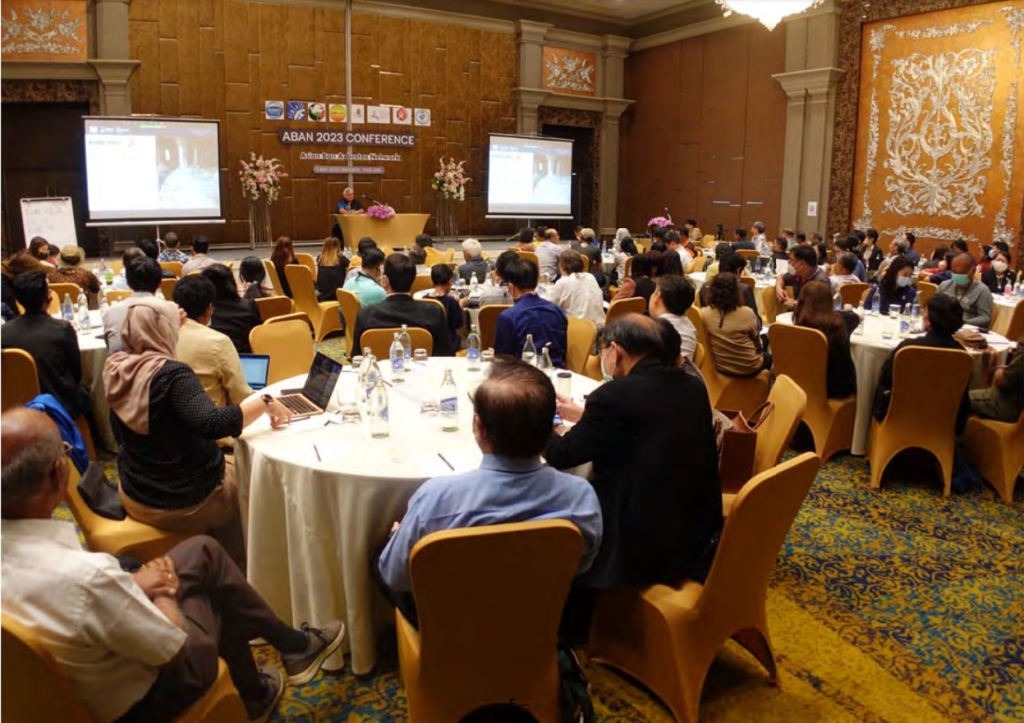 The Code of Practice defines appropriate and safe processes for the handling, transport, and disposal of legacy asbestos and the programme has also developed a Model Asbestos Management Policy and Model Asbestos Management Code of Practice.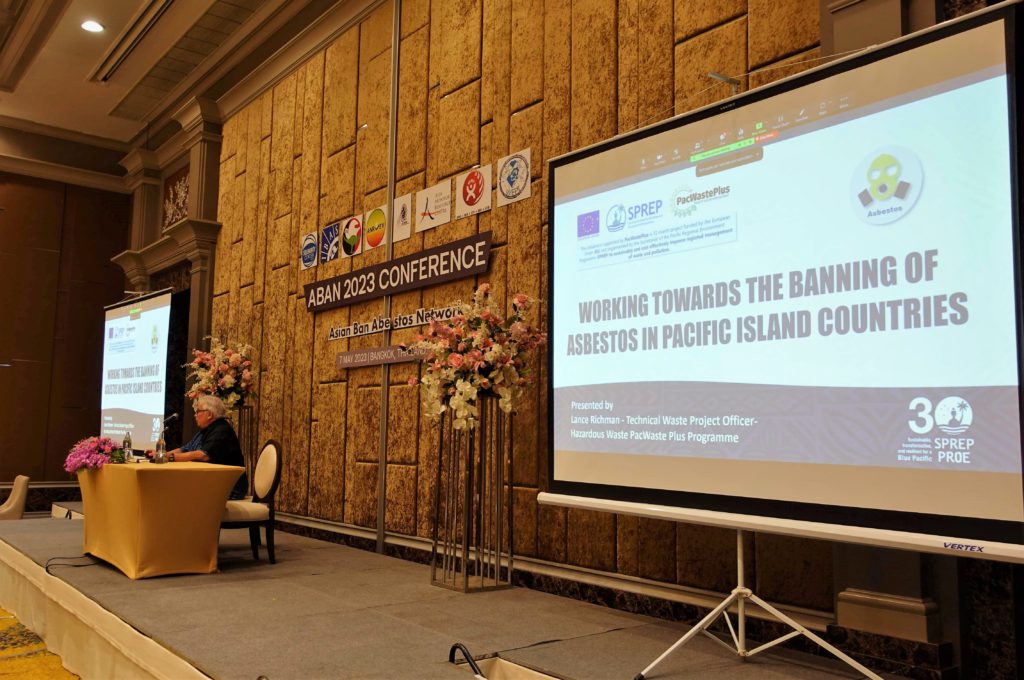 Among the work provided by the PacWaste Plus programme were the many varied asbestos management and control publications that have been produced over the past few years to support asbestos ban and management and strategies focussing on education and awareness efforts in the Pacific Island regions which were also shared and acknowledged by the conference delegates.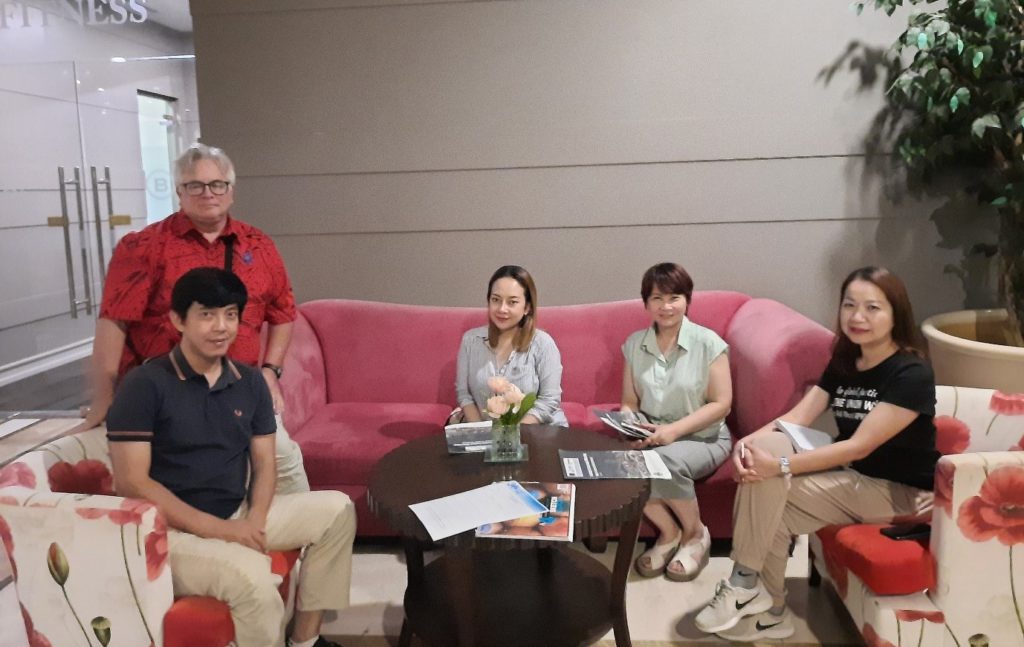 Mr. Richman also met with the Mekong Team (Vietnam, Laos, Cambodia, Thailand), following the conference, to discuss areas of collaboration and strategies that have worked in both regions.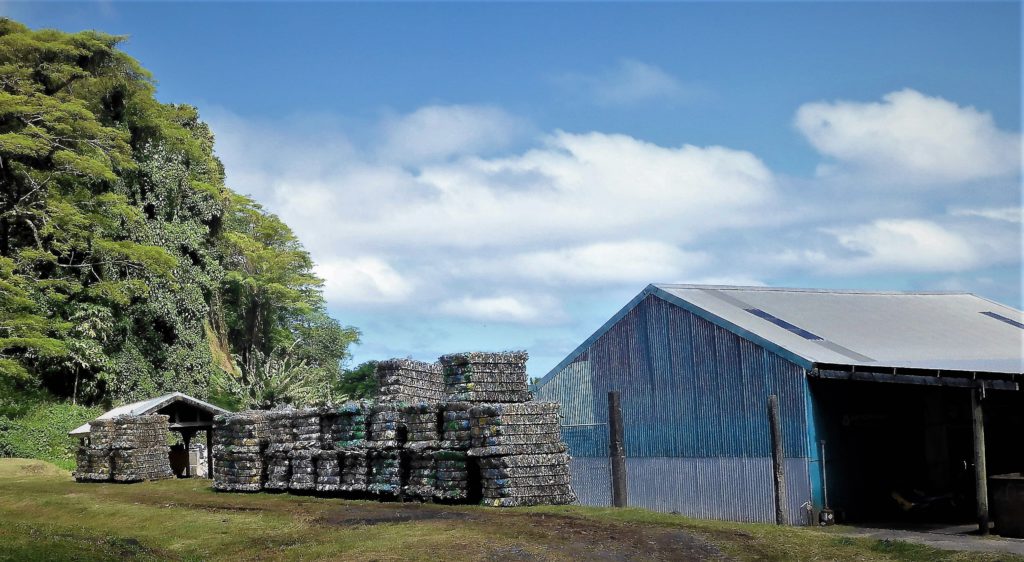 The Ministry of Infrastructure Cook Islands (ICI) manage the operations of the Resource Recovery Centre which is located at the Rarotonga landfill, and as part of activities associated with the PacWaste Plus programme steering committee meeting, delegates visited the facility.
The visiting delegates were provided an overview of ICI's efforts to reduce recyclable materials entering the landfill and plans to incentivise the community to recycle, through the proposed Advance Recovery and Disposal Fee (ARDF) scheme.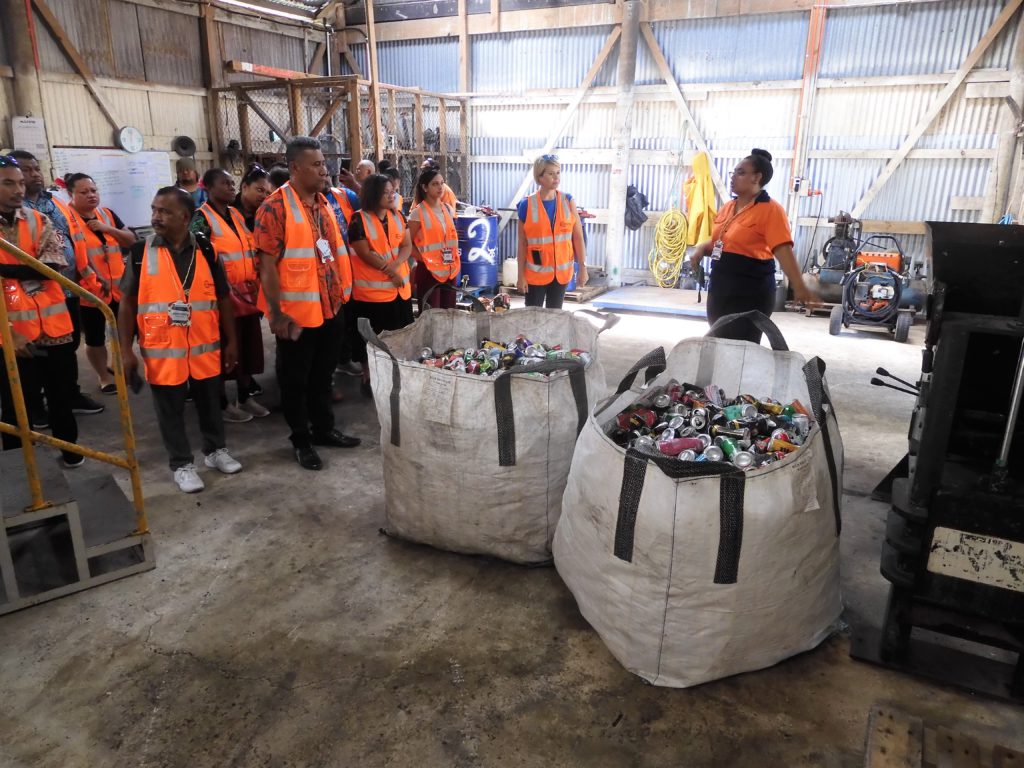 Participants were informed that recyclable materials, including plastic and glass bottles, and aluminium and tin cans, collected from households and businesses are taken to the Resource Recovery Centre and sorted and processed for export overseas.
The facility includes sorting bays, two industrial balers for compacting plastic bottles and aluminium and tin cans, and a large glass crusher.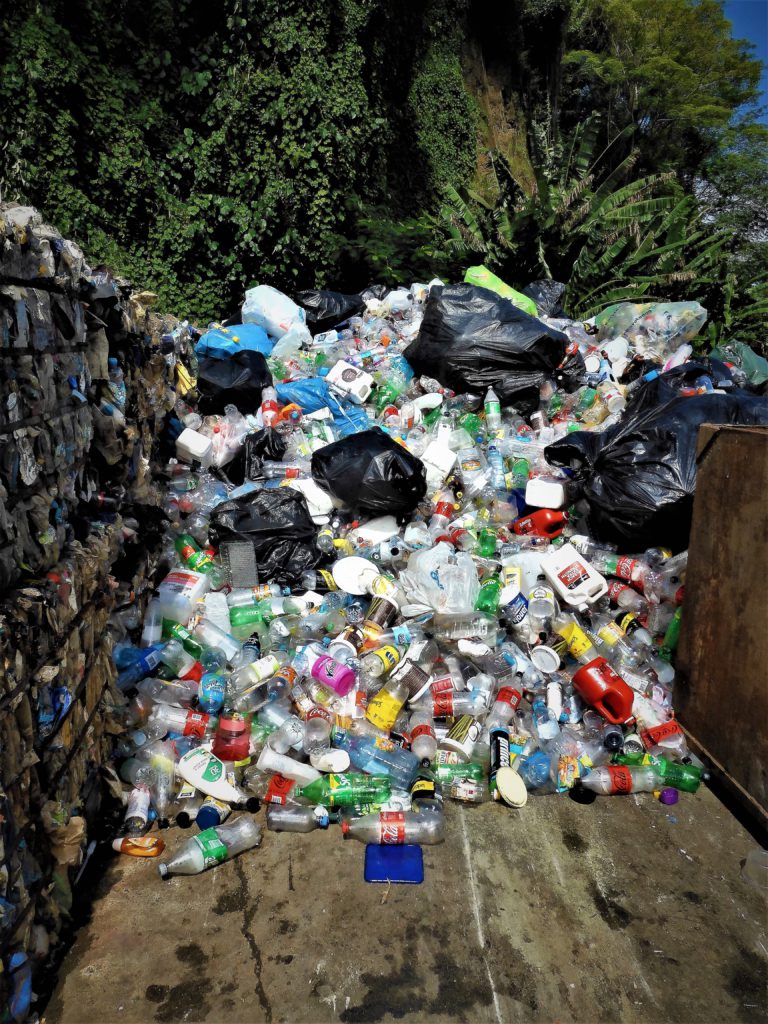 Meeting participants touring the recycling facility also had a hands-on experience using a non-mechanical, hand-operated PET and aluminium can crusher, purchased and installed through programme support.
This non-mechanical crusher is currently being trialled on behalf of the Cook Islands Pe Enua (Outer Islands) to determine its suitability for undertaking size reduction of recyclable materials to enable initial processing and more efficient internal shipping through the proposed ARDF scheme.
This equipment may be an effective solution for managing recyclables from smaller outer island populations where power, diesel, and formal mechanical equipment are limited.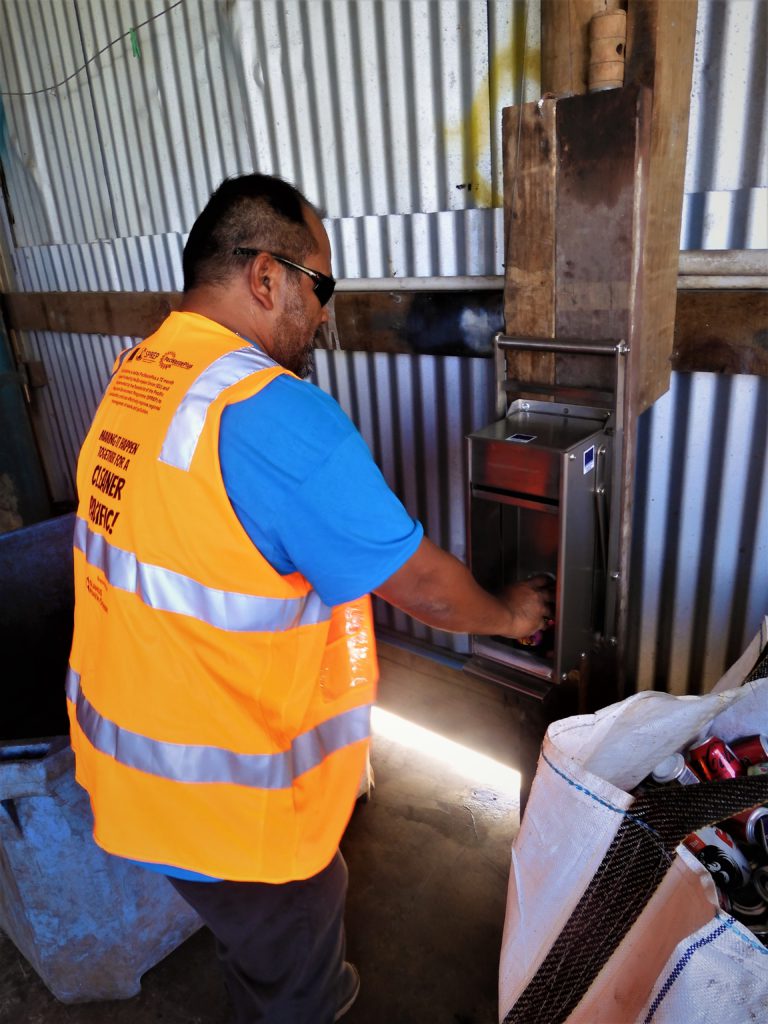 ICI is testing the equipment for durability, ease of use, effectiveness, and safety, and ensuring the crushed aluminium cans and PET bottles received at the Rarotonga Resource Recovery Centre are suitable to be baled for export in the industrial baler.
If this trial is successful, handheld crushers will be installed in recycling depots on each of the Pa Enua islands.
The visiting delegates shared experiences on similar smaller-scale operations in their individual countries and how efforts can be enhanced to better manage recyclable materials from ending up in landfills.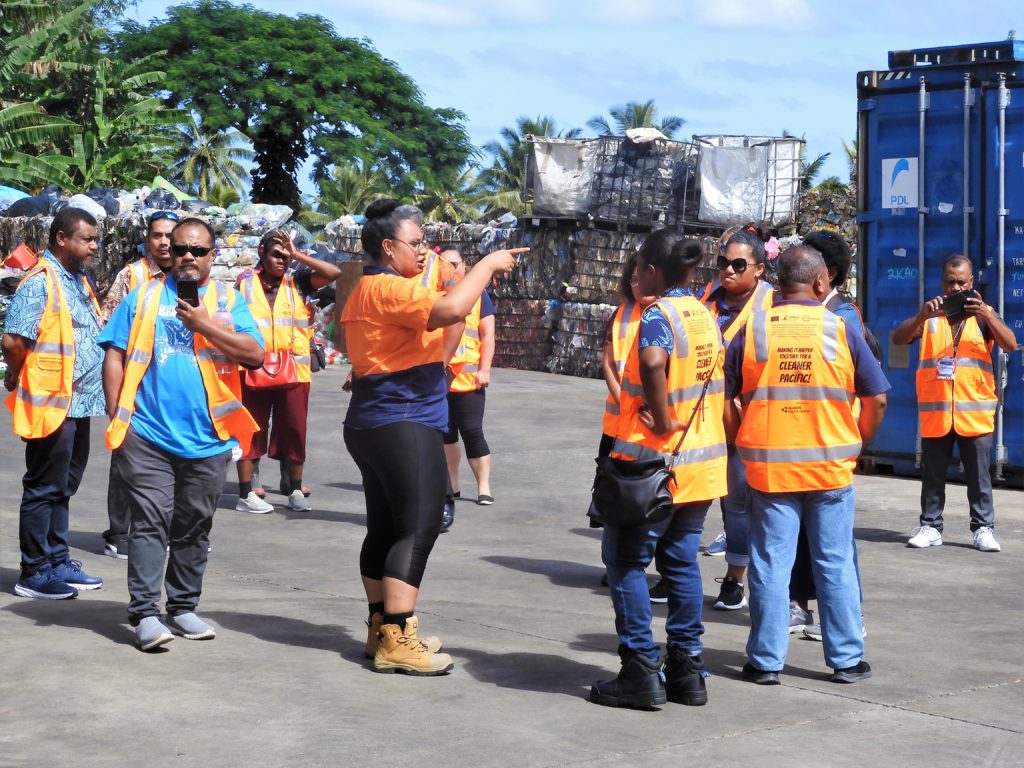 Site Visit – Rarotonga Waste Facility Album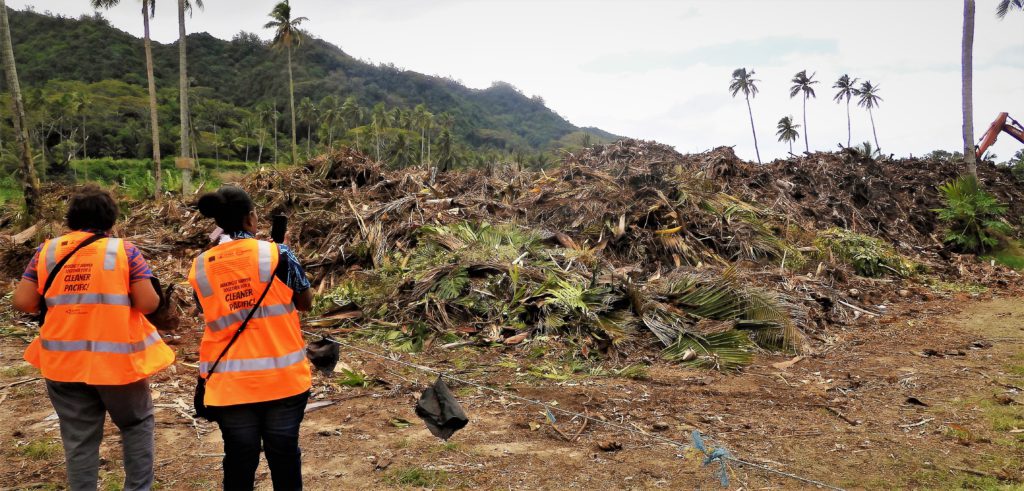 Recycling food and other organic waste into compost provides a range of environmental benefits, including improving soil health, reducing greenhouse gas emissions, reducing leachate, and increasing climate resilience.
Composting is the natural process of recycling organic matter, such as vegetation and food scraps, into a valuable product that can enrich the soil and increase crop yield.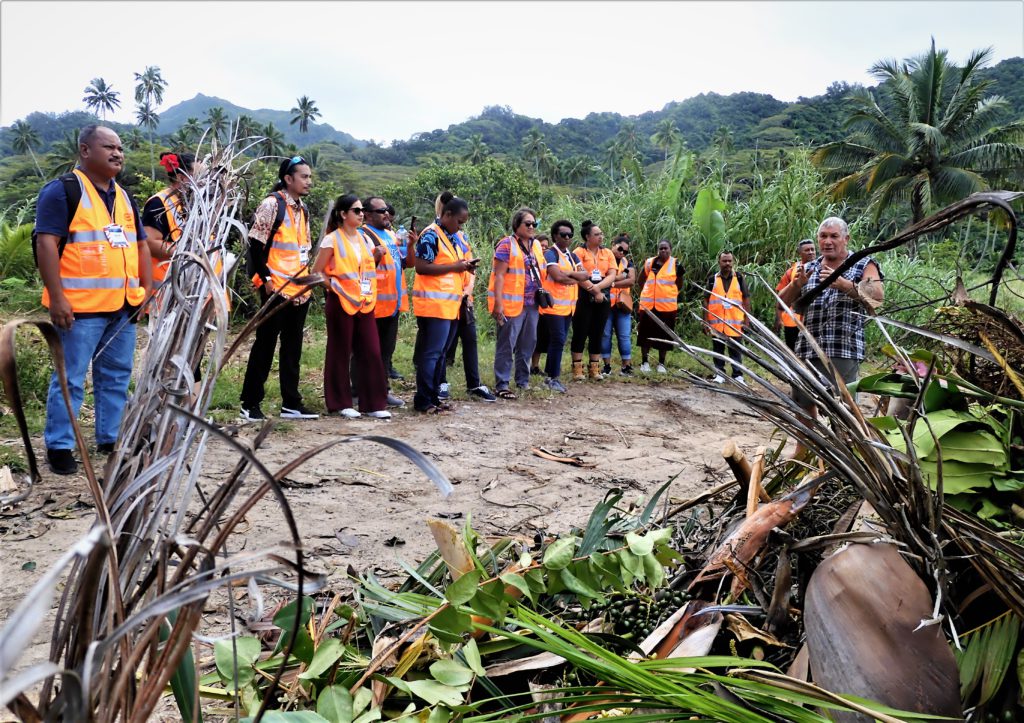 Anything that grows will decompose naturally, composting simply speeds up the process by providing an ideal environment for bacteria and fungi to do their work.
The resulting decomposed matter, which looks like garden soil, is called compost which is rich in nutrients and can be used for gardening and agriculture.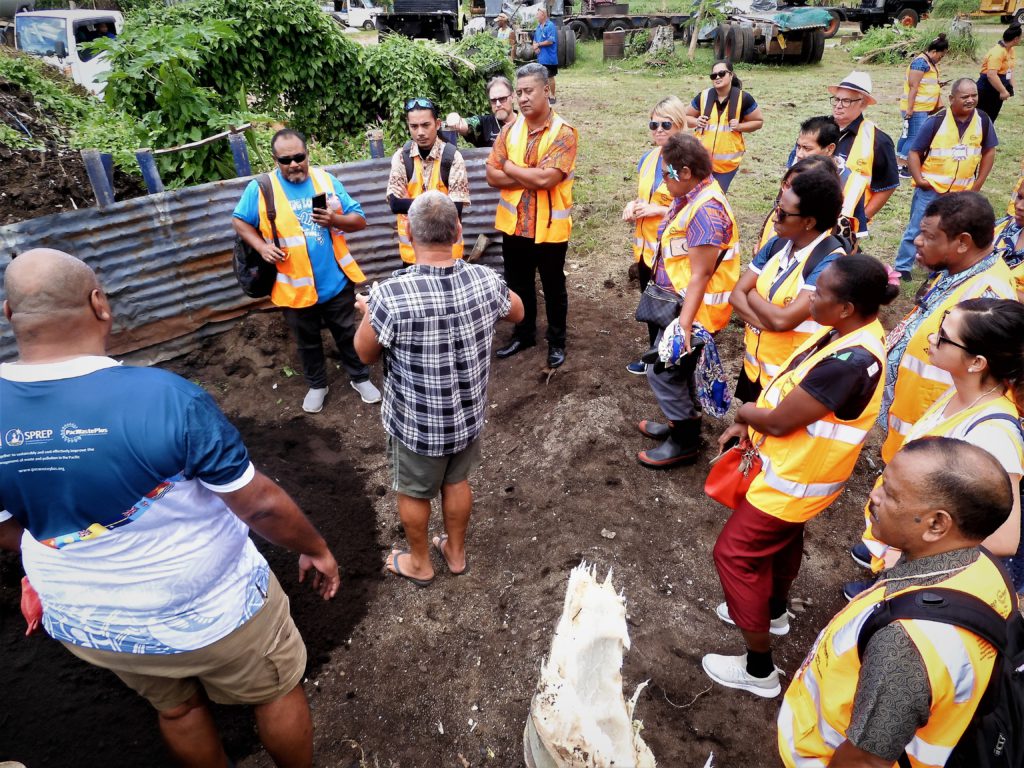 Food scraps are utilised in Rarotonga, with most families having access to pigs, chickens, and other animals. Landscaping materials and clippings from households, hotels, and growers, however, are not as easily managed, with most families and businesses choosing to burn this material.
Participants from the programme steering committee meeting were taken on a tour to Down To Earth Compost N Machinery Ltd, which started as the Titikaveka Growers Association, an association founded by Mr Teava Iro and other local growers around Titikaveka village in Rarotonga who understood there is a better way to use their organic material by processing it into compost.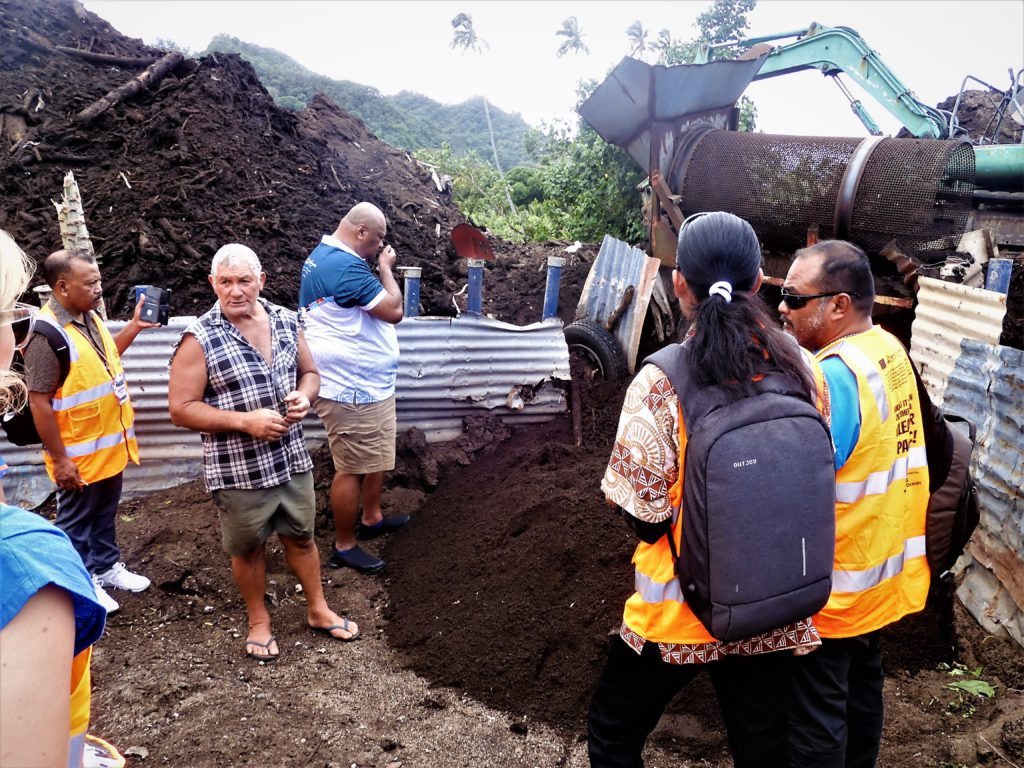 Not all growers had the space or knowledge to make their own compost, so the association was established with support from the New Zealand Development and Relief Agency to purchase equipment, and over the years, the association has evolved into a business mode of operation.
The visiting delegates were informed that the composting facility receives approximately 15-18 tonnes of organic material per week and processes it into compost for sale back to the community with landscaping material from hotels and agricultural growers the main material received.
Other materials processed include by-products from noni agriculture and processing, coconut fronds, cardboard boxes, weeds, and pig manure.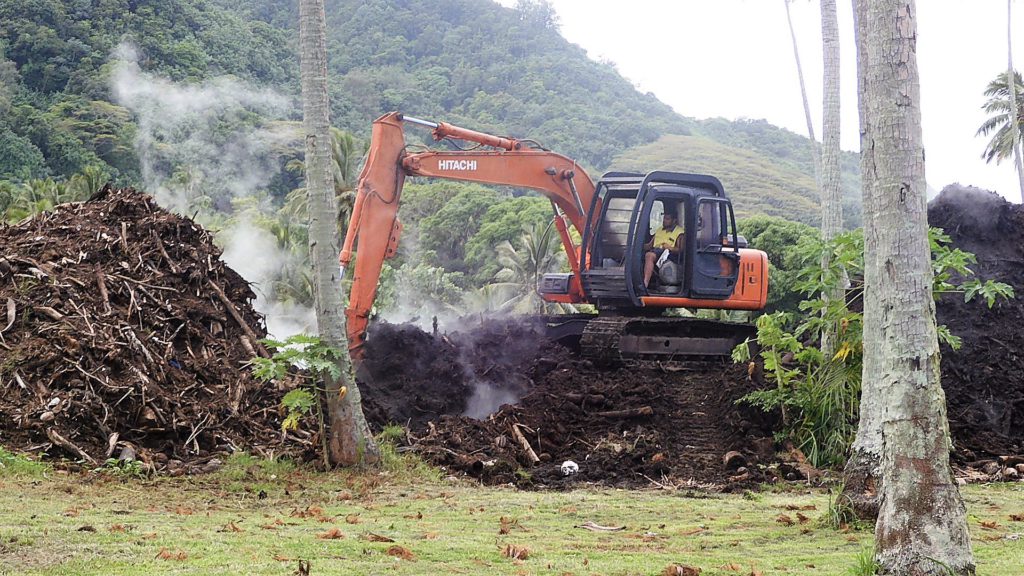 The visiting delegates learned that a large pile open windrow composting method is used.
The facility does not use a chipper to do any size reduction on materials received. Some of the bigger logs and whole coconut are removed, but the rest of the material is simply placed on the pile, letting the bacteria and microorganisms do the work to break them down.
The pile is kept aerated by the larger materials and by regular turning using an excavator. The main equipment used at the facility includes an eight-tonne excavator and a self-built sieve to screen the material prior to sale.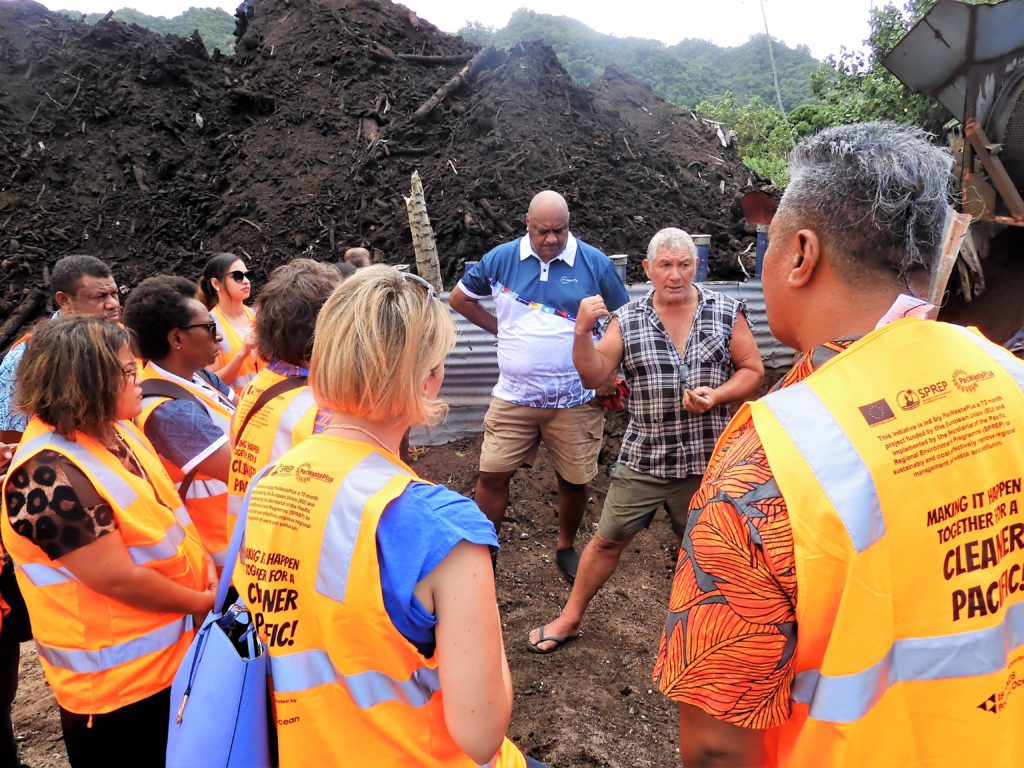 Mr Iro shared with delegates that the biggest challenge for operating the facility is in regards to plastic being dropped off with organic material, and other items like vehicles and parts dumped over the weekend or overnight.   Clearer signage, a targeted educational campaign, and a skip bin to collect residual plastic items, serviced by ICI, may assist resolve this challenge.
The site tour concluded with the visiting participants thanking Mr Iro for sharing his experience, challenges, and insight on the operations of a large community composting facility, and the bus driver getting a bucket of free compost for his home garden!
Down To Earth Compost N Machinery Ltd Site Tour Album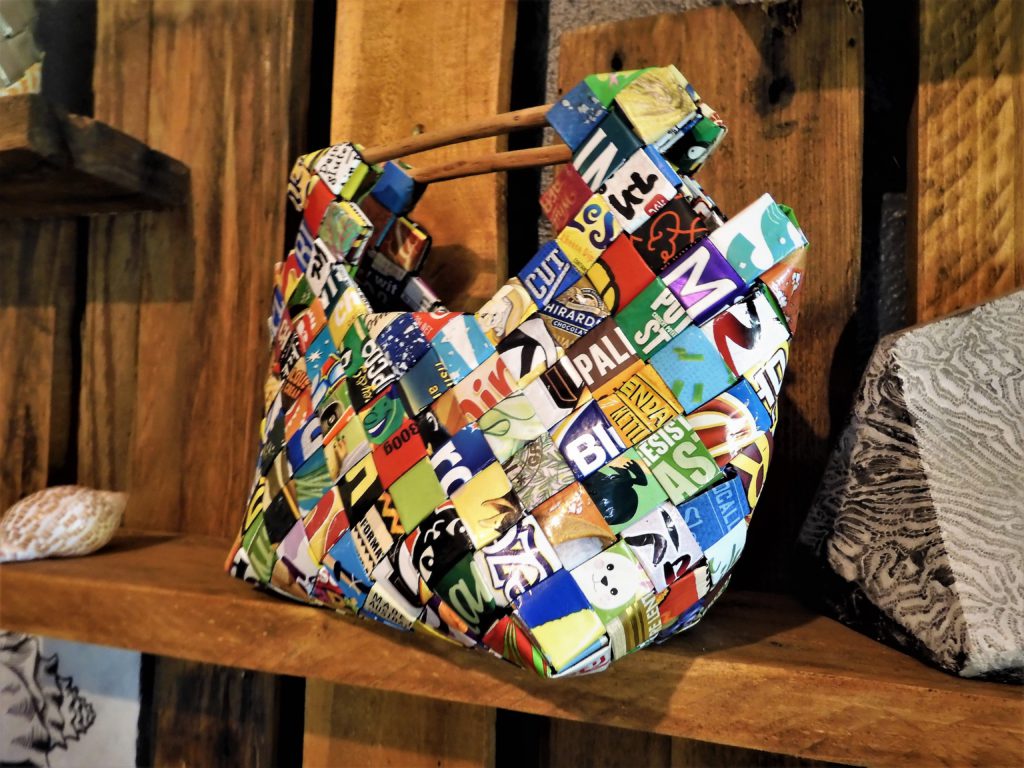 Upcycling has become an emerging trend among consumers who want to draw attention to the problems of overproduction and overconsumption but with global initiatives and from our Pacific region, the Instagram tag of #upcycle currently has over five million posts, including images of upcycled art, clothes, jewelry, fashion accessories, and DIY furniture.
​As part of the programmes three-day steering committee event, participating delegates were taken for a site tour of a home-based upcycling initiative to the Circle Cook Islands founded by Ms Sabine Janneck, in Rarotonga in Cook Island in 2014.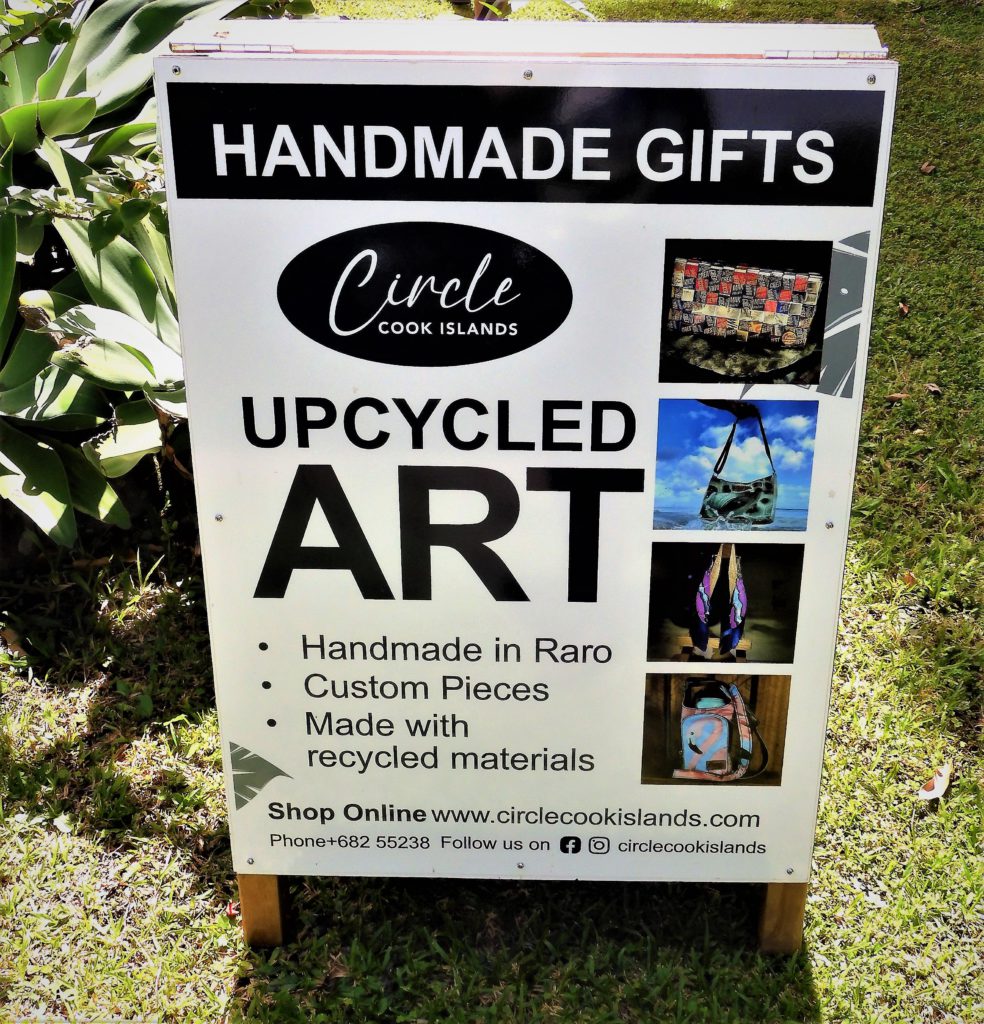 The brand's name C.I.R.C.L.E. – Cook Islands Recycling Creations Living Environment is inspired by Ms Janneck's never-ending care for the environment and is defined by giving a second life to discarded materials. Circle Cook Islands uses discarded waste plastic, foil wrappers, chocolate and lolly wrappers, yogurt containers, coffee sachets, cheese wrappers, noodle packets, and anchor powder milk bags to create colorful handbags, hats, wallets, purses, clutch bags, boxes, cushions & laptop covers. Ms Janneck's also creates jewellery pieces from tyre rubber and other materials that would have ended up in landfills or in the environment.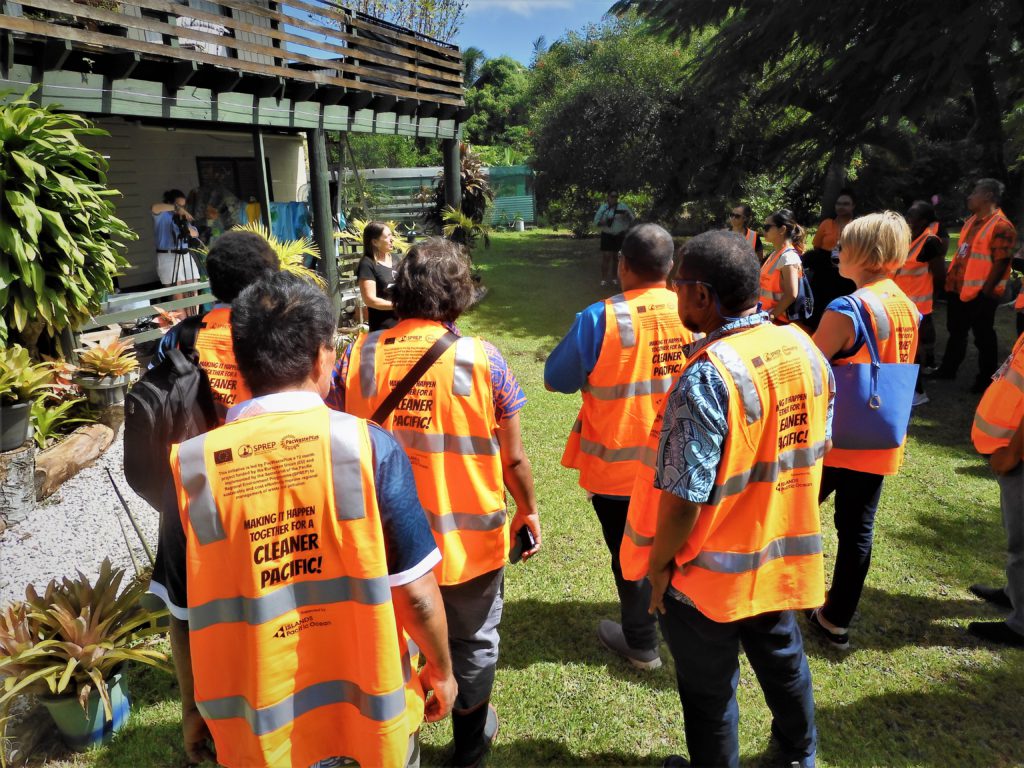 "In addition to raising awareness of plastic pollution at our community level, it is equally relevant to remember that the nations of the Pacific are especially vulnerable to climate change, and plastic usage is a contributing factor.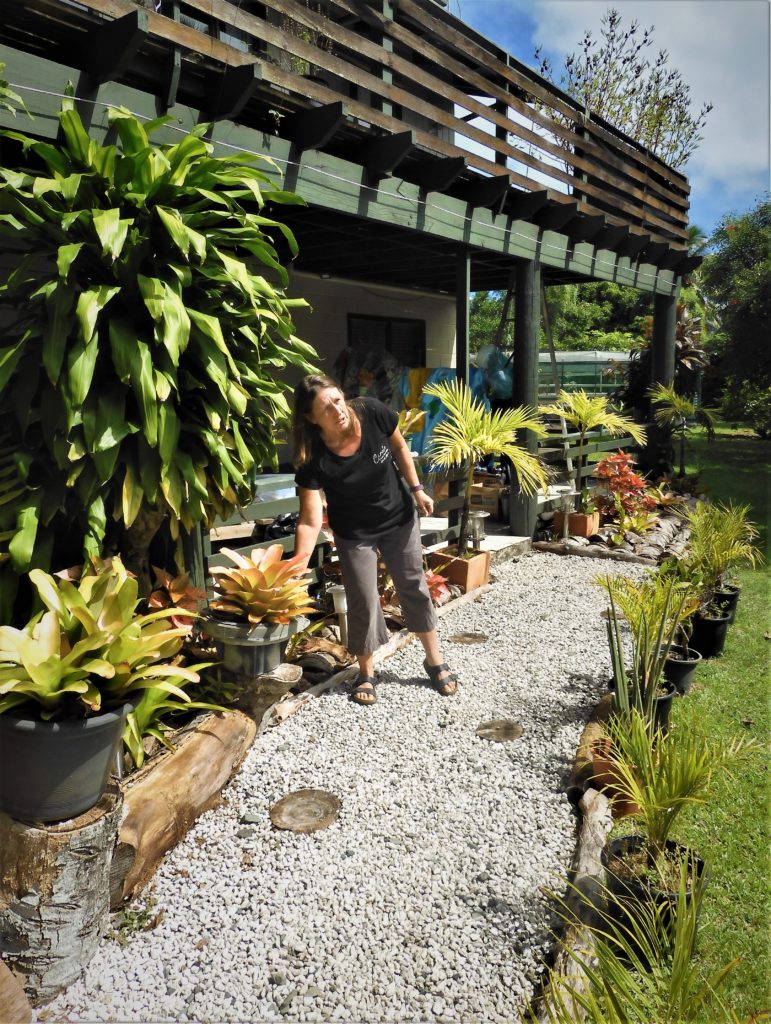 Ms Janneck's is an active environmentalist, a long-standing executive member of the Te Ipukarea Society, a Cook Islands environmental NGO, chair of their Waste Management Programme, and the recipient of the Energy Globe National Award for a Cook Islands national project on "Plastic Fantastic-from Trash to Art" in 2021.
She shared with the touring delegates that the concept of creating bags and accessories from reused materials was introduced to her by a friend including the very basics of the weaving technique but from that moment she never stopped making bags and the ideas are still rolling in.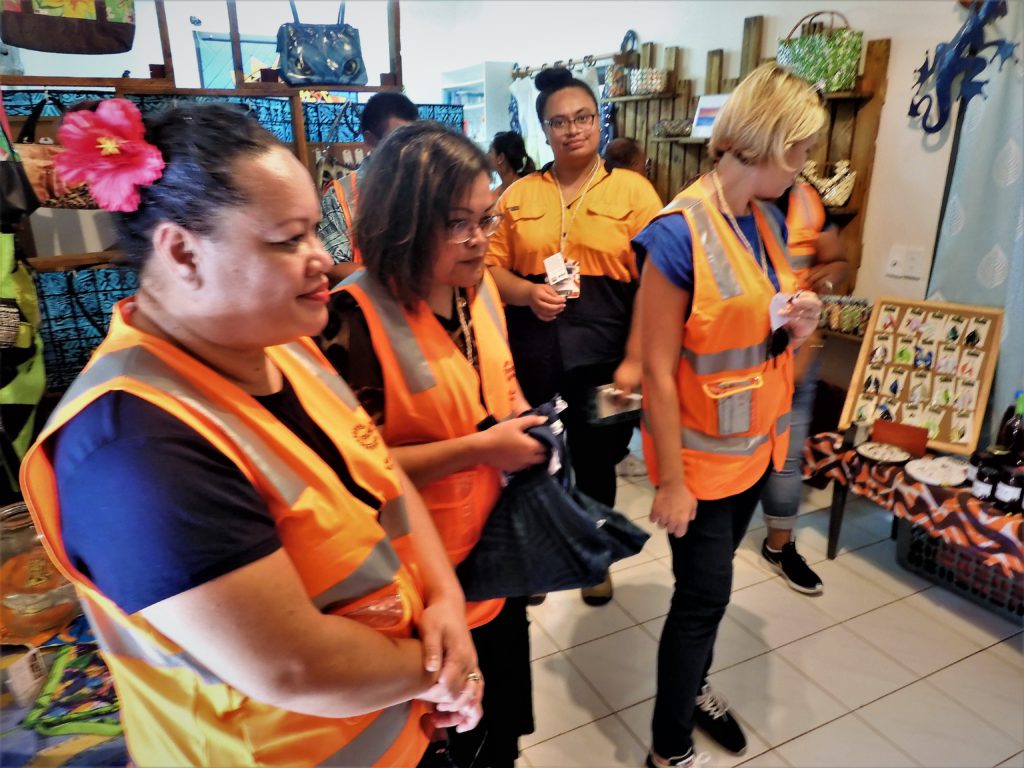 "The production process of our woven products and inflatables consists of various stages, from the discarded material being converted into raw material to its transformation into a functional object ready to fulfill its new purpose," explained Ms Janneck to the visiting Pacific delegates.
"We get all our material from people here in Rarotonga who care about our environment and are trying to reduce the waste that would have ended up at the landfill and there is not a typical design style as the bags usually grow while I make them, and they are also not cheap as it does take longer to weave and create them".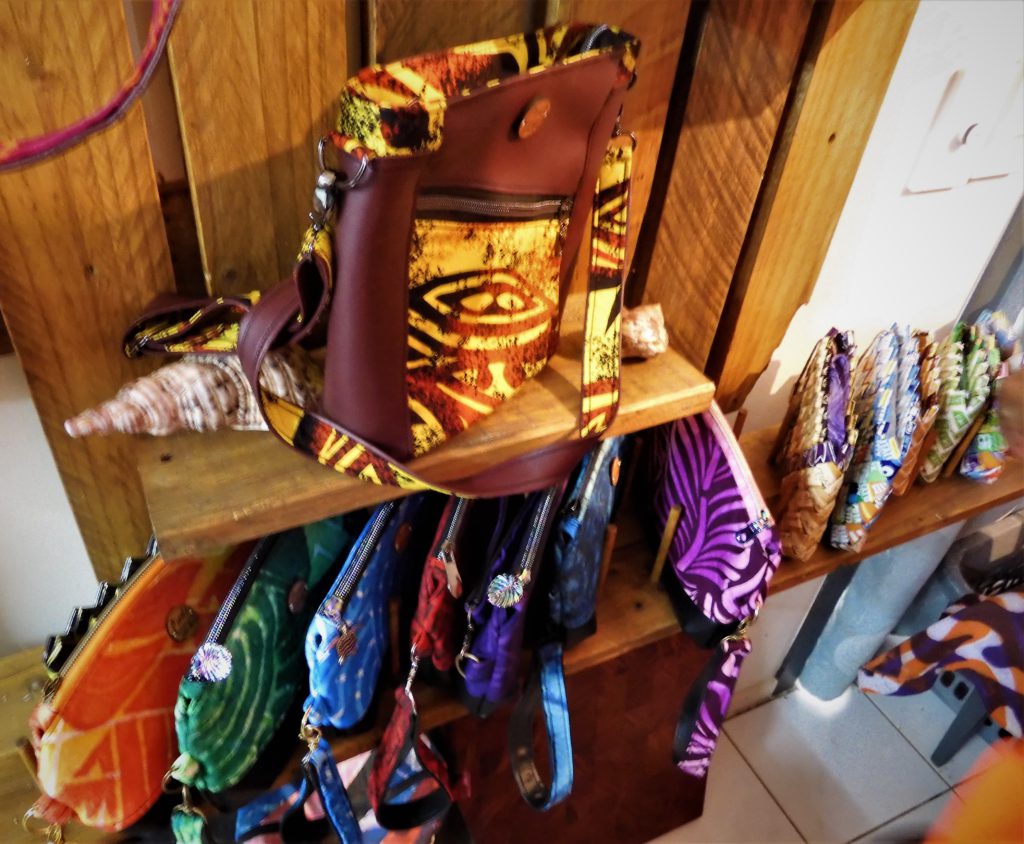 The inspirational artist described to participants that once the materials arrive at the workshop, the first step is selection where they work with discarded materials, as some items arrive dirty and are separated so the items can be salvaged and upcycled from those that can no longer be used and that all creations have their own uniqueness to it.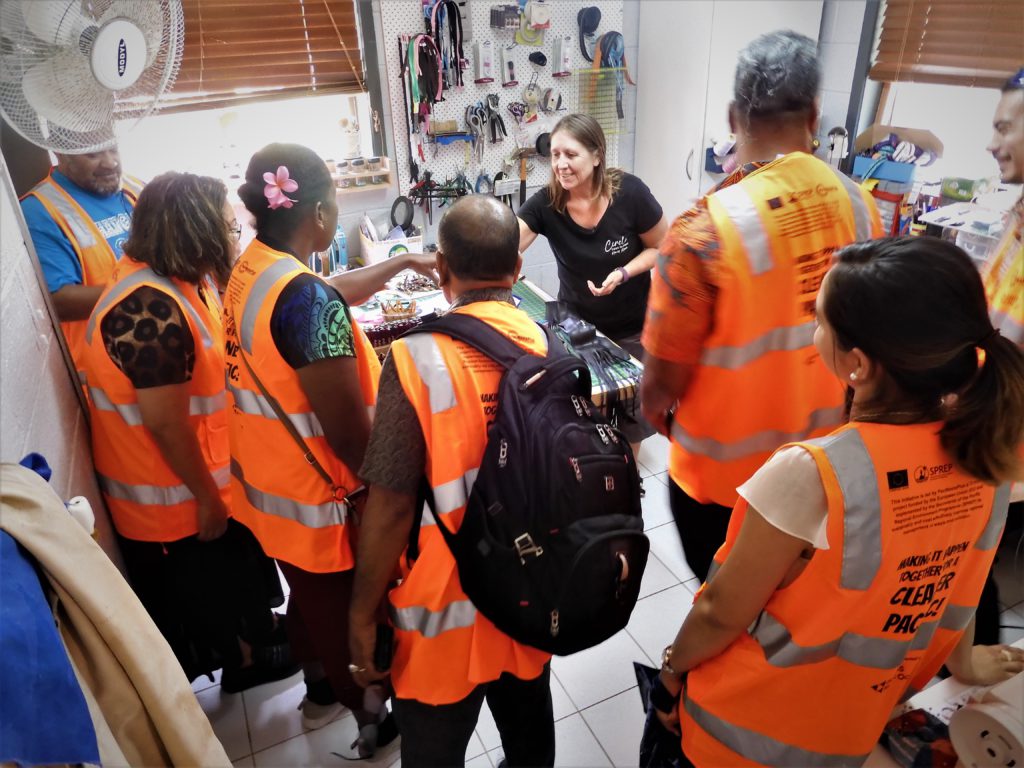 "Every day we use wrappings without a second thought and throw them away, but they deserve a second chance, transforming themselves, to show their new utility to the world that rejected them".
"They need to redeem themselves, from their sentenced life cycle, to realize their dream and my work and passion are to resuscitate materials and find lost treasures in the discarded items of the modern world´s progress and we have lots of fun doing it".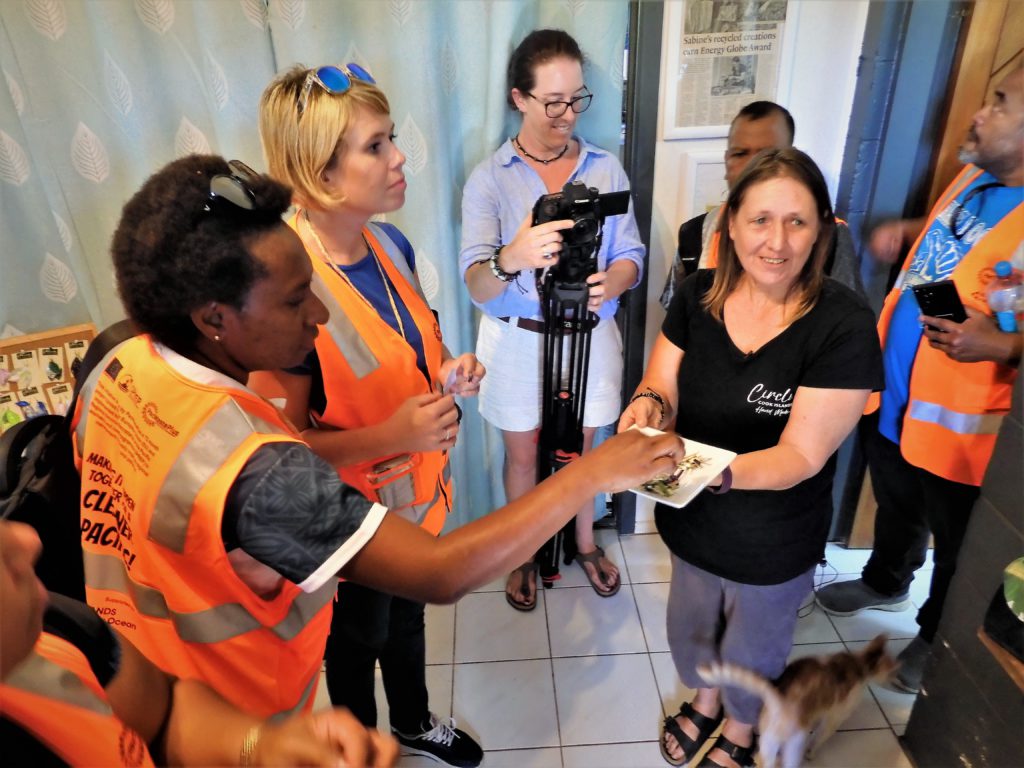 Delegates also shared that similar initiatives are in practice in their countries with community-based women's groups and youth groups working to not only sustain their livelihoods by upcycling waste products into art-based creations but also as part of their efforts to better manage waste regardless of whether it is a small step but in the right direction.
Site Tour Album: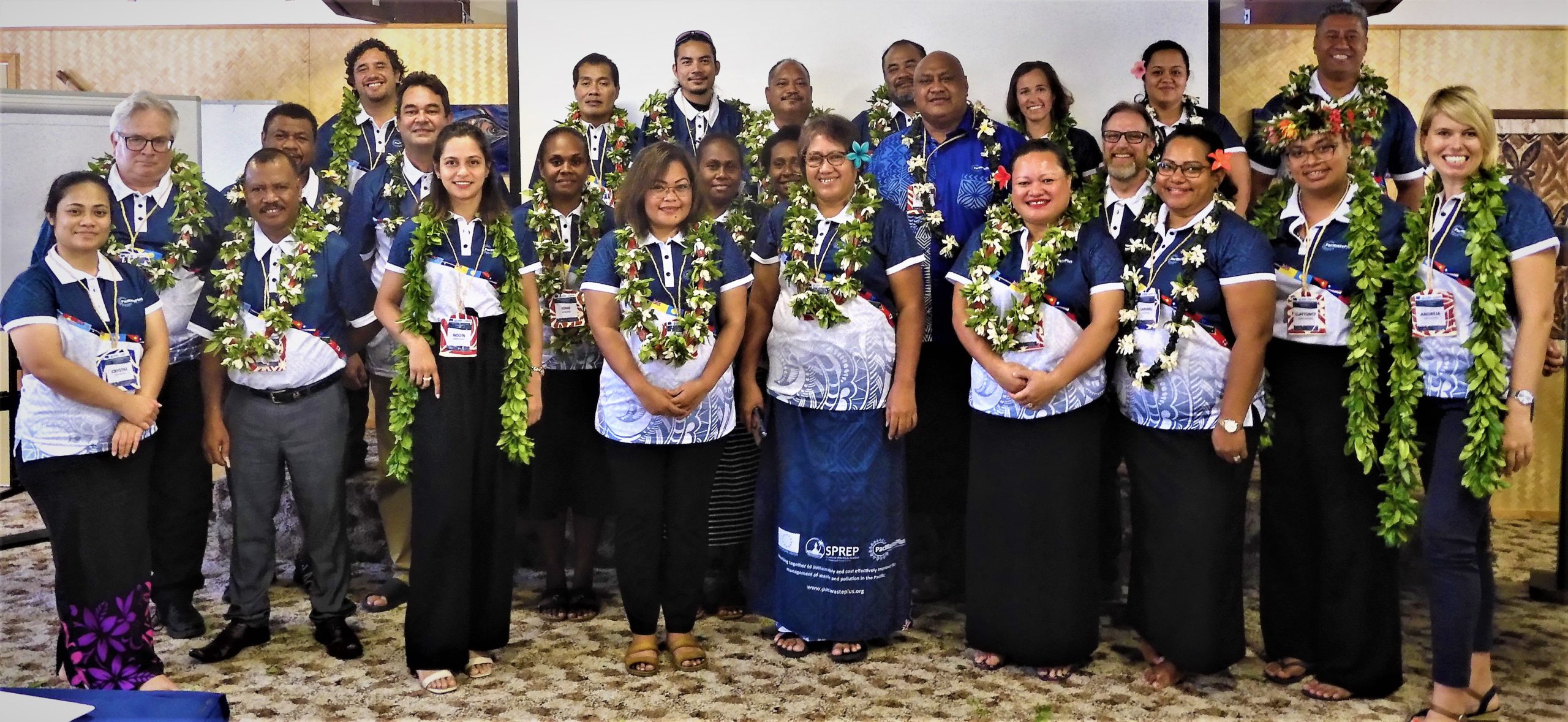 Pacific Island countries converged in Rarotonga, Cook Islands and reaffirmed their commitments, in a collective voice, echoing the region's aspirations to implement appropriate and sustainable solutions for their waste management challenges at the Secretariat of the Pacific Regional Environment Programme (SPREP) implemented, and European Union funded PacWaste Plus Programme Steering Committee meeting.
During the meeting, held from 26-28 April, delegates from participating Pacific islands held several Talanoa and capacity-building sessions on their unique challenges and worked together to identify possible solutions by sharing lessons learned to collectively address the growing concern of waste management in the region.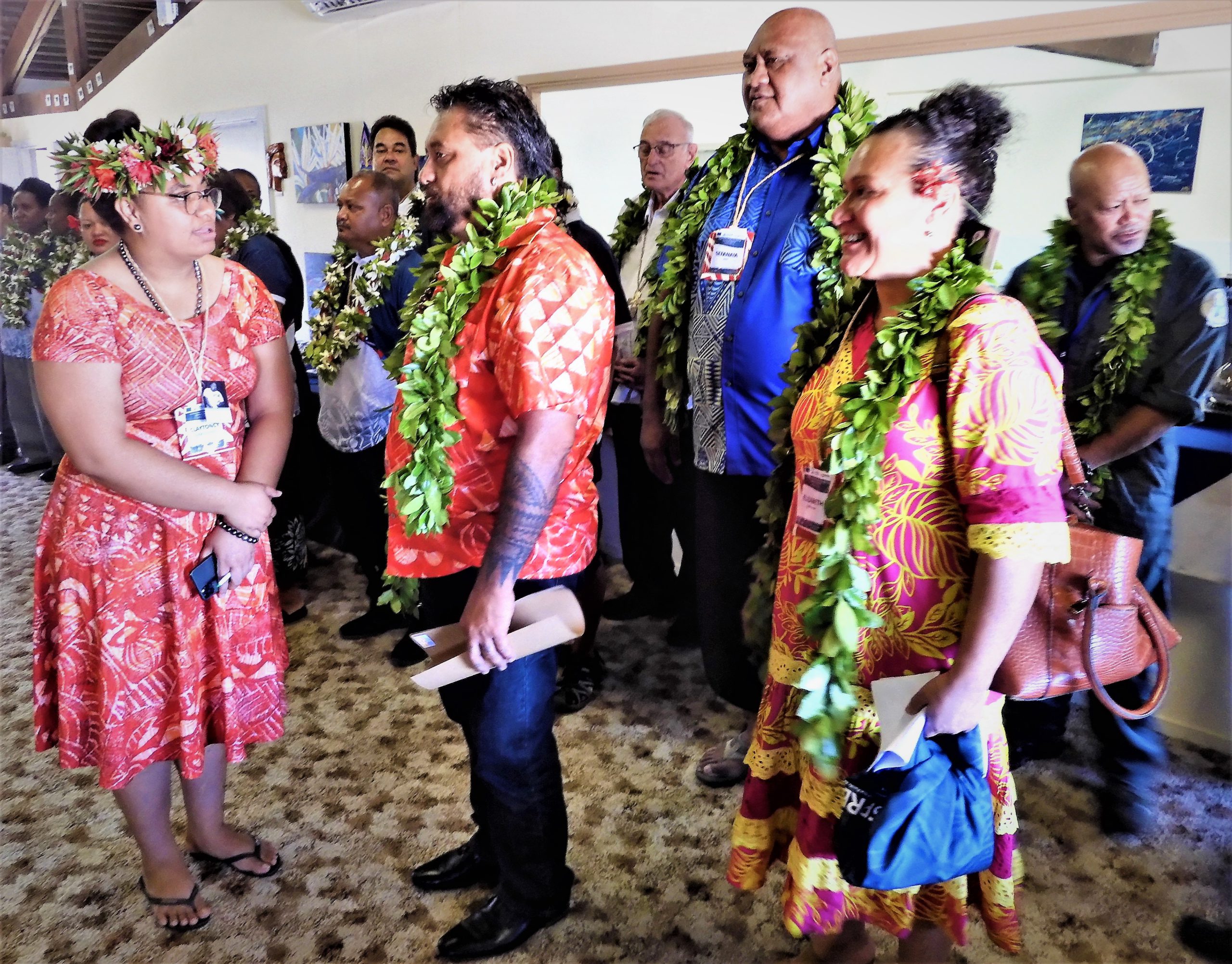 The 2023 programme steering committee meeting, hosted, and chaired by the Ministry of Infrastructure Cook Islands, opened with a captivating cultural welcome ceremony, followed by opening remarks from Hon. Albert Nicholas, Minister for Infrastructure Cook Islands & National Environment Service.
"Waste is an issue for all of us, as we all create it, which means, that we are all responsible for what happens to it," said Hon. Nicholas.
He further explained that in the Cook Islands, items imported, continued to grow, to not only meet the demand from communities but also the tourism sector and with a small land mass, there were limited viable options for imported waste and end-of-life management or export.  As such, most items imported are disposed of at landfills or stockpiled on vacant land or end up in the environment.
"Although the 3 Rs of waste management to reduce, reuse and recycle are promoted, it is unfortunately, not enough, and this is why, the Cook Islands is focusing our PacWaste Plus investment to support the implementation of an effective and sustainable financing system, known as the Advance Recovery Disposal Fee (ARDF) to enable long-term, self-financing collection and recovery of recyclable items," added Hon. Nicholas.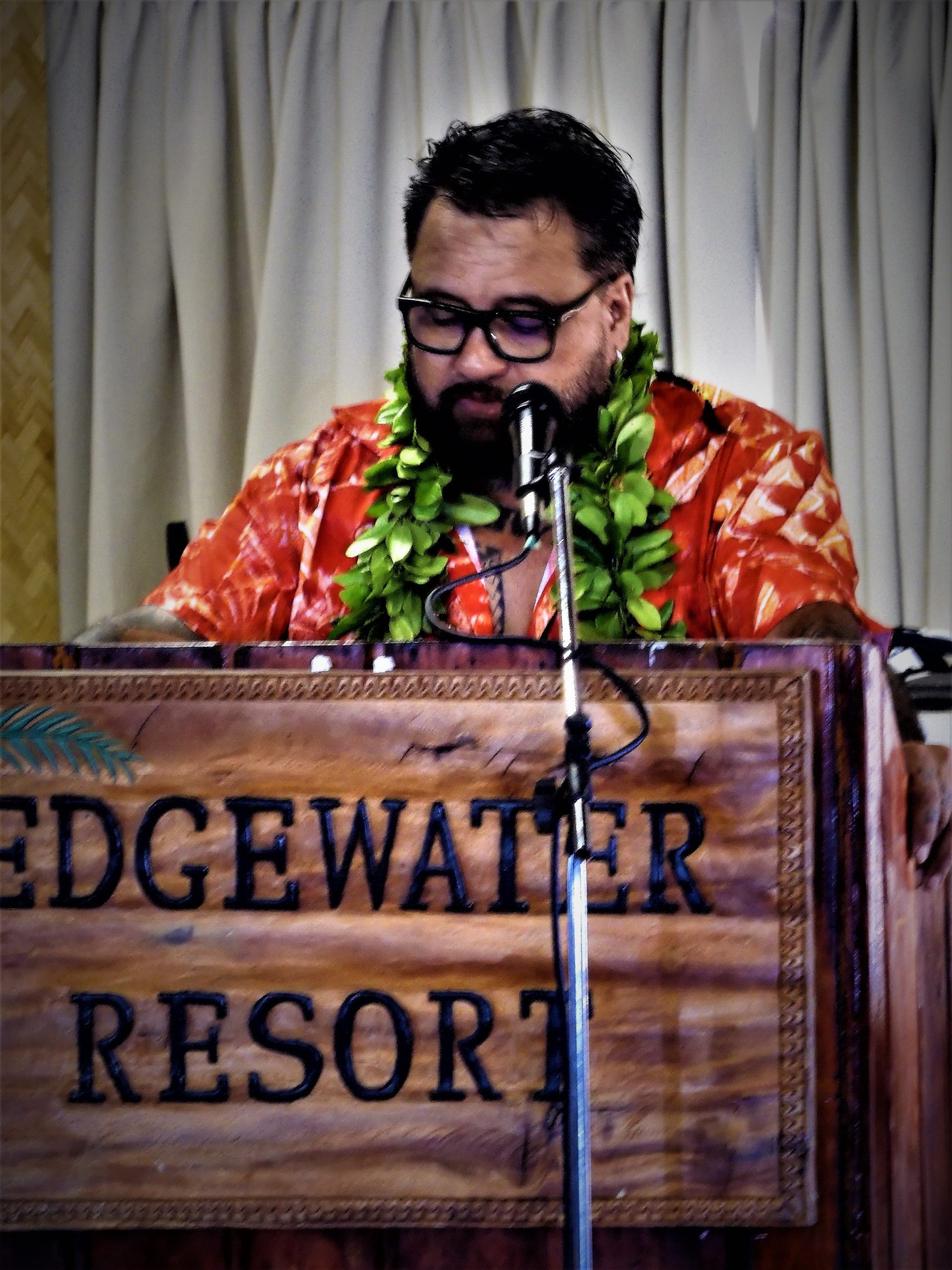 "I am pleased to announce that our Cabinet, recently approved the ARDF Policy and its inclusion as Part 6 of our Solid and Hazardous Waste Bill, which we hope to table to Parliament in June 2023".
The Minister enlightened the participants that the ARDF scheme was a mechanism to incentivise consumers to return recoverable items to a collection depot and to fund the collection and recycling of these articles and that the scheme will work to change the mindset and value placed on waste management by communities across the country.
"Our respective efforts in ensuring the success of the PacWaste Plus programme will not only matter to our individual participating countries, but collectively we are making a difference to the environment, as well as health, social and economic sustainable development in our Pacific region", concluded the Hon. Minister during his opening remarks.
The EU delegate, Ms Andreja Vidal, expressed that some of the global waste management issues, such as plastic pollution, were finally getting the attention on the global stage that they deserved, and the EU is committed to the international negotiation process on the legally binding instrument on plastic pollution and looks forward to hosting the second session of the Intergovernmental Negotiating Committee in Paris at the end of May this year.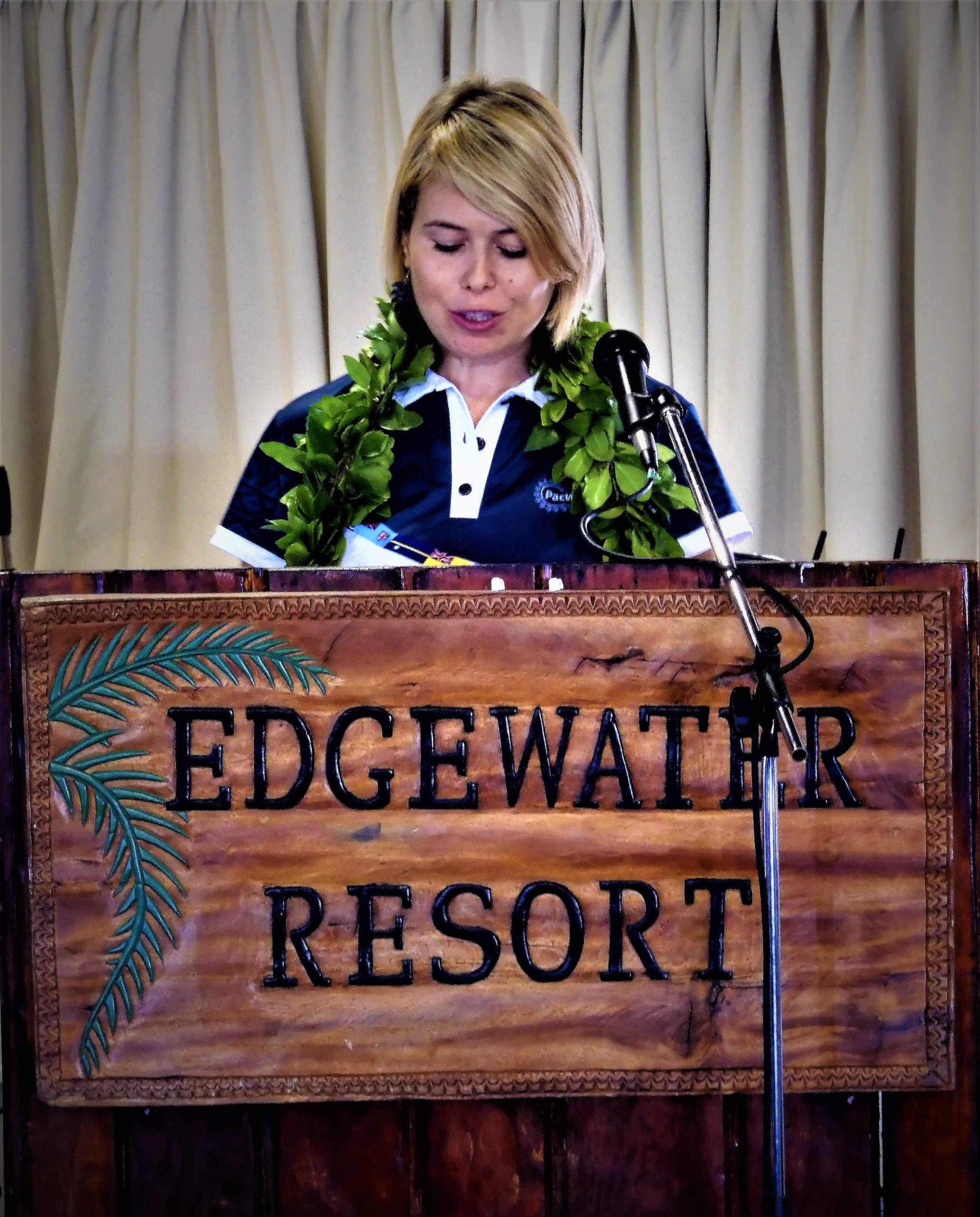 "It is very clear that waste management is not only a national issue as we have always argued that in the Pacific, but waste management is also a regional issue and should be dealt with on the regional level. This is why we have this regional programme", said Ms Andreja Vidal.
Ms Vidal emphasised that the PacWaste Plus programme is helping Pacific countries to better manage recyclable waste, including plastics while the programme also provided much wider support addressing eight waste streams, with each county addressing its priorities.
"We are together under this programme for quite a while, we had ups and downs, some delays due to the Covid19, and some challenges in the recruitment of national officers in some countries but on the other side we are pleased to see that both regional and country projects are now advancing", she said.
The EU delegate expressed appreciation to country focal points for their participation and time in the PacWaste Plus programmes mid-term review and was excited to share the findings once the review report is finalised.
"This mid-term review is very important for us to provide us with the independent assessment on what can be improved within the current programme and to hear about the lessons learned that will influence any future EU funding in the region in this sector," said Ms Vidal.
The SPREP Director General, Mr Sefanaia Nawadra expressed appreciation to the Ministry of Infrastructure Cook Islands for hosting the meeting and to the EU for the continued support to build collective capacity in the Pacific to address waste and pollution challenges, with a key focus on the circular economy.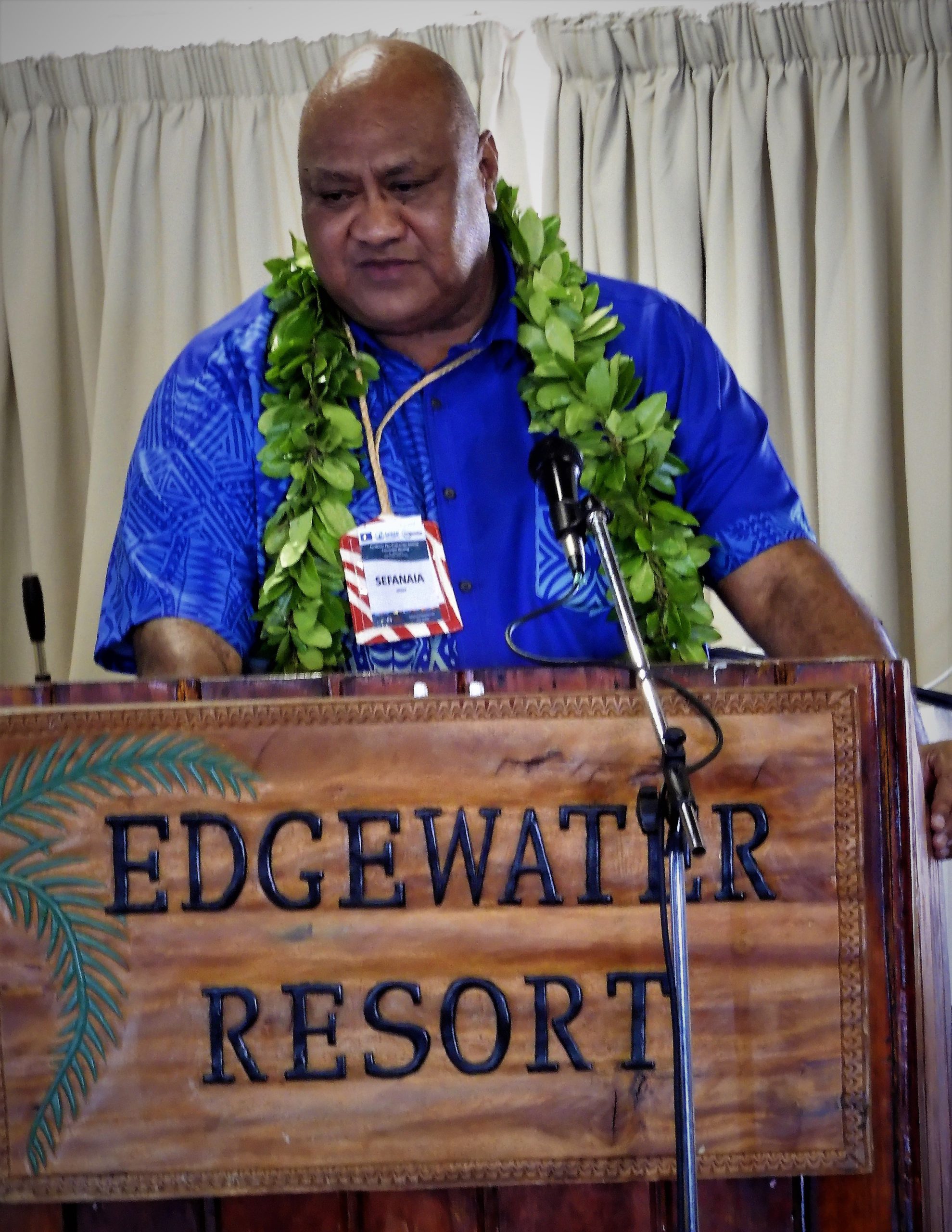 "We are grateful for the support and cooperation received from all of you as we work together through our PacWaste Plus programme and Waste Management and Pollution Control projects, in identifying and implementing innovative solutions for waste management in our region", said the SPREP Director General.
The Director General concluded by reassuring participating countries and the EU that SPREP will continue to provide assistance and guidance as needed to enable the region to progress on commitments made as part of their country priority projects.
"This is our Blue Pacific, and as vulnerable as we may be, we are equally resilient and speak as one Pacific voice towards having sustainable waste management solutions for the preservation of our natural environment and livelihoods of our communities," concluded Mr Nawadra.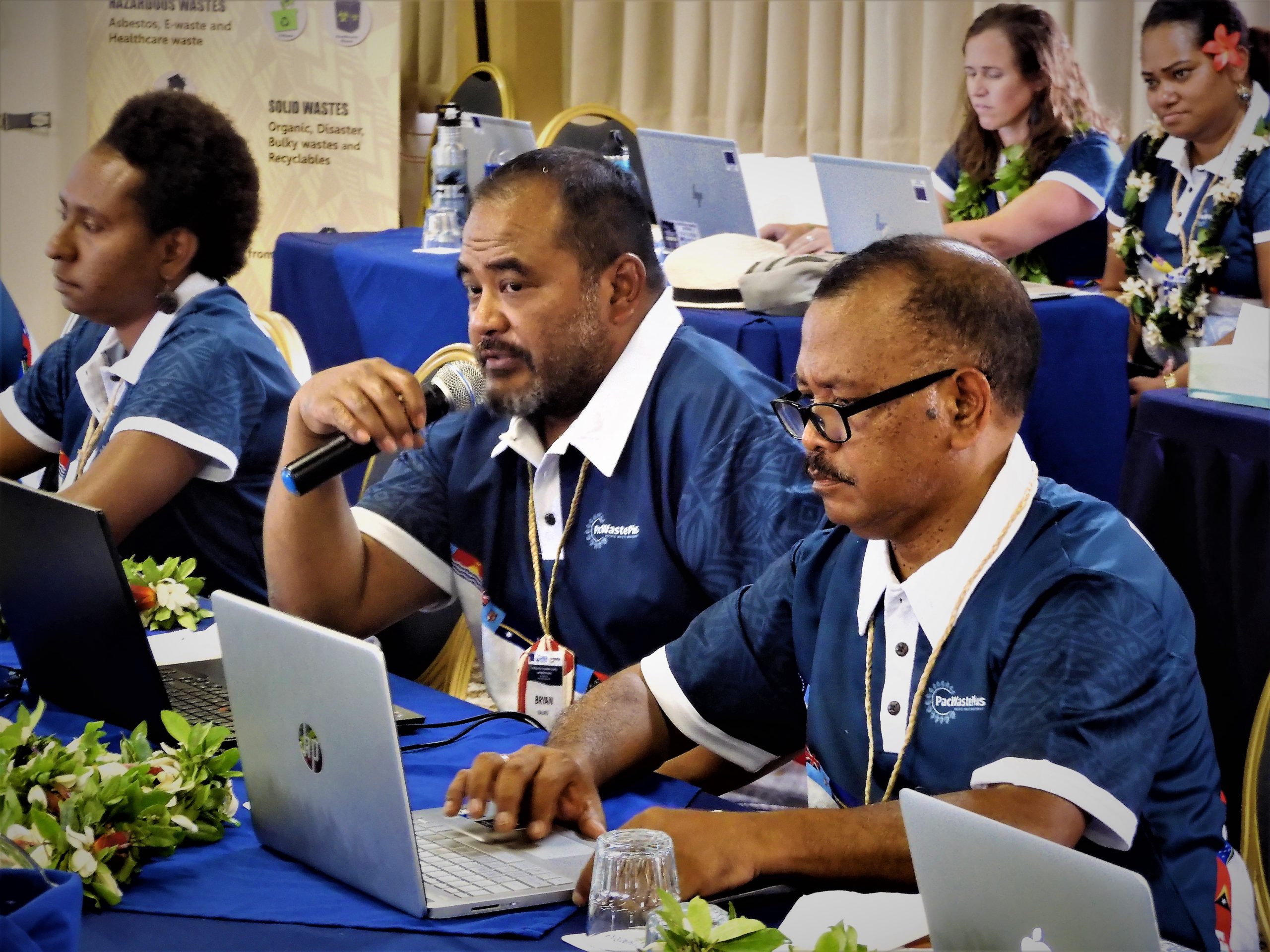 As part of the programme meeting, a series of Talanoa sessions focused on issue-based conversations to progress organics management, assistance on the design and implementation of sustainable financing systems for waste management and improving disaster waste management efforts in the region were held with participating delegates, including site tours.
Several countries including the Republic of Marshall Islands, Solomon Islands and the Federated States of Micronesia shared lessons learnt with delegates on their journey of progressing country projects on improving organics management.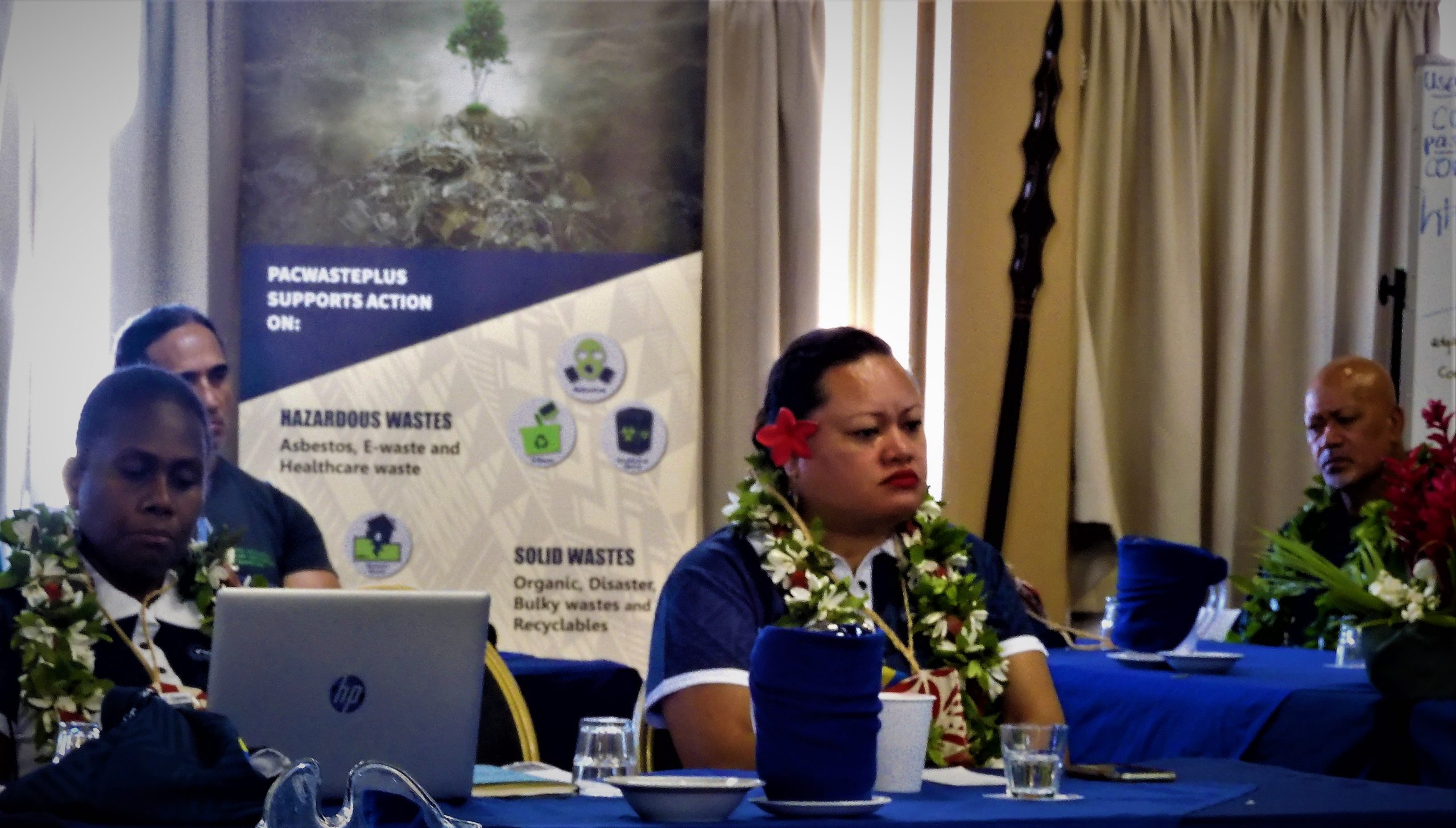 Country presentations and knowledge sharing from the Solomon Islands, Cook Islands, Tuvalu, Palau, Samoa and Vanuatu on designing sustainable financing systems and how they were progressing on the implementation pathway, challenges faced, and assistance needed from the PMU to progress implementation were also part of the interactive Talanoa sessions which provided an opportunity for delegates to seek clarity on what they will receive to help guide efforts to introduce similar systems.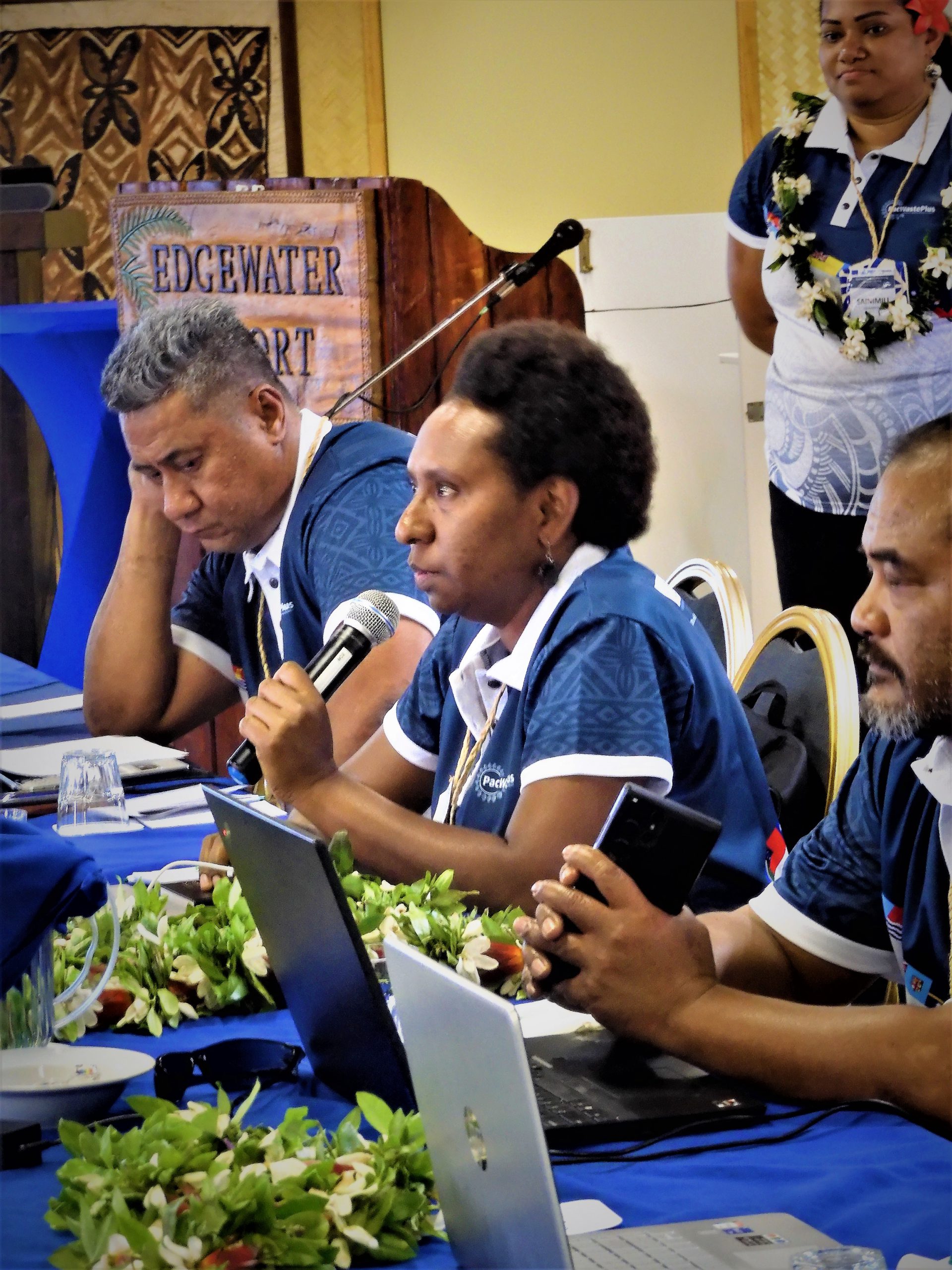 The third and final day of workshops associated with the programme's steering committee meeting was designed to build the capacity of programme focal points on the programme's initiatives on hazardous waste management, in particular Asbestos and healthcare waste.
The facilitated sessions enabled participants to better understand the activities of the programme on Asbestos Containing Material (ACM) Ban initiatives and the resources and technical assistance available to participating countries to progress on a path forward towards implementing ACM bans.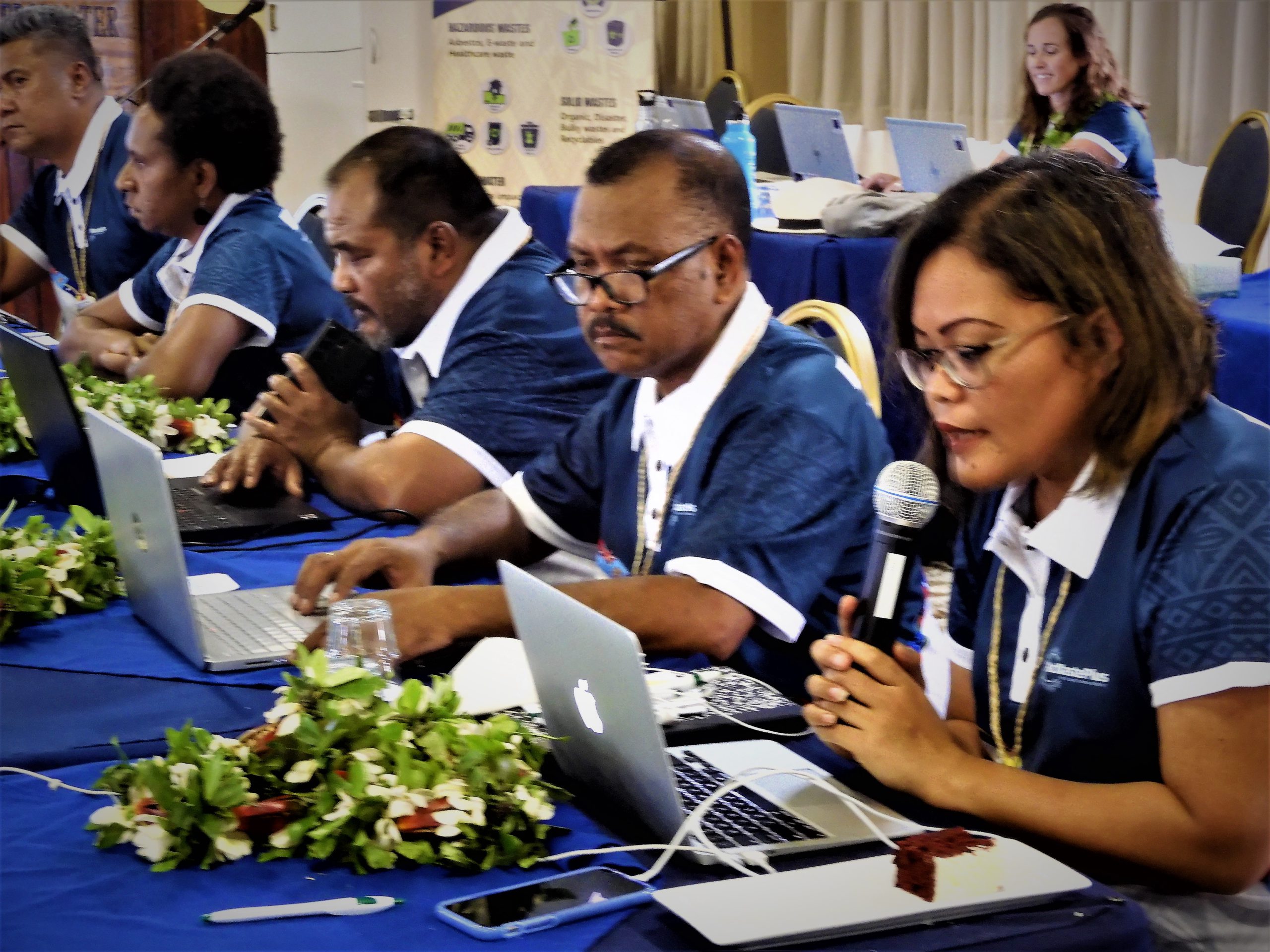 Constructive discussions were also held on the initiatives of the programme on assisting countries develop and implement country-based ACM code of practice, assessing and disposing options of ACM with Tonga, Papua New Guinea and Nauru showcasing country actions and sharing learnings to the region.
The capacity-building sessions included discussions on research conducted on Healthcare Waste Management (HCWM) technology options, an overview of training developed, exploring the hospital Management plan process and the findings of the PacWaste HCWM intervention assessment. Timor-Leste showcased the process, challenges and details of the development of their HCWM policy and shared learnings with country delegates with similar interests to improve healthcare waste management in their countries.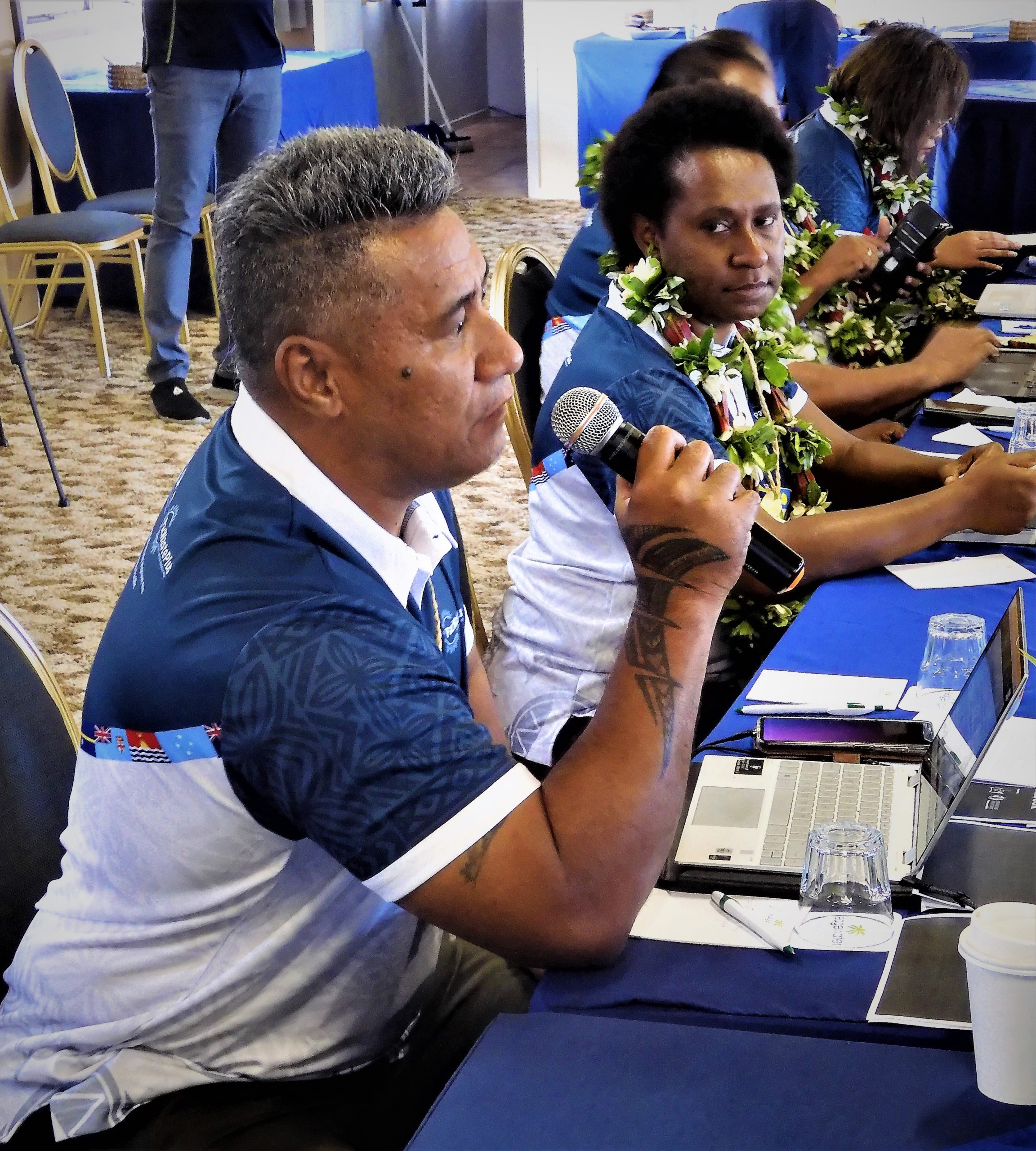 The three-day event enabled participating countries and the programme management unit to understand challenges and prioritise the needed assistance to help move country project actions forward.
A detailed report is being drafted and will be shared with all meeting delegates and made available on the programme website, once finalised.
The programme management unit will continue to work closely with country focal points to provide the required assistance to progress project commitments into action.
PacWaste Plus Programme Steering Committee Meeting 2023 Album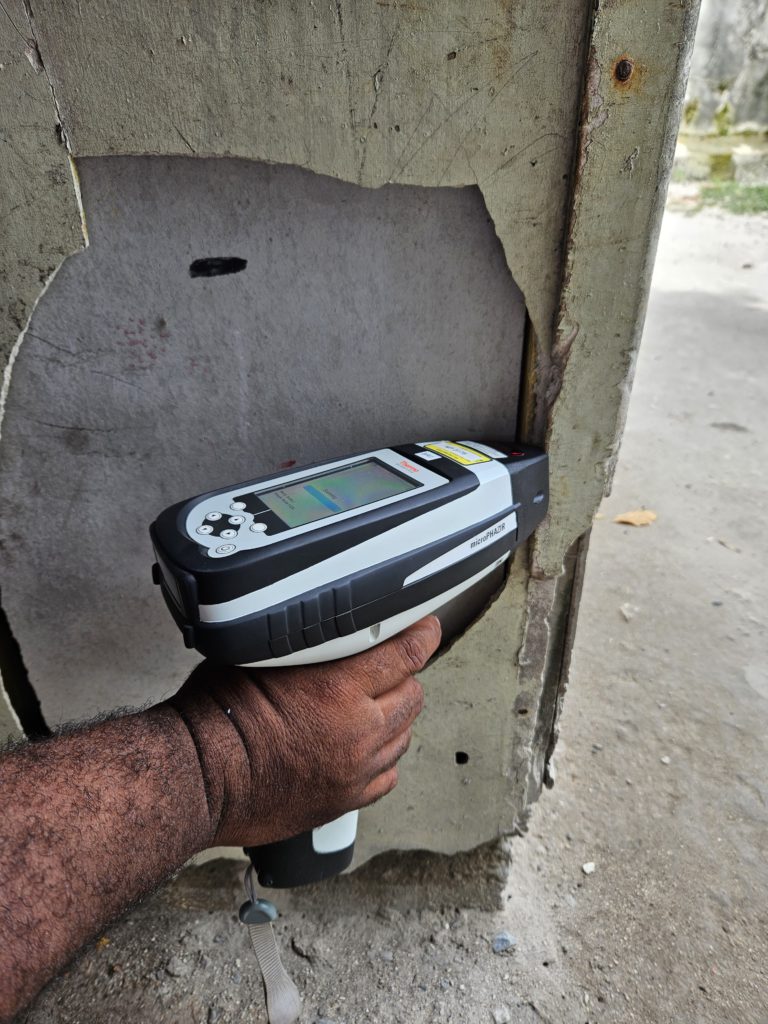 The Tuvalu Department of Waste Management (DWM) tested a new diagnostic tool, called the microPHAZIR AS Asbestos Analyzer, with the assistance from the PacWaste Plus programme technical officers and supported by consultant Ms. Samantha O'Callaghan of HIBBS, during a Mission to Tuvalu in late March.
This innovative tool enables in-field, rapid screening, to identify and confirm the presence of asbestos in under 10 seconds, and identification of all six types of regulated asbestos fibers which include chrysotile, crocidolite, anthophyllite, tremolite, actinolite, and amosite.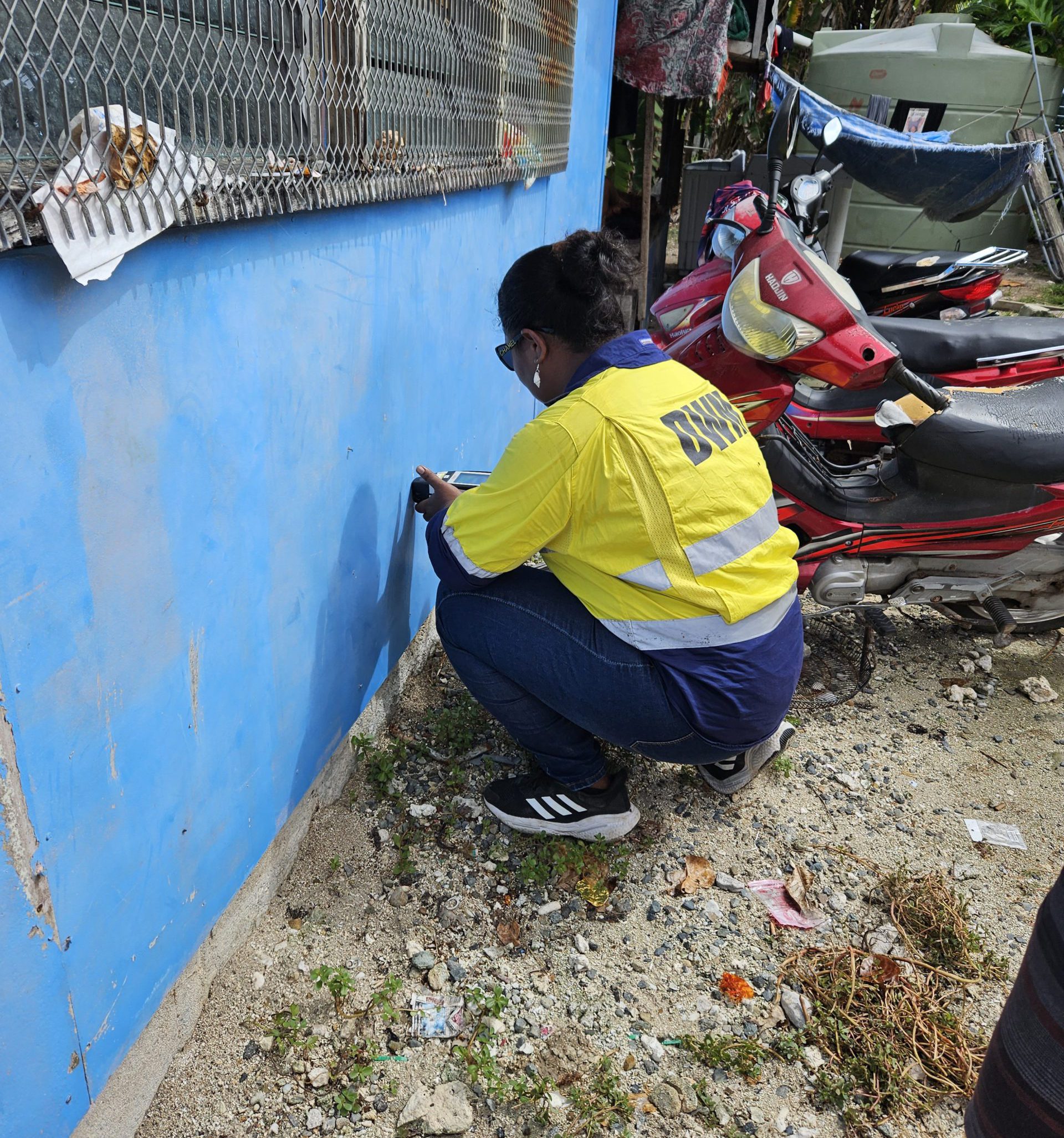 Prolonged exposure to asbestos increases the risk of developing lung disease, from asbestos fibers released into the air by the disturbance of asbestos-containing material during product use, demolition work, debris from natural disasters, building or home maintenance, repair, remodeling, and the recycling of construction materials.
To help understand the location and quantity of asbestos throughout its nine islands and to better manage asbestos removal from communities, the Tuvalu DWM is proposing to utilise PacWaste Plus investment for a project to enable their department to use this new technology to determine asbestos in "real time" which may reduce reliance on expensive and lengthy laboratory assessments overseas.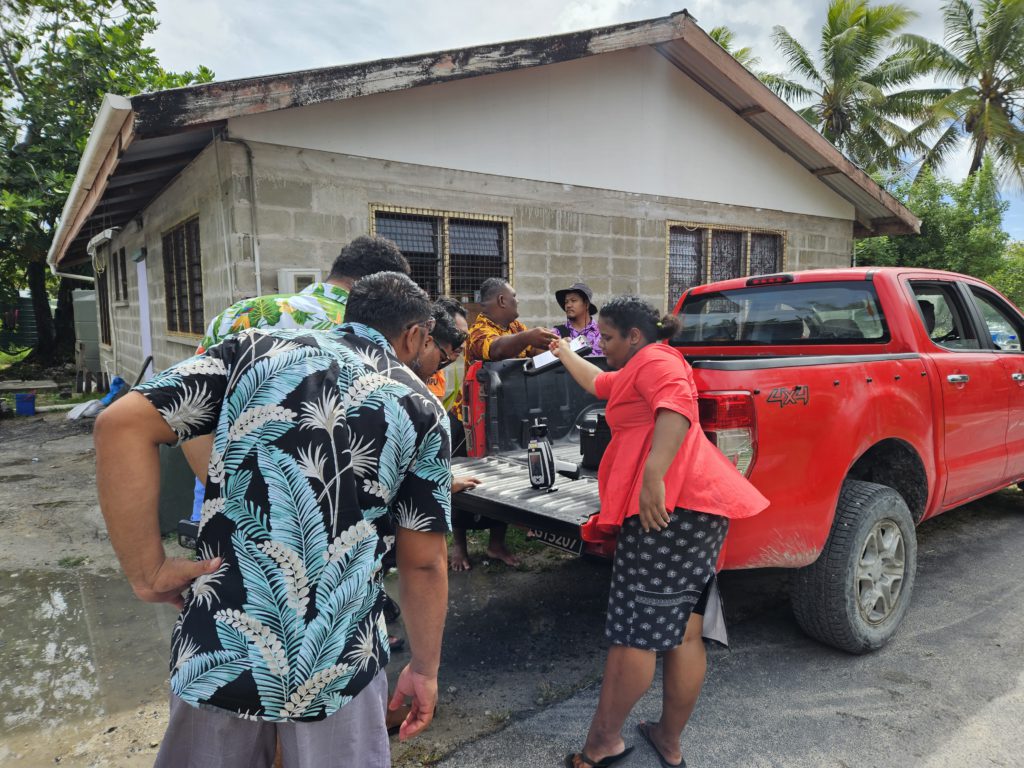 "Undertaking asbestos assessments is very difficult in Tuvalu.  We do not have laboratory equipment and it is difficult and expensive for external specialists to visit our outer islands to complete assessments," said Mr Epu Falenga, Director of Waste Management.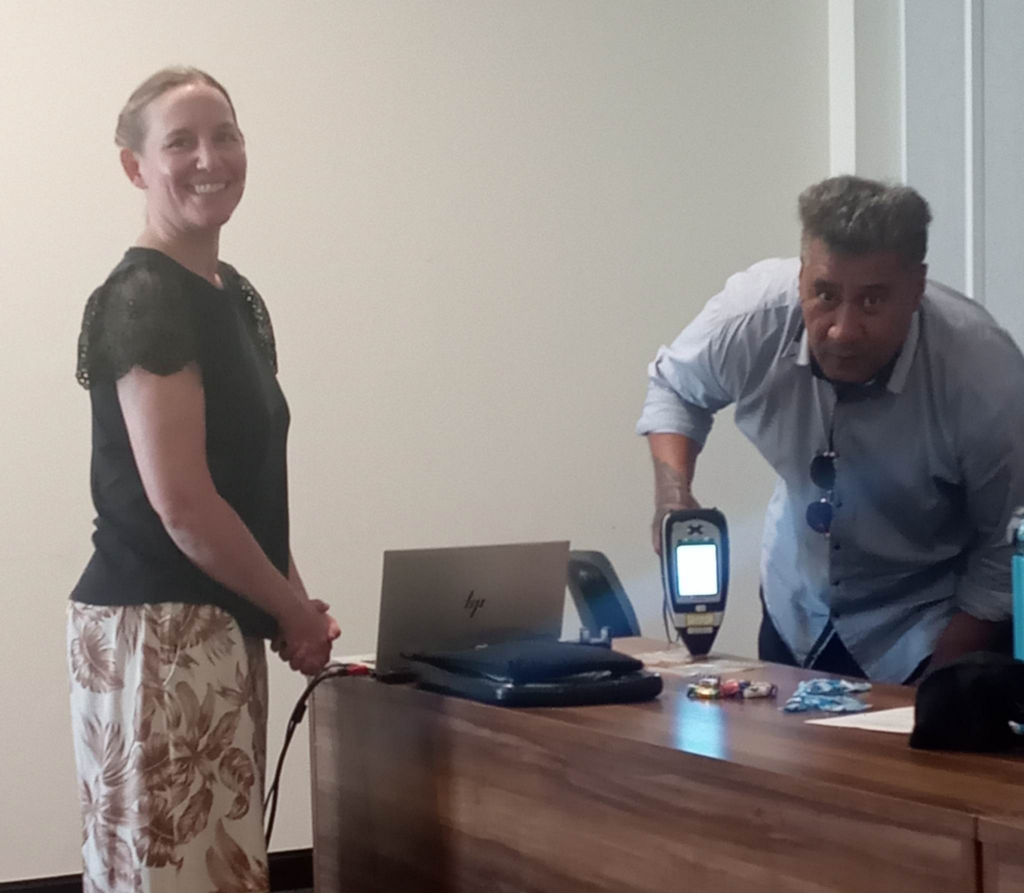 "By testing this new technology and having our own staff experience the various steps to effectively undertake asbestos sampling, empowers us to roll out an assessment ourselves across our nine islands.  Once we know the location and quantity of asbestos, we can make a plan to remove it, ultimately cleaning Tuvalu of asbestos".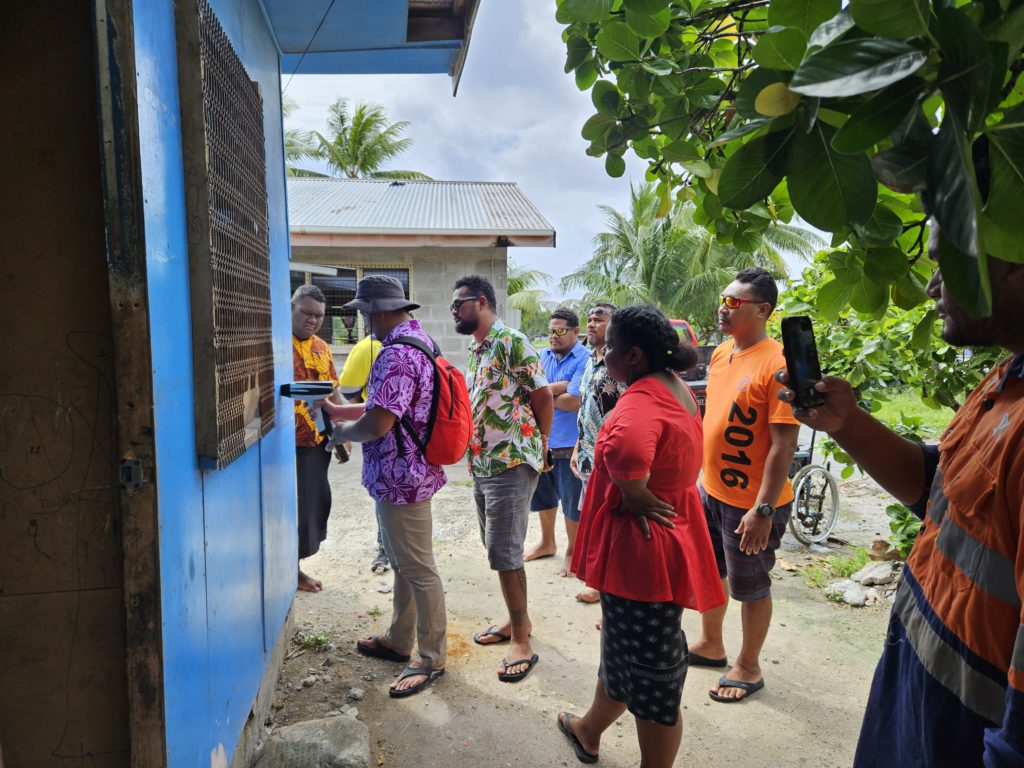 The DWM Director expressed that while they are excited about testing the new rapid diagnostic tool and the many benefits it may bring to help improve asbestos management initiatives, it is essential to first determine the usefulness of this tool in the Pacific environment by confirming test results from Tuvalu.
"We need to be certain on the efficacy of this tool, especially in our island settings and for that we will require further comparative analysis of results and deliberations with our key stakeholders before a strategic decision can be made to procure this analyzer," added Mr Falenga.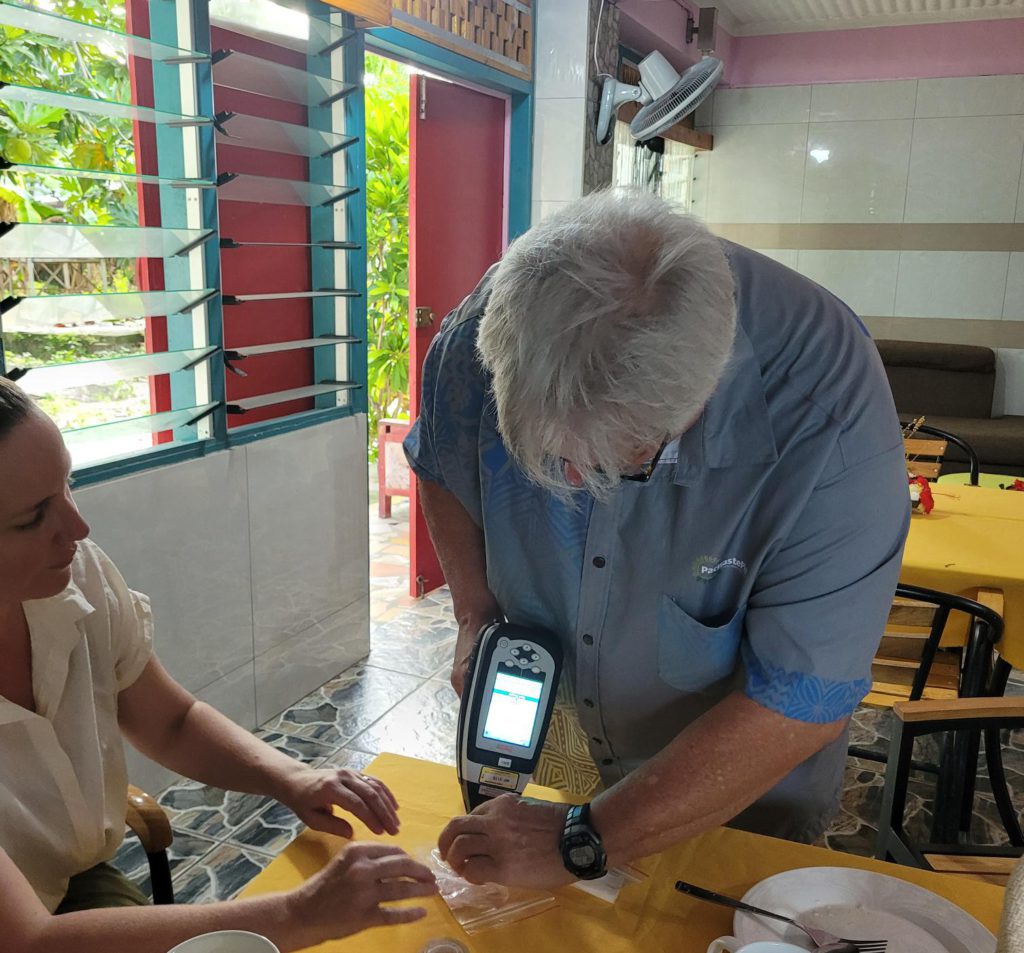 To ensure the effectiveness and accuracy of the microPHAZIR Analyzer, Ms O'Callaghan also took asbestos samples from tested materials in Tuvalu which will be analysed by a laboratory in Australia to compare and confirm test results.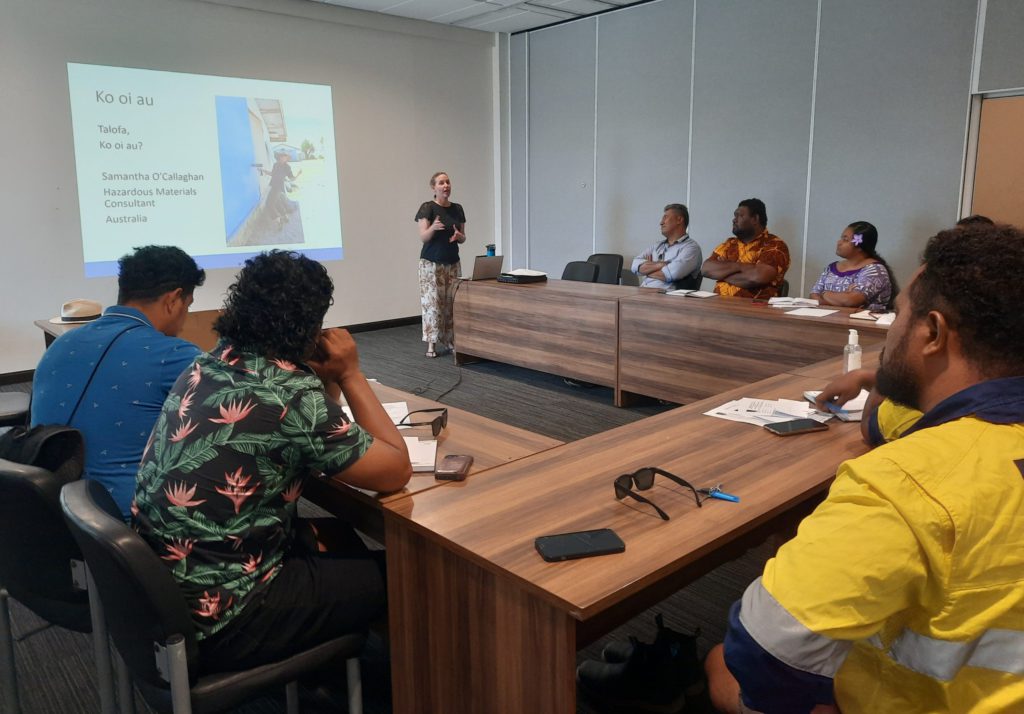 As part of the testing exercise, a capacity building workshop, on the correct way to use the rapid diagnostic tool was delivered by Ms. O'Callaghan to staff of the Tuvalu DWM, along with 10 other government stakeholders from the Department of Customs and Department of Surveying.
A case study will be developed comparing the test results once available. This case study will be shared on the PacWaste Plus website when published.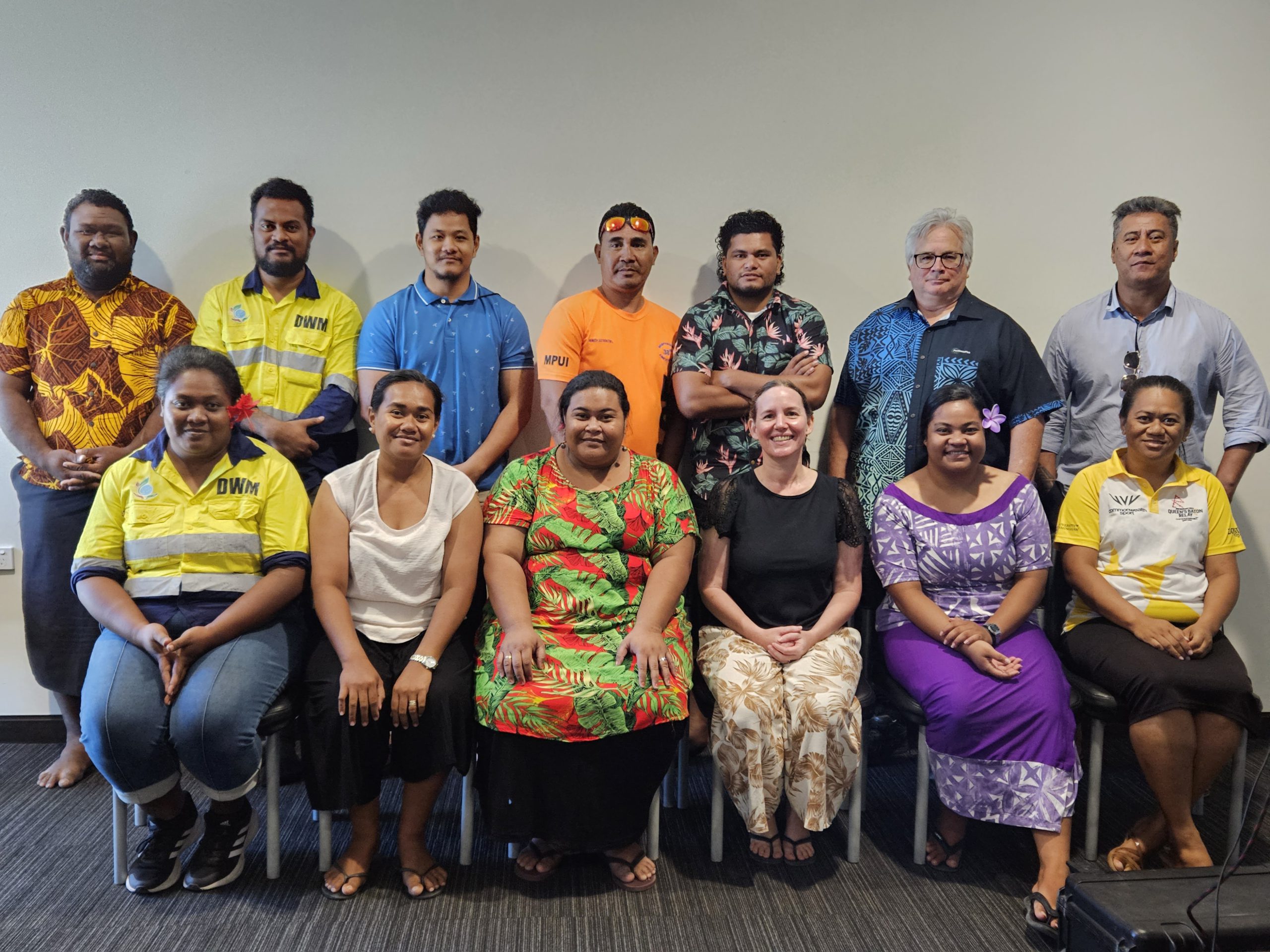 The Niue Department of Environment (DOE) seek to provide for a coordinated approach and sustainable financing of waste management and recycling through the development of two pieces of waste management legislation, the Waste Management (WM) Bill, and Advanced Recovery and Disposal Fee (ARFD) Regulation.
A key component of developing any legislation is to undertake meaningful consultation with stakeholders.  As such the Niue Department of Environment (DOE) hosted Beca International Consultants Ltd, engaged through the PacWaste Plus programme, to undertake targeted stakeholder consultation and undertake site visits to waste facilities to advance these legislative documents.
"The primary purpose of the mission was a fact-finding assignment to confirm the key problems and issues faced by Niue" says Cole Burmester of Beca. "As well as an opportunity to build relationships with all stakeholders, partners, the Government, and the community.
"This would enable us to undertake meaningful engagement with the Working Group, other key stakeholders, and the community, in Niue, during and post the mission visit, to assess options and opportunities to address those issues. This information would then be fed into the draft Policy and recommendations for the WM Bill and ARFD Regulation".
During the mission, in February, Beca engaged with a number of stakeholders and interested parties, including the acting Premier, Ministers, Government Departments, State Owned Enterprises, Non-Governmental Organisations, the New Zealand and Australian High Commission, and local businesses.
The mission also included undertaking an assessment of existing waste management infrastructure in Niue. These visits helped identify a number of gaps and opportunities to be addressed by the legislation.

Tuvalu is one step closer to banning the importation of asbestos.
The Department of Waste Management (DWM) utilised the expertise of PacWaste Plus staff, Mr Lance Richman and Ms Hilary Boyes, supported by consultant Ms. Samantha O'Callaghan of HIBBS Australia, during a recent Mission to Tuvalu by arranging key stakeholder consultation sessions to discuss and seek support to progress the proposed regulation to ban the import of asbestos.
Awareness sessions included a meeting with the Secretary of the Ministry of Local Government and Agriculture, and an awareness workshop with key stakeholders including the Attorney General's Office, Department of Customs, Private Sector Importers, and the Tuvalu National Private Sector Organisation (TNPSO).  The Minister of Local Government and Agriculture also attended this session.
Key discussion at this workshop included the presence of asbestos exiting in Tuvalu, the activities DWMs are undertaking now and in the future to address asbestos, and the impact a ban would have on the private sector.
One importer states they would be no impact on their operations.  "Asbestos does not seem to be available anymore through our suppliers, I doubt we could purchase it even if we wanted to.  There are also readily available and familiar alternatives, like HardiFlex a building material suitable for Tuvalu's climate. We would support an importation ban to ensure that other suppliers or private households are also not using asbestos suppliers".
Communities in Tuvalu also supports the proposed asbestos importation ban. "During past awareness sessions on waste management held throughout Tuvalu, the community often has questions on asbestos", says Siliako Letueti, DWM Communications Officer.
"They seek to remove the risk asbestos has on their families and support a proposed importation ban".
As a result of awareness sessions and feedback, the DWM, with PacWastePlus assistance developed a paper for the Government Advisory Committee.  This paper was tabled in March 2023 and presented by the Director of Waste Management, Epu Falenga.