News - Dec 14, 2021
What is Filling Up our Landfill?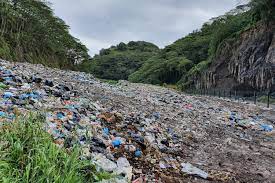 Currently, waste in the Cook Islands, and elsewhere in the Pacific, generally follow a linear pattern: with items imported, consumed, and then disposed in the landfill.  But what happens when the landfill is full?
The Cook Islands government has been thinking about this question and planning for life after landfilling.  There is limited land available for landfilling in Rarotonga and the government wants to ensure remaining space is well utilised and plan for its eventual closure.
Armed with results from the recent Landfill Audit, the Cook Islands government has examined each waste stream individually to see what solutions may be available.   Results find some relatively low technology solutions exist.  For example, over 40% of the waste may be able to be diverted to the existing compost facility, and 25% may be eliminated or managed with the implementation of legislation already in the pipeline, the Advance Recovery Fee, and a possible Plastic ban.
With remaining "residual" waste items, the Cook Islands is considering technology such as Energy to Waste.
The recently produced PacWastePlus Waste to Energy Publication has some useful information and case studies for the Cook Islands to consider.