News - May 21, 2021
Practical Training On Disaster Waste Management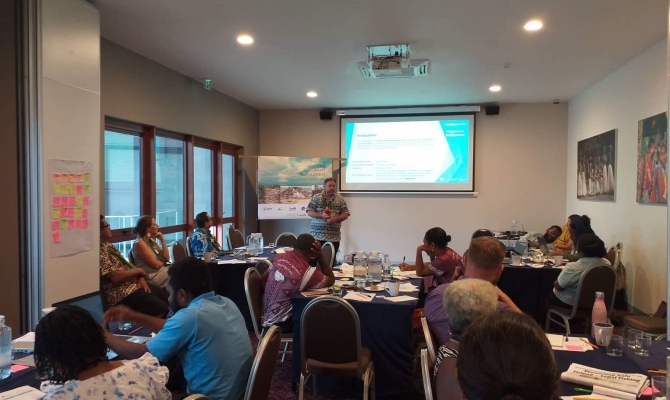 Participants at a week-long training were informed that the PacWaste Plus programme will work with participating countries to mainstream disaster waste management through preparedness, response, recovery and reconstruction to assist countries in dealing with the generation of large volumes of waste from natural disasters like earthquakes, floods, and tropical cyclones.
PacWastePlus Project Manager, Mr Bradley Nolan presented the opportunities available to Vanuatu under the PacWaste Plus programme at training on Disaster Waste Management facilitated by SPREP, the University of Newcastle and JPRISM II in Port Vila from 18th – 22nd November 2019.
The objective of the training was to train and certify key personal in Government and Non- Government Organisation to undertake relevant training in communities within Vanuatu to ensure national disaster resilience. Vanuatu is understood to be the most vulnerable country to Disaster.
From the first day of the workshop, training participants identified seven hazards that make the country vulnerable to Disaster risk. These included Volcanoes, Tsunami, Cyclone, Earthquakes, Drought and Landslides.
PacWastePlus programme is assisting member countries with activities to ensure the safe and sustainable management of waste with due regard for the conservation of biodiversity, reduction of marine litter, health and well-being of Pacific island communities, and climate change mitigation and adaptation requirements.
The practical training on Disaster Waste Management (DWM) is funded under the Canadian Funding for Local Initiative (CFLI) scheme and delivered by the Secretariat of the Pacific Regional Environment Programme (SPREP).
Disaster waste management is covered in several ongoing regional projects such as the JICA-funded J-PRISM II and the EU-funded PacWaste Plus, and an upcoming AFD-funded project on Sustainable Waste Actions in the Pacific (SWAP). These projects will collaborate to enable more effective mechanisms to manage this waste stream.
Through this initiative, SPREP will partner with experts from J-PRISM II Project and the University of Newcastle in Australia to develop a DWM Training Handbook and conduct practical training programmes to build the capacity of Pacific Island countries and territories to respond to disaster waste issues using more planned approaches.
The pilot training in Vanuatu will contribute significantly towards refining the DWM Training Handbook and feed it into the Regional DWM Guideline currently developed by J-PRISM II and SPREP.
As one of the most affected Pacific island countries during disaster events, Vanuatu has witnessed 23 cyclones per decade on average. It was also reported as the most risk-prone country on earth in the World Risk Report released by the Institute for Environment and Human Security of the United Nations University.