News - Nov 23, 2021
Clean Pacific Roundtable Enables Pacific Islands To Enhance Understanding Of Waste Management Sustainable Financing Systems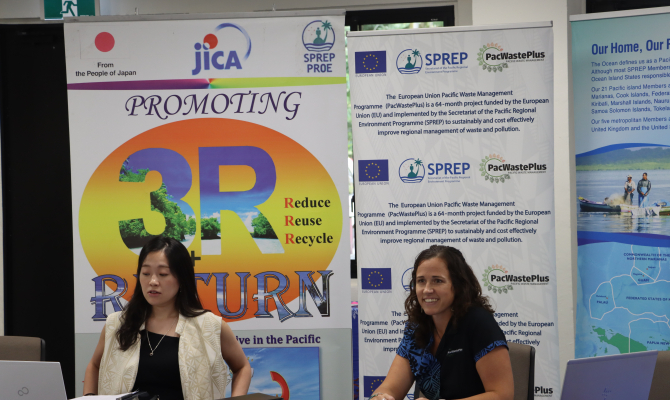 19 November 2021, APIA:  Pacific Island countries pursuing implementation and expansion of sustainable financing systems, such as an Advance Recovery Fee and Deposit (Deposit and Levy), as an effective way to respond to increasing challenges of waste management, were provided with a learning opportunity from a panel made up of other Pacific countries with successful schemes in operation, during the Clean Pacific Roundtable Sustainable Financing Deep Dive session.
Advance Recovery Fee and Deposits schemes provide an ability to sustainably fund the collection and recycling of end-of-life products that would have ended up in landfills, stockpiled, or released into the environment creating pollution and environmental harm.
The intent of sustainable financing mechanisms for waste management is to create an "Extended Producer Responsibility" framework where importers and in-country manufacturers share the management and cost burden for end-of-life products accepted by Pacific islands countries and territories.
The purpose of these mechanisms is to charge the true cost of management, transport, and recovery or final disposal, and apply this fee to the importer or manufacturer.
An additional 'deposit' is then added to the sale of the product, which is returned, when the product is returned for recycling, incentivising recycling behaviour. This system is more commonly known as a 'Container Deposit" system applied to beverage containers.
Countries that contributed to the informative Deep Dive sessions included Palau, the Republic of Marshall Islands, Kiribati, Tuvalu and the Federated States of Micronesia.
Discussions during the session included details of the systems operating in the Pacific, what items are included, how is the fee collected, who manages the fund including options, and opportunities to implement or expand systems.
Several donor-funded projects are supporting the implementation of the Cleaner Pacific 2025 Strategy which encourages the adoption of sustainable financing mechanisms to fund sound waste management activities.
Donor funded projects managed by SPREP include the GEF ISLANDS Pacific Child Project which will be supporting several countries to complement sustainable financing initiatives that are being implemented under the European Union-funded PacWastePlus programme and the Commitment to Sustainable Waste Actions in the Pacific (SWAP) Project, funded by l'Agence Française de Developpement (AFD).
JICA's Technical Cooperation Project J-PRISM II has been providing technical support to Samoa, Vanuatu, Tonga, and Fiji to enhance the financial capacity of waste services, and has assisted the development and implementation of a Container Deposit System in RMI, FSM, Vanuatu, and the Solomon Islands.
The J-PRISM II project is assisting the peer-to-peer learning among member countries on financially sustainable waste management by actions such as the publishing of a guidebook and case studies of the Deposit-Refund System for Pacific Island countries on experiences at the national level.
The PacWastePlus programme is providing a range of programmatic support to the region to implement sustainable financing systems. Several activities include undertaking a feasibility study of applicable products that could be included in an 'Advance Recovery Fee & Deposit' (ARFD) system, and initial assessment on the economics of the system introduced into the Cook Islands, Kiribati, Nauru, Niue, Papua New Guinea, Republic of the Marshal Islands, Samoa, Solomon Islands and Vanuatu.
The programme will also investigate the provision of legislative support, facility/equipment procurement, system design and community awareness to assist system design and implementation and undertake a feasibility study of applicable products that could be added to the existing ARFD system with the provision of legislative support to assist system design and implementation.
The PacWastePlus programme will be undertaking the development of regional tools and guidance based on the outcomes and learning from the national interventions described above and the development of a tool kit of guidance and resources to guide process development and community engagement.
The proposed pathway for sustainable financing mechanism, developed by PacWastePlus to assist participating project countries outline 21 priority steps around the topics of identification of the need for legislation, research, political will and support, preliminary systems concept, feasibility study, consultations, confirmation of sustainable finance system design, legal drafting, implementation, monitoring, evaluation, and auditing.
SPREP will continue to assist members to implement as well as coordinate this Pathway through the Cleaner Pacific 2025 and capitalising on current donor-funded projects such as the PacWastePlus Programme, GEF ISLANDS, SWAP and JPRISM II as well as any new projects that would be mobilised as part of the proposed pathway.
For more information, please contact Ms. Hillary Boyes at hillaryb@sprep.org or Ms Mayu Namura at mayun.ext@sprep.org / nmr.mayu@gmail.com
The Third Clean Pacific Roundtable is held virtually from 16 – 25 November.  It is a partnership event supported by New Caledonia, Acotred Pacific, Agence Francaise de Development (AFD), Australian Aid (AUS Aid), European Union (EU), Fonds Pacifique, Japan International Cooperation Agency (JICA), UN Environment Program, Province SUD and Province NORD.